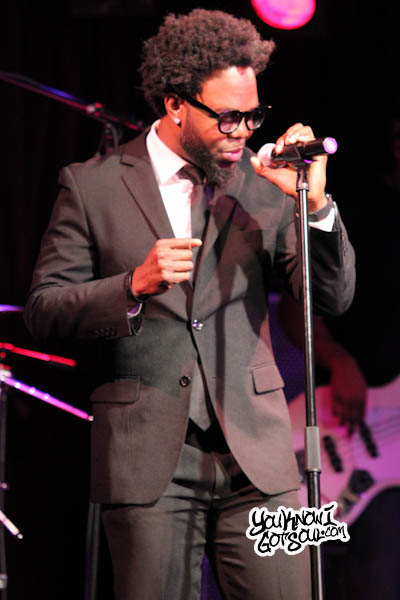 Dwele is one of those artists that seemingly throughout the years has been able to consistently express himself with full creativity while staying true. If you think about it, that's a rare quality to find, especially with the way that trends have influenced many artists to go in certain directions. It started with his debut album "Subject" in 2003, and now nearly a decade later, he's on his fifth album and remains one of the premier names in the r&b/soul genre. We got a chance to hear the new album "Greater Than One" at his listening session last month, and we can assure you music fans are going to love this album when it releases on August 28th. We sat down with him during that evening and discussed what we can expect on the album, his current single "What Profit?", his inspiration for writing, if he's influenced by the current trends in music, and much more.
YouKnowIGotSoul: We're here at the listening session for your new album "Greater Than One". I got a chance to hear the album tonight, but for those you didn't, give us a preview of what they can expect to hear on there.
Dwele: This album kinda has like an 80's feel to it. I really tried to keep the same elements that have been on the past albums; the harmonic vocals and Fender Rhodes, live instrumentation. Even on the joints that were more 80's and more synth heavy, I still tried to keep those elements in there. I feel like this is a feel good album.
YouKnowIGotSoul: This is your fifth album now. When you look at this one compared to your previous albums, how does it stack up?
Dwele: I don't know man, I really don't know. The latest album is always my baby. Of course "Subject" is like my uber baby because that was the first one, but other than that this is my baby since it's the latest one.
YouKnowIGotSoul: You've got out the single "What Profit?" currently and the video just released. Talk about the creation of the song.
Dwele: That's the song that I collaborated with Mike City. I think it's a feel good record, I heard the record and instantly I knew that was the one we needed to use. The hook is "What profit a man to gain the world and lose his girl". Basically it's saying that it means nothing if you win in life, you can gain everything, and have nobody to share it with. That's basically what the song is about, but the music is very summery. It has that summer feel to it, it's a real feel good song.
YouKnowIGotSoul: I was glad to see you collaborate with Mike City again since he of course produced "What's Not to Love" from your previous album. Who else did you collaborate with on here?
Dwele: This time around I collaborated with Chris Damon on a track called "This Love". Also G-1 on a song called "Love Triangle".
YouKnowIGotSoul: I saw Raheem DeVaughn onTwitter talking about the song you guys collaborated on. Talk about that one.
Dwele: "What You Gotta Do" is a song I feature Raheem on. That song is kinda like a steppers song, it's for the Midwest. The song is really about a letter to the guys, this is what you've got to do to make your girl comfortable. You've just got to make her comfortable; I'm just going to leave it at that.
YouKnowIGotSoul: I was reading that you wrote and produced most of this album. Where do you draw the inspiration to be so creative?
Dwele: I usually draw inspiration from the things that I'm going through when it comes to writing, the things that I see my people going through, I kinda write about that. Musically, I can draw inspiration from everything from the weather outside to what's on TV before I decide to go into the studio. It comes from all over the place really.
YouKnowIGotSoul: You're releasing this album once again on EOne Records. Earlier in your career you were on major label, but have you now adapted to being on an independent label?
Dwele: I definitely have, I really like it. I think it's probably good to be on a major when you're a new artist. Once you have your built in fan base, I think it helps to go with a label like EOne. You get a lot more creativity, in my case it really works out for me being that I produce and write a lot and I have a lot more creativity to do what I feel and to get my emotions out. I think it's a perfect situation for me.
YouKnowIGotSoul: Talking about writing and producing your own stuff, with the way music is evolving, how much attention do you pay to the current state of music? Does that influence you at all?
Dwele: I definitely feel like it influences me. I try not to hear what's going on and be that, it's not my intention to be that. Like I always say, if I'm with a young lady in front of a fireplace and we're kickin it and I've got music going, it might be something like a Donny Hathaway or Marvin Gaye playing. If I'm in the car with my dudes in the truck and we going to the club, you might find Lil' Wayne in the truck. I think in a way, if you listen to a lot of different music, it kinda inspires you. You might hear elements of some Lil' Wayne in my music, it might be very subtle, but you can hear it in certain songs. *Laughs*
YouKnowIGotSoul: Like we mentioned, this is your fifth album. A lot of artists don't get to make it to a fifth album. What's been the key to you making it this far?
Dwele: I got a good team around me. Thankfully, everything worked out. I'm just glad that I got a chance to do what I loved to do and I didn't have to change myself and I got to do it my way. I'm on number five, it's a good feeling.
YouKnowIGotSoul: Anything you'd like to add?
Dwele: I just appreciate all of the support, everything thus far, and I'm going to keep bringing you that hot music. Keep listening and I'm going to keep bringing it.