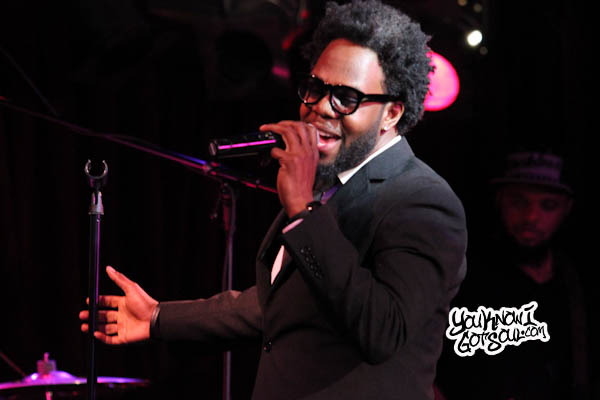 I love hearing the back-stories behind artists' careers because you usually will find something that you never would expect to hear. Take for instance Dwele; who would have thought this premier soul singer originally wanted to be a rapper and fought with his producer to not sing? It's hard to say how his career would have turned out as a rapper, but he's certainly had some great collaborations with major rappers over the years in addition to his four successful albums of his own. YouKnowIGotSoul had a chance to catch up with Dwele prior to his performance in Brooklyn last month, and we discussed his origins as a singer, what he's been up to since the release of his "W.ants W.orld W.omen" album in 2010, potentially releasing his next album on his own, and much more.
YouKnowIGotSoul: Your latest album "W.ants W.orld W.omen" released about a year and a half ago. What have you been up to since then?
Dwele: Of course I've been doing a lot of touring and traveling and promoting the album. I've done a little bit of work on a few different projects. The latest one that just that just came out was Big Sean, we did a song called "Celebrity". I've got a couple of other things in the works but I don't like to talk about them until they come out. For the most part just traveling and just keeping in motion. Working on the new album too.
YouKnowIGotSoul: Your first single "What's Not to Love" from the last album, we actually picked as our 2010 song of the year, I love the song personally. How was that song created?
Dwele: "What's Not to Love" was a song I worked with Mike City on. It was one of them joints where it came from a concept and we just put it together. We kinda made it personal, kinda made it me. I think it was needed at that time, I definitely knew a lot of women that needed that, they needed to hear it. So I think it came at the perfect time.
YouKnowIGotSoul: The "W.ants W.orld W.omen" album was your highest charting album on Billboard in your career. Do you consider it your best album?
Dwele: I don't know. To me personally, they are all my babies of course. To me, because "Subject" was my first that actually came out as far as being under a label, that came out as opposed to just selling it out of a trunk. I think "Subject" would probably be my favorite because it was my first. I heard somebody say once that you have a whole lifetime to work on your first album. I feel like that's true with "Subject", it's truly my baby, it's a lifetime worth of work right there. "W.ants W.orld W.omen" is definitely I feel like personally, and not to toot my own horn to say I've got some good ones, I feel like I got some gems on there.
YouKnowIGotSoul: One thing I noticed from looking at the Billboard charts for your albums is that your last two albums which were independent, actually charted higher than your first two albums which were on a major label. That's very rare and it's usually the opposite. What do you accredit that to?
Dwele: *Laughs* I'm not sure what to think of that. I definitely feel like the "Sketches of a Man" album as well as "W.ants W.orld W.omen" I had a lot more creative control. I felt less in a box with those two albums. I had the opportunity to kind of do what I feel. I feel like the "Sketches of a Man" album was put together with more of a mixtape feel, and that's kinda what I was going for with that one. I kinda had creative control on the "Subject" and "Some Kinda…" albums, but more so on the last two albums.
YouKnowIGotSoul: Take us back to your collaboration on "Tainted" with Slum Village back in 2002. What do you remember most about that song and what it did for your career at the time?
Dwele: "Tainted", damn 2002! I remember being in the studio with Slum Village and they wanted to get me on a song, it really didn't hit me that it was going to pop. I just went in there and cut the vocals and listened back and it was dope. I remember everybody kinda bigging it up like it was a smash. I still didn't know the magnitude of it though and then that really gave me my jump. That song right there kinda nudged my label, Virgin at the time, to say we might have something with this guy so let's go ahead and put something out and see what happens. If it wasn't for that song and if it wasn't for Slum Village and if it wasn't for "Tainted", I'd probably still be shelved right now! Foreal! I was bounced around Virgin like crazy, so definitely that song is what made it possible.
YouKnowIGotSoul: I know you linked up with Slum Village coming out of Detroit. What was the whole Detroit music scene like growing up and coming out of there?
Dwele: At that time it was Slum Village, Eminem. It was a lot going on, music was so big in Detroit, it was more than hip hop, it was more than techno, it was more than house, rock, gospel. It was all of that; it was a melting pot of a lot of different musical genres. I think that's what made Detroit classic. Detroit was and still is an underground music scene, it isn't really known for their music as much as it should be. I'm hoping the D's time is coming soon and I definitely think it's coming soon.
YouKnowIGotSoul: Another artist you linked up with early in your career is Kanye West. He was on your "Hold On" remix from your debut. You've also collaborated with him extensively in your career. How did you originally hook up with him?
Dwele: I met Kanye for the first time when I did a show with him in Chicago at a museum. *Laughs* We had two shows back to back and I remember he actually opened for me which is kinda weird thinking in retrospect! That's when we met, we kinda connected that way. My manager is from Chicago so they kinda knew the same people and that's how we connected.
YouKnowIGotSoul: I mentioned a couple of your collaborations, but do you have a most memorable one from your career so far?
Dwele: I have a few, I mean they are all memorable. I come back from all of them learning something new about myself or something new about music. That's really more reason why I love collaborating because collaborating with other artists because they bring something out of you that you otherwise wouldn't bring out musically itself. I have a lot of great collaborations, a lot of great times with artists from Raheem [DeVaughn] to Raphael Saadiq, a whole lot of people. *Laughs* Good times, it's always fun.
YouKnowIGotSoul: I read in your bio that from an early age you learned to play instruments such as piano, trumpet, bass, guitar. How do you feel like being so musical has helped you with creating music?
Dwele: I definitely feel like it's necessary to at least know one instrument enough to get your thought across because that's what it comes down to. Everybody has songs in their heads or concepts in their heads, it's about how accurately you can get it down on tape or get a song on paper before it vanishes. I think having a little knowledge about instruments and how to play definitely helps when it comes to getting your point across musically.
YouKnowIGotSoul: Take me back to the first single from your debut album, "Find a Way". Take me through the creation of the song.
Dwele: That was a long time ago! *Laughs* I was in L.A. working with G-1 and I remember I had a portable CD player and I had burnt a song in the studio and had it in my portable CD player in my headphones on the balcony of my hotel room under palm trees. I had to write this song, this was the jump off song. I just kinda reflected on something that I was going through at the time. I had got a phone call from a girl that I hadn't talked to in a minute and that was fresh in my brain. I wrote that actually in L.A. under palm trees, beautiful weather, and went in and cut the song the next day. In the process of recording the song, I remember saying to G-1 and he always brings it up, I stopped the track and said "Man, I don't even wanna be a singer man, I want to be a rapper!" He was like "What! D man you're crazy man, D man if you sing, you're going to have all of the ladies!" I didn't even want to do it and I fought with him and it took us a long time to even finish that song. I was fighting but everything worked out and I'm glad I'm still singing now because I love ladies! *Laughs*
YouKnowIGotSoul: You mentioned you're working on a new album, and I know you don't like to talk too much about it before it's done, but can you give us a little detail on it?
Dwele: I haven't officially started working on the album, but I'm always working. When I say I'm working on the album that means that I'm creating. I keep a studio nearby all of the time so I'm always creating. I don't know what direction I'm going in yet on this album. I just talked with my management today about starting up within the next couple of weeks. Once I start getting in there with the album in mind, that's when it will start to take shape. Right now I've made folk songs, I've done acoustic joints. I'm kinda all over the place but over the next couple of weeks it will start to take shape on what it's actually going to be about.
YouKnowIGotSoul: Will this album be on E1 again or a different label?
Dwele: No it's not going to be on E1 this time. I actually might put this joint out myself. It's a couple of things in the works, but I don't know yet. I might just want to do this myself.