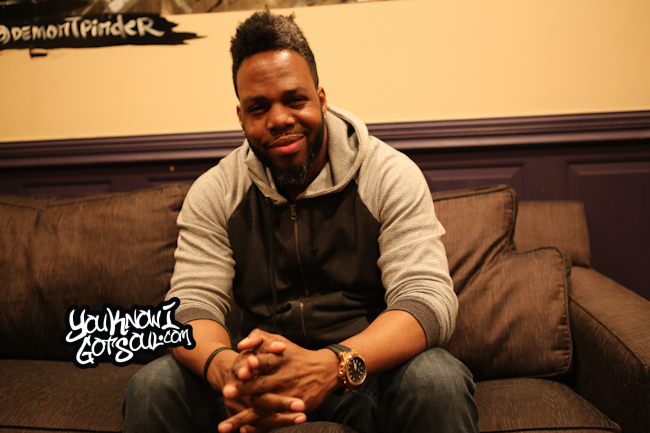 Perhaps one of the most under appreciated artists in r&b/soul over the past decade has been Dwele. Although he developed a name for himself with some great collaborations with Kanye West, Slum Village, and J. Dilla, his best work over the span of his 5 albums has been solo. Possessing booming vocals and an amazing live show, he's got everything you'd want out of a soulful r&b artist. To top it off, most of his success has impressively come as an indie. YouKnowIGotSoul sat down with Dwele prior to a recent NYC performance and discussed the progress of his next album, repping Detroit, what goes into his live show, remaining an indie artist, and more.


YouKnowIGotSoul: Your last album "Greater Than One" came out in 2012. Bring us up to date with everything.
Dwele: Mainly I've just been touring. I've been moving around and trying to spread the word about the album. I just recently started working on the next album, so I'm looking to release it in late 2015. Since then, I've been working with a few people like Royce da 5'9 on the "PRhyme" album. I've done a couple of other things, but I don't like counting my chickens before they hatch. I also have a song on Boney James album. I did the production on that one, so I'm trying to step out of the vocal side and get more into the production side.
YouKnowIGotSoul: You also had a great song with Robert Glasper.
Dwele: Yeah, that song was good!
YouKnowIGotSoul: Looking back at your last album, how do you view that body of work?
Dwele: I had a lot of fun touring with it. I think there are a lot of songs on there that I really enjoy performing. In that sense, I love the album. Of course your last body of work is always your favorite and it ranges true with this one.
YouKnowIGotSoul: Are you working on the new album?
Dwele: It's coming along very slowly. I don't like forcing things. I always prefer to let it come naturally, so I don't wake up like "I have to make a song today". When it hits me, I go in and create until the last few months and then I'll start cramming. By then though, I know what the flow of the album is and what direction the album is going, so it's easier to create. Right now I'm just making songs and once I've got those pieces, I start putting it together and see what story to tell.
YouKnowIGotSoul: Have you found yourself trying different things?
Dwele: I feel like with every album, I try a few different things but staying within my realm. It's no different with this album. The last album, I feel like it had a little more of an 80's vibe to it. That wasn't intentional, that's just where I was at the time. I feel like it's still too early to tell where I'm at with this album. Once I get 4 or 5 songs in, it'll start materializing and I'll know more about it.
YouKnowIGotSoul: It's been more than a decade since your debut album. What is your motivation when you create music now?
Dwele: I'm still motivated when I hear people tell stories about how a song got them through a certain situation. That type of testimonial is what keeps me going and keeps me making music.
YouKnowIGotSoul: Any collaboration planned for this album?
Dwele: I haven't gotten that far yet, so I don't know yet. I'll have something though.
YouKnowIGotSoul: You're always on the road and you always put together a good show. What do you want people to take away from your show?
Dwele: I just try to cover all the bases. I like to make people feel like it's an intimate performance no matter what size the venue. I want people to come back, so I try to give them a little bit of everything. I want them to be able to dance or sing. I just want people to have a great time. I want them to hear a song they haven't heard before and it makes them go check out the album.
YouKnowIGotSoul: Your past couple of albums have been independent through eOne. Do you want to stay independent or would you want to go back to a major?
Dwele: Right now independent is the way to go being that I'm a control freak. I like to produce the majority of my album and also write it. Being independent, I have that creative freedom to do what I want to do.
YouKnowIGotSoul: You've always repped Detroit, so talk about the music scene currently right now.
Dwele: Detroit is full of great musicians. Of course, I have to big up my background Jay Tae who is doing his thing. I'm on his head everyday like "Make an album!" People are still buying his album that he's been pushing it for a minute, but I want to hear another album. He's definitely one of the great voices of Detroit. Of course Kem is doing his thing and everybody knows Dej Loaf. There's also Big Sean, so we're making noise right now. I like the movement.
YouKnowIGotSoul: Anything you'd like to add?
Dwele: Appreciate everybody's support thus far. Ten plus years in the game is rare and I feel blessed to have gotten this far. As long as you keep listening, I'm going to keep giving it to you.