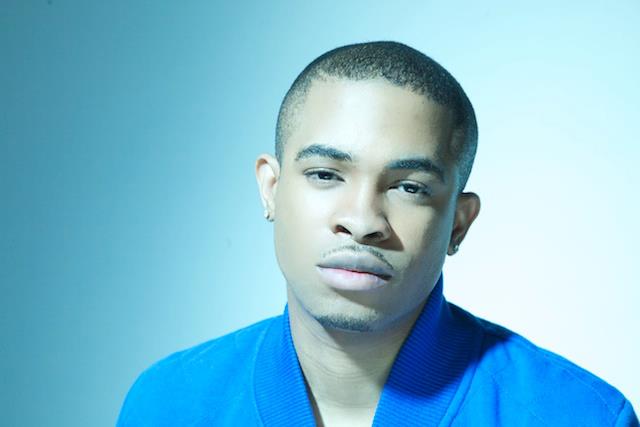 Elijah Blake is as versatile as they come as an artist, but there is a common thread with all his music and that's honesty in his lyrics. Vulnerability is rarely showcased by male singers these days, but that isn't something Elijah shies away from. With a powerful song like his new single "6", you really have no choice but to pay attention. The song, which talks about the abuse Elijah received as a child, is just one of many personal songs from him. He's also been involved with projects for the likes of Usher and Keyshia Cole. YouKnowIGotSoul had a chance to talk to the rising star about his upcoming EP, his journey in the music industry and the growth he's experienced as a writer.
YouKnowIGotSoul: You've been releasing these "Free" song series, talk about that a little bit.
Elijah Blake: So there's certain songs that I feel that as an artist, you go in and create and fall in love with, but they don't necessarily make the project because sonically or just for the cohesiveness of the album. I know with a lot of my peers, those songs end up being locked and stuck in the iTunes catalog and no one ever gets to hear them. I'm like "No" because my whole motto this time around is having no fear and being free. I just wanted to let those songs out and get a life of their own. One of those songs was done after the EP was mixed and mastered and the album was already selected, so I was like "Damn! I don't want to wait until the next album for this".
YouKnowIGotSoul: Did you do that strategically because I know you also put out two songs off your upcoming EP?
Elijah Blake: We had intentions to put the visuals out for sure, but it's been so long that everybody has been waiting for my music since "Bijoux 22" and I felt like "This is for the people who care. The people who don't care aren't going to find it anyway". This is kind of my gift for everyone who kind of waited.
YouKnowIGotSoul: You released "6" which is a very powerful song. What does that song mean to you?
Elijah Blake: It represents honesty and being flawed in the most perfect way. Don't get it twisted, I still love being lustful but I'm just acknowledging certain things that have happened that had a key part in who I am today as well. I played the song for JoJo and the first thing she said "I think it's so powerful that a guy is singing this". It's real life and we all go through it.
YouKnowIGotSoul: Your writing has always been very honest. Did you have any hesitations putting out the song?
Elijah Blake: When I saw the visuals, for sure. When I saw the video and some of those images with the little kids. It was very vivid for me and it just brought it back. You think you're in tune with those emotions until you see them visually and outside of your mind, it's like "Wow. This reminds me of how real it is".
YouKnowIGotSoul: I believe I also heard that song recorded by B.Slade. What's the history of the song?
Elijah Blake: First of all, B.Slade is very instrumental in my project. He came on as a vocal producer for me and we always talk about how similar we are. It's so creepy. There was this idea he had for a song and he knew how much I love Prince, so originally he had an idea for a Prince type of track. He brought it to me and he was like "The only person I can really see bringing this to life would be someone like you because everyone else is afraid of touching on this topic. I just you to put this in your ear and let me know what you think about it". This dude, he always records an idea and puts the shit up on YouTube and everywhere. *Laughs* That's just the type of person he is. When it got to me, I lived with it for a bit and I did some research on "6". I came back and I was like "Not all of this idea really pertains to me". Every song I do, I always make sure it is personal and honest to me. I tweaked some of it and that's how we came up with "6" / "Fallen".
YouKnowIGotSoul: With your sound right now, it's hard to put you in a box. Would you say this song in particular was influenced by a song like "All Of Me" by John Legend which kind of opened the door for people to make this type of music again?
Elijah Blake: Believe it or not, we did this song way before that. I never really question No I.D. but as an artist, we get stubborn in our ways. Sometimes he'll tell me stuff and I'll play it off. He kept saying "I think this should be the single" because once I made it my own and then No I.D. was like "Let's do this type of production and just put a piano there, so there's no distractions from the message". We did that, but I was like "No, we need an uptempo and I want to dance" because that's another thing people really don't know, dancing was my thing. I want to eliminate the boxes that artists get placed in. I got into a minor argument with someone randomly at the restaurant last night. I was leaving and somebody came up to me and was like "Hey Elijah, I'm a really big fan and I love the visual you just dropped". I guess one of their friends came up to them and was like "Oh you do music? What kind of music do you do?" and I was like "Music". He was like "Yeah, but what kind?" and I was just like "Music". He got so upset at that and it just blew my mind. We've downloaded that into our mind that it's so programmed into our DNA that we get insulted when somebody just replies with "music". I was just like "No offense, I'm not on some other level or anything, but when you think about Michael Jackson, Prince or Stevie Wonder, you don't think about genre, you just think of music". I want to follow those steps.
YouKnowIGotSoul: Talk about your upcoming EP "Drift" and what we can expect sonically.
Elijah Blake: I saw some of the comments people were making with the new songs and they were like "These are good but they're different from 'Bijoux 22′". But "Drift" is really the next step. It's probably going to be some of the best music I think I've ever heard this year. It's very cerebral and it's even more honest than my last EP. I'm experimenting more with No I.D. and the sound quality is amazing. We got it mixed and mastered like an album. We took all the steps, we didn't take any shortcuts. We have live musicians and we did 20 revisions of every song. Not just adding stuff, but we just stripped everything like the drums. People who were rocking with Elijah Blake, this is the payoff and then the album is going to be the reward.
YouKnowIGotSoul: Your song "6" is such an honest record and I can see the growth in your writing. I remember when you first came out years ago, you did a song called "Anniversary" and a lot of people on YouTube loved that song, but "6" is on another level and connects with a completely different audience. Talk about the growth in your writing since "Anniversary".
Elijah Blake: It's grown so much. I would say it's because there are certain things you can't touch, you just have to go through them. When I worked with Usher, he played me songs that didn't make it on "Confessions" and he told me why they didn't make it on that album. I think those are things that you can't buy, those are once in a life time experiences that affected my writing. Just to sit there and talk to people. I remember there was a song I started with Mary J. Blige called "I Choose You" which eventually ended up on Keyshia Cole. When she came out of the booth, I was like 18 when she did the song, she came out of the booth, looked over the lyrics and was like "You wrote this? You didn't go through this!" But before that, I had to put myself into real life experiences and watch what other people were going through. I was young and I didn't necessarily experience moments, so I think me writing for veterans at that level and having to write at that quality for so long forced me to grow up faster. Even when I talk to my publishing company, they're just like "The growth from you in a matter of a year is unreal".
YouKnowIGotSoul: Have you had a chance to write for any artists recently?
Elijah Blake: I've been way more selective because I want to give my music to people. I hate the term songwriter turned singer because it's just an artist. At the end of the day, it's just art. You don't separate the artist from the painting, you don't separate the paint from the canvas, so I just feel like it's art regardless. I've been really selective with my sessions because I want to be there when I need to do an interview or anything because this is where it begins. I could write songs until I die, but I feel like I have to write songs for myself. The few people I have been working, of course I'm there when Usher needs me. Keyshia is family, so I'm there when she needs me. I'm going to try to give Rihanna some stuff for this project, if she's not done the project by now. There's certain projects I'll always make myself available to. I've been doing some cool stuff with B.o.B who I think is criminally underrated. There are projects that I'll always be there for because it's family. As of right now though, I'm kind devoting myself and committed to Elijah Blake.
YouKnowIGotSoul: Anything you'd like to add?
Elijah Blake: Thank y'all for being one of those outlets that supported me and not just following whatever everyone else is going to post. To me, you guys were always showing love when I felt like people on the outside looking in didn't really know what was going on and thought I was just being lazy. They didn't know the internal politics that was going on that's out of our control as an artist. Def Jam had to rebuild themselves, so as an artist, you have to wait and then when everything has fallen back into place, we're able to pick up where we left off at.