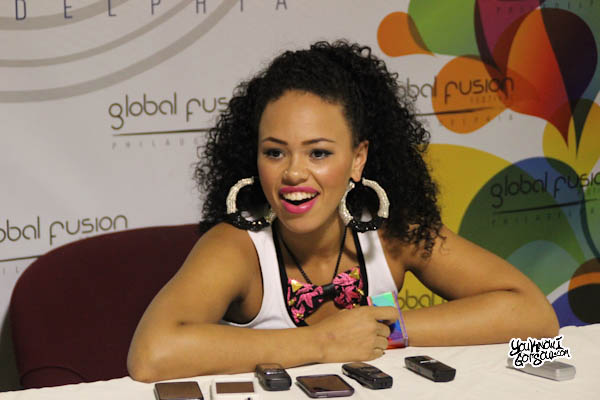 While out covering the Rhapsody Global Fusion Music Festival in Philadelphia a couple of weeks ago, we got a chance to chat with Elle Varner during her press conference at the event. Now, if you've been under a rock and haven't been introduced to Elle Varner yet, check out first interview with her to get to know her as an artist. Our second interview with Elle covered her "Conversational Lush" mixtape and how her sound and writing were developing. This time around, we discussed her new single "I Don't Care", working with producers Pop & Oak on the album, the importance of including "So Fly" on the album, and her journey as an artist over the past year and a half. Her new album "Perfectly Imperfect" will be in stores 8/7.
YouKnowIGotSoul: Right now you have out the single "I Don't Care". Talk about the song a little bit.
Elle Varner: Yeah, the song just really came from the heart. It was an experience that I was going through around the time of the album, so it really just ties everything together. It just makes people feel.
YouKnowIGotSoul: I read the album tracklisting and saw that Oak & Pop helped you with most of the album. What type of sound did they help you create for this album?
Elle Varner: They really helped me connect old school and new school. We created a sound that included classic R&B and soul and Hip Hop.
YouKnowIGotSoul: One song that's on the album is "So Fly" which is on your mixtape as well. Talk about the importance of including that song on the album.
Elle Varner: Well "So Fly" and the title "Perfectly Imperfect" go hand in hand. It's just reinforcing the idea that we should just accept who we are and where we're at and where we're not at. We just need to love ourselves and that's kind of the theme of the album.
YouKnowIGotSoul: When we first had a chance to interview you back in February of 2011, you were just coming onto the scene. A year and a half now, your debut is coming out. What has that whole journey been like for you?
Elle Varner: The journey has been crazy from my first show when there were 3 people in the room to performing in front of 17,000 people and they're singing "Refill". I've learned a lot about being professional, how demanding this job is and I love it.