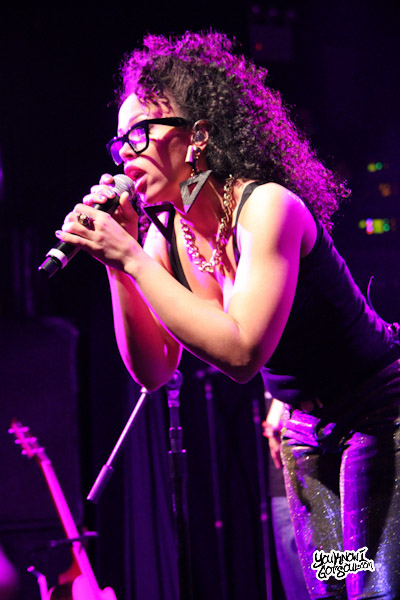 When we were first introduced to Elle Varner a year ago in this interview with her, she was still a newcomer and relative unknown to music fans. Fast forward a year later and it's amazing to see how far she's come. With her smash single "Only Wanna Give it to You" in heavy rotation, her mixtape "Conversational Lush" receiving rave reviews, and her inclusion as part of the BET Music Matters Tour, it seems like only a matter of time before Elle Varner blows up if she hasn't already by the time this story publishes. YouKnowIGotSoul caught up with her once again, this time backstage at her NYC stop on the Music Matters Tour being headlined by Estelle. We discuss with her the current single "Refill" which is catching on quickly, her mixtape "Conversational Lush", what to expect on her debut album, and much more.
YouKnowIGotSoul: We're here at the BET Music Matters Tour, you just came off stage. How does it feel to be a part of this tour?
Elle Varner: It's an amazing blessing. I've learned so much about touring and it's been a lot of fun.
YouKnowIGotSoul: On stage you announced that your current single "Refill" is the most added song in Urban Radio. How does that feel?
Elle Varner: Incredible! It feels like I'm doing the damn thing!
YouKnowIGotSoul: I know you wrote that song, talk about how it was created.
Elle Varner: It started as I was in Miami with my girlfriends and we were pre-gaming and I was like *sings* "Can I get a Reeeeefiilllll". I do that all of the time, just stuff comes out of my mouth, I don't know! When I heard the track, all of the sudden sub consciously this melody popped back into my head and I wrote the whole song off of that concept, having a refill and how I could make it interesting and different.
YouKnowIGotSoul: Of course your mixtape "Conversational Lush" is out now. Talk about the mixtape and how it's been received so far.
Elle Varner: It's been received so well, like 20,000 downloads. It's such a wonderful project for me because I'm able to step out into a different side of me; rapping, talking about "What the f***", just having a lot more fun.
YouKnowIGotSoul: You performed the song "Ghost" tonight which is a song off of the mixtape and that's a song we love. Talk about the creation of that song.
Elle Varner: That song is a real conversation that I had that I kinda pieced it together and put it in a song.
YouKnowIGotSoul: You're working on your debut album "Perfectly Imperfect". What can we expect from that project?
Elle Varner: It's such an honest heartfelt album. Lots of true stories, I wrote all of the songs, I did the production on all of the vocals.
YouKnowIGotSoul: You have such a unique sound and great voice, it's so much different than what's on radio now. Does it ever scare or intimidate you a little bit that your music might not blow up like you'd like it to?
Elle Varner: Well it might not blow up at the pace that I would necessarily like it to, but I've known since I was a kid that I'm a star. I'm glad I'm working for it instead of just having instant fame and instant success. That's nice, but I'm having to work very hard for it and I love that.
YouKnowIGotSoul: Some things I really admire about you as an artist are your writing and your vocal arrangements which to me make your songs so great. Where did you develop that talent?
Elle Varner: Really a lot of it comes from my mom, my mom is definitely an artist that when it comes to background vocals, she's amazing. It's an art form coming from her. I definitely was around artists like Rahsaan Patterson and just people that were always writing and putting out great music.
YouKnowIGotSoul: With your parents being musicians, did they ever push you towards a career in music, or did they let you find it on your own?
Elle Varner: My parents definitely supported me with whatever I wanted to do. There was never pushing me in one direction. I didn't have to go to college, I didn't have to become a musician, it was all like whatever I wanted to do.
YouKnowIGotSoul: Anything you'd like to add?
Elle Varner: My name is Elle Varner, follow me on Twitter @ElleVarner. Peace!