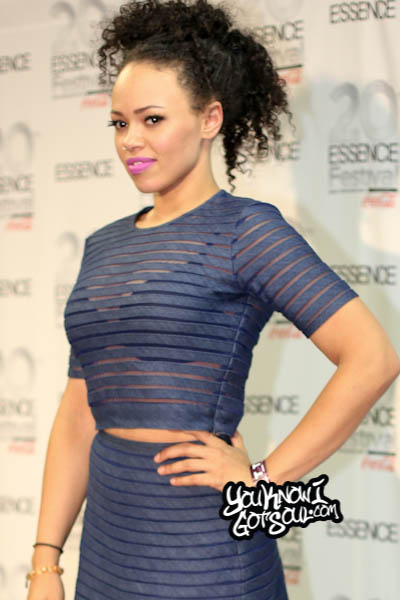 Elle Varner's debut album "Perfectly Imperfect" couldn't have been more exciting. Not only was she able to get herself a hit with "Refill", she was nominated for a Grammy and made a name for herself with her artistry. As a result, fans have been patiently waiting for Elle's second album. After dropping her "Four Letter Word" series, she is ready to get started on the next era of her career. YouKnowIGotSoul had a chance to speak with Elle Varner in the press room of the 2014 Essence Festival about her upcoming album and what the fans can expect from her.
YouKnowIGotSoul: You recently put out your four song series "Four Letter Word". The music was really liberating with songs like "Fuck It All" so what inspired a song like that?
Elle Varner: I got to a place in my life where I was making a lot of good R&B songs and they were really cool, but they didn't really mean anything to me personally. I went through a lot of things and those songs were my only way of exploring or expressing those emotions. It was challenging for me as an artist. I feel like I've taken it to the next level because I was like "You know what? Not everyone is going to be looking for this right now because they want a 'Refill" part 2 or whatever" but as an artist, this is what I have to do. I have to give you what's real at this time. It doesn't define me as an artist, but I try to capture a moment. The next album is going to be about rainbows, love and happiness but I have a sarcastic way of saying things like on "So Fly" or "Not Tonight". You get that humor throughout the album even if the songs are sadder. I personally got that out of my system and I'm just so happy to share this music and go perform it.
YouKnowIGotSoul: We run into Jeff Robinson a lot and he always says that this will be the album that takes you to the next level. Talk about the album and what we can expect.
Elle Varner: Yeah, it's something where I said "I don't care, it's not about how many album sales I get or if it's the most popular thing on the radio". A lot of the things on this album kind of go left. I had to realize that I'm in this for the long haul. I'm here to make a career for myself and I felt so much pressure over the last two years to put out another album and hurry up with my single. Once I took a minute to quiet down and just understand that it's going to be what it's going to be, when it's going to be. That's alright because I'm here to stay.
YouKnowIGotSoul: Anything you want to add?
Elle Varner: I have a really exciting video coming out. I want it to be a surprise, but it's coming out in a very weeks. My official first single "Don't Wanna Dance" with A$AP Ferg is out now.