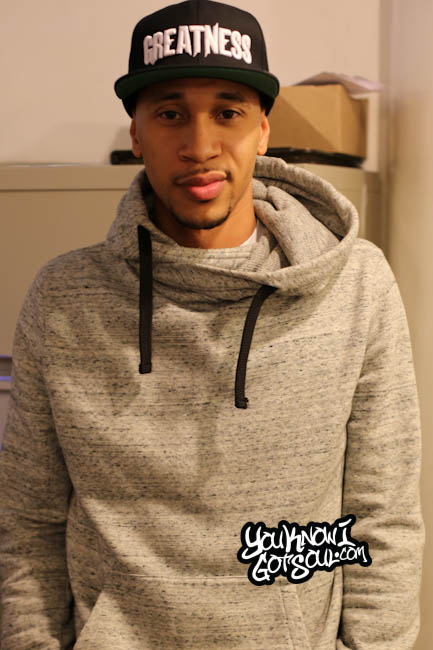 When r&b fans think of Emanny, they might automatically associate him with hip-hop because of his affiliations and numerous collaborations with the likes of Jadakiss and Joe Budden. However, there is a totally different side to him, and that's exactly what he gave us on his latest project "Songs About Her 2". So while Joe Budden may have given him a platform, Emanny is poised to take that opportunity and run with it while being himself. YouKnowIGotSoul sat down with him prior to his performance in our Sol Village show in NYC and discussed the creation of "Songs About Her 2", his hip hop affiliation, standing out from the rest, and much more.
YouKnowIGotSoul: Tell us a little bit about your background.
Emanny: I'm a light-skinned guy from the Bronx. I sing and write. Most people might be familiar with my first project "Songs about Her" and I've also worked extensively with Jadakiss and Joe Budden. A lot of people are familiar with me from there.
YouKnowIGotSoul: Where did you get your first break?
Emanny: I think it was two points. The first point was working with Joe Budden on his "Mood Music 3" album and the second point was more of a national look which was Jadakiss's record "Hold You Down" which was the first single off his EP which was through Def Jam.
YouKnowIGotSoul: How did you get that energy from those strong vocals on those songs and transition them over to your project?
Emanny: It's funny because I'm a singer, but I feel like I move and create in rapper mode. The energy demands for you to move and grind more. It's fewer egos and more prepared for the long haul. I just try to keep a positive energy and focus.
YouKnowIGotSoul: Would you say you associate yourself more with the Hip Hop culture or R&B audience?
Emanny: I'm a mix of both. I'm a baby of both genres. Growing up, I listened to both of them extensively. I love Michael Jackson just as much as about Biggie Smalls. It just so happens that I can't rap because if I could, I would be like Drake and do that.
YouKnowIGotSoul: On "Songs About Her" and "Songs About Her 2", you've made great movements and you've opened up a little bit more to your audience. What led to some of those things?
Emanny: A lot of personal things happened to me in love and just life. I lost my father, so that was something that led me to open up a little more. I'm a grown man and I shouldn't be afraid to give the audience all of me.
YouKnowIGotSoul: We're lacking a lot of subjects in R&B. How do you continue to talk about things like heartbreak and be so strong about them and not shy away?
Emanny: I'm always good talking about heartbreak because I tend to deal with a bunch of wrong women. It usually ends up bad. *Laughs* I try to keep an older mind and not be afraid to speak on certain topics because a lot of men are prideful and don't want to seem like they have similar emotions. We act differently with our emotions than women, but it's similar in ways.
YouKnowIGotSoul: What are you most proud about the release of "Songs About Her 2"?
Emanny: I'm just proud people actually went and got it. My response to it when it first dropped was great. It charted, it did well first week and it was something I was very scared of, but I was ready to take that on and move onto the next chapter.
YouKnowIGotSoul: What were you looking to do differently with "Songs About Her 2" than "Songs About Her"?
Emanny: I wanted to do more contemporary R&B. The first one had a good realm of Hip Hop influence into it, but this time I wanted to show people that I'm actually an R&B artist and I can create R&B music just as good as the other guys.
YouKnowIGotSoul: Being so closely associated to Joe Budden, what doors has that opened for you and how did you meet him originally?
Emanny: We had the same manager around 2007 and she had linked us together. We bonded as friends and the friendship led us to be able to do the music a little better. Working with him has been a great pleasure and a great gift. It's also been a curse because people automatically associate me with that and they don't open their eyes to hearing more. I have no complaints and I think the chemistry is amazing. That's definitely going to continue.
YouKnowIGotSoul: You've mentioned making more contemporary R&B on this last project. With the radio enjoying that West Coast sound, what are you doing to stand out from that?
Emanny: I can't do anything except for to be me. My stories are going to be similar to others, but it's through my voice and words. All I have to do is just keep being me and tell the stories that I go through. I think that's what's going to make me stand out.
YouKnowIGotSoul: What can we look forward next from you?
Emanny: I'm dropping another project at the top of 2015. I have a record called "Don't Come Running" which I think is going to be my first shot a radio. I think it's going to be a radio record. I have a great feature attached to it. It's not Jadakiss or Joe Budden, but you'll find out soon. I'm going to be touring a lot more because the people know the music and the name.
YouKnowIGotSoul: Anything you'd like to add?
Emanny: Go get "Songs About Her 2" and check me out at @theonlyemanny