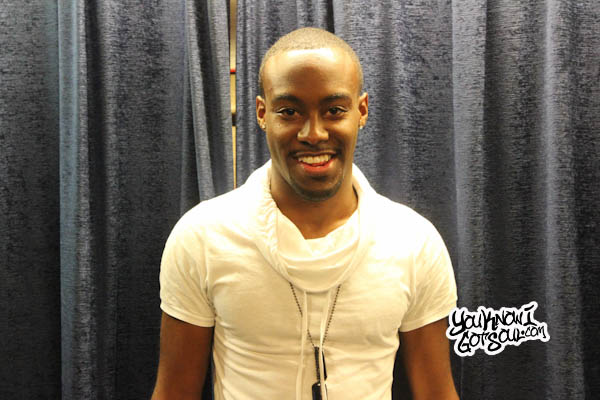 Every so often an artist comes along seemingly out of nowhere and has an immediate impact on r&b; and Antoine Dunn could be the next in line. Not only is his debut single "Can't Forget" blowing up, but he was recently tapped to open for Anthony Hamilton on his current tour, quite an honor for an independent artist who hasn't even released an album yet. On the brink of mainstream success, YouKnowIGotSoul got a chance to catch up with Antoine for this interview. We talk to him about how he got his start in music, hooking up with Grammy winning producer Tony Nicholas to help craft his debut, how being a complete musician helps him create his music, what to expect on his debut album, and much more.
YouKnowIGotSoul: I was reading in your bio that your Aunt was a professional Gospel singer and this gave you a lot of insight into being a musician when you were younger. When did you first realize you wanted to do singing as a career?
Antoine Dunn: I want to say my middle school years, those were the years where I really found out that music was really for me and that's the direction that I wanted to head in.
YKIGS: Later on, I read that at the age of 17 you were appointed the Minister of Music at your church and did that for about three years. What was that whole experience like?
AD: It was a really great experience. I had a chance to learn a lot, not just about music, but just about being a leader. Being in a situation where you have to direct a band and constantly have new material for singers and for musicians. It was a good thing for me.
YKIGS: Aside from being a vocalist, you're a songwriter and play the piano, drums and bass guitar. How do you feel like being so musical provides you with an advantage when you're creating your music?
AD: It's definitely helpful because it allows me to pretty much put myself in the position as though I'm a bass player, or I'm the drummer, when I'm putting my song together and writing. It's not like it's guess work. I can really put myself in that position and know what it is exactly that I need and what it is exactly that I don't need.
YKIGS: Back in August, I read that you signed a deal with Elite Music Group and now you're with them. How did they discover you and what led to your signing?
AD: Pretty much Elite has been around for about five or six years and previous to me they had an artist by the name of LaKisha Jones who did really well on American Idol. They also had a hip hop group. They were just at a place of restructuring and I actually had a chance to meet the president through a couple of my mentors and he had a chance to hear some of my work. He immediately latched onto it and felt that I was the next artist that they were willing to invest in and help push along the way.
YKIGS: I was reading that you were doing some songwriting and selling some of your songs prior to signing this deal. What's your creative process to writing a song?
AD: I almost always write at the keyboard. Because I am a musician at heart, I'm a musician first. I always sit down at the piano and whatever I'm doing, as far as what's happening on the piano kinda influences the vocal and vice versa. It's a really good process and it works out really good.
YKIGS: In your bio it states you "Do not try to present an image, I portray my true self and my true expression through authenticity of my performance". In a day and age where things are so image focused and people pay so much attention to that and it's in the mainstream, do you think it will be difficult to be successful?
AD: I definitely believe that there will be challenges with that, some of which I've already seen. I really believe that the good thing about being with Elite is that it is an independent label so I have more of a say and it's more of a partnership versus them kinda dominating the situation and kinda telling me what it is that I need to be. It's more of a collective, "How can we take this whole project and brand to the next level?"

YKIGS: Talk about your debut single "Can't Forget". We love the song, we had it as our Featured Song of the Week a few weeks ago.
AD: Thank you so much for that!
YKIGS: How did you create the song?
AD: Pretty much what happened with that record was we sat down and were ready to do the album. I have hundreds of songs in my catalog but we were looking for that one song that essentially unforgettable. That actually is a song that was co-written and produced by Jerry Lang which is a musician in my band, Tony Nicholas, who is a Grammy winning producer, and myself. That was a song where we all kinda put our heads together and that's what came out. It's proven to be a very good record so far.
YKIGS: Tell me about your work with Tony Nicholas. I had read that you were working with him, and I knew him from his work in the 90's and 00's with Gerald LeVert. How did you link up with him?
AD: It's really crazy, one of my mentors in entertainment, a guy by the name of Devin Collins who is a videographer, he actually was a member of the church I directed at. One Sunday during service I was playing just a piano patch with some soft strings layered under it. He heard that and he came up to me after the service, I had no idea what he did, but he invited me over his house. So I went over and come to find out he did film and video, and he wanted me to do audio for a scene that he had for a feature he was editing. So I did that with Devin Collins and then Devin Collins is a good friend of Tony Nicholas. Devin told Tony "Yo I've got this kid Antoine Dunn, songwriter/producer, really talented cat, you should come out". So I developed a relationship with Tony and I worked with him on songwriting and also on some vocal production on LaKisha Jones' freshman album. So me and Tony were really good friends and we really have a great synergy between us when we work.
YKIGS: Your debut album is expected to release early next year. What can we expect to find on there?
AD: You can expect a lot of greatness. That's what we're shooting for, we're shooting for a record that's, like I said, essentially unforgettable. It's going to be something that is new yet familiar. It's going to be a really nice record. A lot of pop records are going to be on there. Also we're not going to stray too from the roots of urban A/C which is the straight gritty r&b and soul. It will definitely be my own style and be very original and very unforgettable.
YKIGS: Who did you work with on the album? Any outside producers?
AD: At this point, most of the record has been produced between me and Tony Nicholas.

YKIGS: Any collaborations?
AD: There will be collaborations in the near future. Who those collaborations will be with? That's TBA. We do have some really exciting things happening, especially with the single and we've got some remixes coming and those collaborations will be really cool. We don't want to talk too much about that just yet.
YKIGS: I just found out you're going to be on tour with Anthony Hamilton pretty soon. Talk about that.
AD: That was such a breath of fresh air for everybody involved. We've really had a lot of success thus far and we just are looking for more things to happen and more doors to open and that was something that it really made us all felt good. It really made us all feel like we were moving in the right direction. Anthony Hamilton is actually one of my mentors and one of the people I look up to in music. I actually know the majority of his catalog. To actually be on a stage with a guy that I listened to when I was younger is kinda surreal.
YKIGS: Anything you'd like to add?
AD: I just want to add that we're just grateful for the support that you guys have shown us and we hope that we can work together more in the near future.