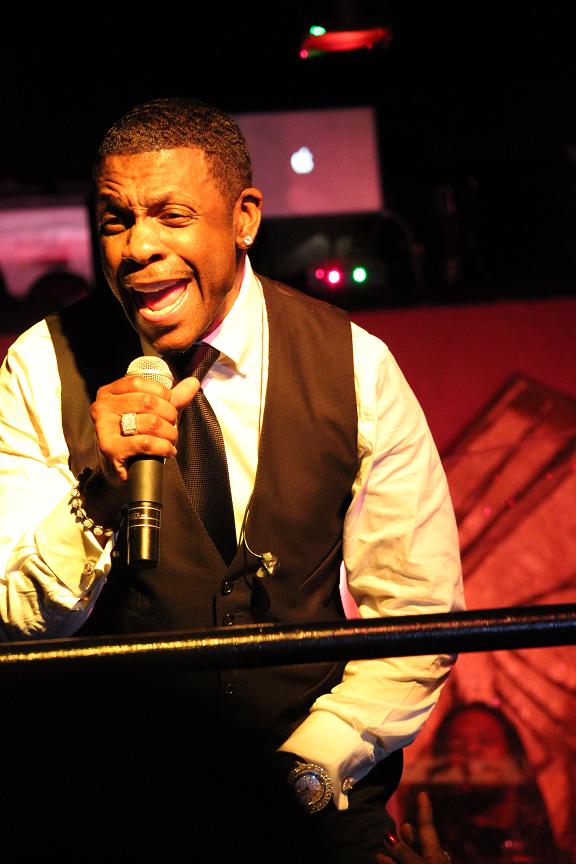 It's usually the case that as most legendary artists enter the twilight of their career, they begin slowing down a bit with recording new material and keep fans happy by touring and singing their classics. However, that couldn't be farther from the case when it comes to Keith Sweat. Not only is he preparing to release his third album in four years, but that's in addition to actively doing shows as well as his nightly radio show. The day before the release of his new album "Til the Morning", YouKnowIGotSoul caught up with Keith to discuss what to expect on the new album, reuniting with Johnny Gill and the late Gerald LeVert on a track, his surprise collaboration with T-Pain, his legacy, and much more.
YouKnowIGotSoul: Your new album "Til the Morning" is releasing this week, what can we expect to find on there?
Keith Sweat: Some vintage Keith Sweat! *Laughs*
YKIGS: What made you go with the title "Til the Morning".
KS: It pretty much sums up the type of music I've done. We already know how it goes down "Til the Morning" and what that concept means. So basically I just named it "Til the Morning" because it just fit with the album and the songs that are on the album.
YKIGS: You've got out the single "Make You Say Ooh". Give me some background on the song and how you created it.
KS: The song is basically, like I said, I just want to do music like I've been doing. I basically wanted to incorporate a bunch of stuff I've done with my music from back in the day until now. "Make You Say Ooh" basically the song is pretty much the same type of area of "Nobody" and "Make It Last Forever", those types of songs.
YKIGS: Talk about "Knew It All Along" which is the collaboration with Johnny Gill and Gerald LeVert. Give me some background on that song.
KS: LSG was such a big record, so I just wanted to do something with all three of us that pretty much took me back to when I put the group together. That was a song that I did with Johnny, and then I incorporated some of Gerald's vocals from old masters that I had. It just gave me an LSG vibe and I thought it came out pretty well.
YKIGS: Also on Johnny's album, you had a collaboration with him and Eddie LeVert on "Long, Long Time". Talk about that.
KS: Well Johnny came and asked me to do something on his album, so I told him "You've got to return the favor baby!" *Laughs*

YKIGS: Another collaboration I saw when looking over the tracklist was with T-Pain. Talk about that song.
KS: Well my nephew works with T-Pain, so he hooked it up, it was a hook up. *Laughs*
YKIGS: I thought a lot of people might be surprised to see you collaborate with an artist like that. Was it different for you?
KS: I've done the talk box, the vocoder thing. T-Pain is doing the auto-tune thing which is kinda in that range, it's not the same, it has that same vibe. I've done that with "Something Just Aint Right" and those types of songs. As a matter of fact, I did a song called "Put your Lovin to the Test" with Roger which had talk box which is pretty much a similar feel to the auto-tune.
YKIGS: On this "Til the Morning" album, did you approach it differently than any of your previous albums?
KS: It's kind of hard to say I approached an album in a certain way. I just go in there and say "Let me write a song, let me try to write a hit record". There's no real approach. It's just what feels good, let me listen to some tracks, if the track feels good I think of what I can think of or what hook or verses I can come up with. I just approach it like I want to do a good song, not like "Ok I gotta approach this album like this because I approached the last album like that". I don't think like that.
YKIGS: Music has changed so much, especially r&b. Are you influenced by any of the music that's made now? Does it change the way you do things?
KS: Not really. I think the music now is more influenced by what I've done and what people like myself and other people have done, like Charlie Wilson and Luther and other people like that. I think our influence is more wide spread because you'll hear certain sounds or certain samples coming from things we've done. I think we influenced what's going on now. They've taken it to another level, but our influence is out there.
YKIGS: You've been doing the "Keith Sweat Hotel" radio show for awhile now. How's everything been going with that?
KS: I'm in 49 markets, syndicated. The numbers are good, I'm doing a good job I think! *Laughs*
YKIGS: Since you've been on an independent label for the past few albums, how much do you see the radio show as a promotional tool?
KS: I'm going to go out there and do something for this album. I haven't figured it out yet, but it's in play, I'm putting a play in effect! *Laughs*
YKIGS: This is your third solo album in the past four years now. Do you see yourself slowing down anytime soon or will you keep going?
KS: Nah baby, don't nothing come to the sleepers with dreams! I don't see myself slowing down at all. I'm just getting more motivated now baby! *Laughs*
YKIGS: To you, what is the legacy of Keith Sweat?
KS: To make great music, staying power. Giving people what they want. I think that's what I want my legacy to be, that "Yo, he put out good music, he had staying power, every time we see him perform he did a great show, he's a good brother". That's what I want my legacy to be.
YKIGS: Anything you'd like to add?
KS: Go buy that album "Til the Morning" in stores or download it! *Laughs*