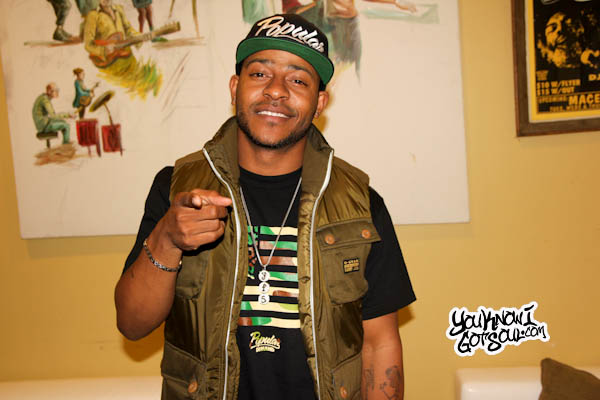 If you're not familiar with Eric Bellinger as an artist, his name may ring a bell from the numerous smash hits he's written for other artists over the years. After recently releasing his new mixtape "Born II Sing" Volume 3, he's fighting the same battle that many talented writers are; earning his respect as an artist in his own right. It surely doesn't hurt that he has the likes of Chris Brown, Usher & Tank in his corner to help sing his praises. He's already lived up to the challenge of breaking through as a hit songwriter, and there's no doubt he's got what it takes to become superstar himself. YouKnowIGotSoul sat down with him prior to his performance for Sol Village at SOBs. We discussed his new mixtape, signing a publishing deal with EMI, writing Chris Brown's "Fine China", challenges of writing from a female's perspective, and much more.
YouKnowIGotSoul: You released your new project "Born II Sing" Volume 3 last month. Talk about the project and how you created it.
Eric Bellinger: Recently I just put out the project. I'm super excited about it. It's just been incredible just to see the people responding to it and it's starting to get legs of its own and it's starting to get the word of mouth promotion from people. That's priceless because over the process I'm able to gain fans and more relationships. Just me as an artist, it's always an overwhelming feeling to get that gratification.
YouKnowIGotSoul: You had the big announcement that you signed to BMI for publishing earlier this year. What does that mean for you?
Eric Bellinger: It was really good because for me, with that type of thing and going back and forth with ASCAP and BMI for awhile, it really let me know that people are super interested. It's like "We're doing something right" because they were like "Whatever we have to do to make sure you're part of our company, let's just make it happen!" That was really exciting.
YouKnowIGotSoul: You wrote Chris Brown's new single "Fine China". Talk about that song.
Eric Bellinger: "Fine China" is an amazing record. I'm not even being bias. *Laughs* It's an undeniable old school sounding joint, but we were able to capture the sound of today with that sound. It was dope because it's the old school music, but Chris Brown is the young cool guy, so for the young people to see him doing that was a great example to see exactly what the music was back then and it was still something they could relate to. It was a dope mix. I got "Fine China" and some more songs on his album. "X" is going to be pretty incredible.
YouKnowIGotSoul: "Fine China" has a throwback R&B sound and it's doing really well. Did you set out to make a retro sounding song like that?
Eric Bellinger: When we initially started off the camp because it was a bunch of us all at the same studio. It was like four studios in one big building and we were all there pretty much everyday for like two months. There was no specific direction. It was just like "Let's just do music." Then when that song came about, it was kind of like self explanatory. Everyone from the label, his management, him, all the songwriters and even people who didn't work on the song knew that was the one. It's dope because with that, you never know what you're going to get out of it, but just put enough creative heads together and let the magic happen.
YouKnowIGotSoul: Your placements have been piling up over the years. Have the people been coming to you more for songs?
Eric Bellinger: Yeah, it's a lot different. I remember when I was getting that first one and just getting the foot in the door. That was the hardest part. Just getting the artist to say "Cool, we'll take a chance on this guy as a new writer" because a lot of times it's a bunch of politics so people just go to R. Kelly, Rico Love and The-Dream, but then it's like "Okay let's give this new guy a chance." Once you get that first one out the door, then people will be like "Cool". Now people are like "He did do that one", so the politics are in your favor a little bit because you're not the rookie anymore. It's crazy to see the process and see the different people reach out to me that I was reaching out to in the beginning like "Yo I got songs, check me out" and carrying around my laptop. Now people are just calling me like "I know you have something like this" and I'm going through the thing like "Okay!" *Laughs* It's super dope.
YouKnowIGotSoul: You did some stuff on Fantasia's new album. When you worked with established acts like that, do you give them ideas or do they tell you what they're looking for?
Eric Bellinger: A little bit of both. Sometimes they'll say "Hey this is what we need" but not too much because it's like now I'm to the point where they pretty much trust what I'm going to say or my melodic choice or conceptual instinct when I hear different tracks. It's cool. They kind of just let me go. Sometimes I'll just completely write a song by myself and then send it in. For example with "Lemme See", I had already did that one prior to going in with Usher and then once he heard that, he was like "Let's get this guy over here" and we started together a lot. We wrote "What Happened To U" and "I Care For U" together. The Fantasia one was already done too when she came in.
YouKnowIGotSoul: When you're working with female artists, how is it like writing from a female perspective?
Eric Bellinger: Actually it's weird because it allows me to be more creative. I think that's what me being an R&B guy, I'm automatically already in touch with the stuff females say. I'm the romantic guy and I listen to females when they're having problems. I have friends that come to me and tell me different problems that they're going through, so a lot of times I just put real situations into songs and I might just twist it. Being a man and knowing the things we do, a lot of times I just kind of tell on us. It gets the job done because women are like "That's true!" It's just things women have complained to me about, so I just write about it. *Laughs*
YouKnowIGotSoul: Has it been tough trying to break the stigma of just being a songwriter and putting yourself in the spotlight as an artist?
Eric Bellinger: At first I thought it would be just because there's so many people that are writing songs and are like "Yo this is my vision." Of course everyone wants the spotlight, everyone wants to be on stage and go on tour. Going in initially, I was like "I wonder how people are going to take it." I believe the project was great. We really took our time with it and we made sure every song on the project was a great song. I think I have an advantage because I am a songwriter, so I was able to create until my team figured that we had the project exactly where we wanted it to be. Once we put the project out, it was self explanatory because the music did the talking for me as opposed to me trying to prove myself or me trying to win everyone over. It was just like "Yo I'll put the music out see what people say" and slowly after, people were like "Wow this guy not only knows how to write a song for artists, but he knows what he wants to do himself." I think that's the problem with different songwriters that are artists as well. I think the music pretty much just broke the stigma for me.
YouKnowIGotSoul: What's next for you?
Eric Bellinger: Right now we're focusing on pushing the project as much as possible. I just did a video for "ASAP" which is the first single. We're about to do a video for "Say No" with Problem which is the next single. I'm already getting some radio spins over in LA and it's really helping a lot. When I get back, I'm going to do another radio run for "Say No" up West Coast and out there. I want to make sure that I stamp my hometown first and make sure California is behind it, so that once it hits the streets and the nation. I feel like I'll have a backing and a support behind me. That's definitely the plan right there. I've already started working on new music because that's all I do. People are like "Let's go bowling" and I'm like "Nah let's go to the studio and write more songs" because it really transitioned from work to being the only place I wanted to be.