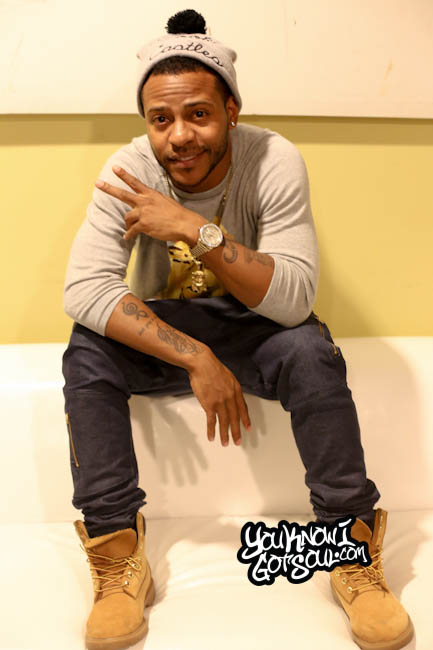 Despite the fact that Eric Bellinger has written hits for everyone from Usher to Chris Brown to Justin Bieber over the years, he's only now starting to get the recognition he deserves as an artist in his own right. That's the challenge many times for writers attempting to make the move to the spotlight, but the special ones usually find a way. He released his album "The Rebirth" on his own earlier this year, and now has just released the new mixtape "Choosin Season". With immense talent and many of r&b superstars having his back, the sky is the limit from here on out. YouKnowIGotSoul sat down with Eric Bellinger prior to a recent performance in NYC and discussed his The Rebirth album, the influence that Usher and Chris Brown have had on his sound, adding positivity in his music, his next projects, and more.
YouKnowIGotSoul: Your project "The Rebirth" came out earlier this year. Talk about how it came together and releasing it all yourself.
Eric Bellinger: "The Rebirth" was definitely just a project where I felt I wanted to put out a body of work where fans could actually get to know me. I had so many different situations and topics that I could write about that I've been through that they could feel, rather than having a short body of work where they can't connect with me.
YouKnowIGotSoul: Many of the features on this album are artists you've collaborated with in the past. Talk about what it's like to be a young artist and work with so many names so soon.
Eric Bellinger: The songwriting for me definitely has been a blessing and helped propel me and put me in position to where I'm now. A lot of times people will hear the songs I wrote and say "Oh man you should have kept 'Fine China' or 'Lemme See' for yourself! You would have done so much with that song!" Me giving those songs away to Usher and Chris Brown and Justin Bieber, when it comes time for me to do my project, I say "Hey Usher, big bro, I need your help." He's welcome to it and open to it because it's like a give and take. Nobody wants to just give and nobody is just gonna take. We're all human and have love for each other and want to support. To work with all of those guys has been a blessing and I don't take it for granted. When it comes time for me to each out, they're there and got my back.
YouKnowIGotSoul: When I listen to "The Rebirth", I can hear some of the elements of some of the artists you've worked with. Many of these songs very well could have been an Usher song or a Chris Brown song. Does their style rub off on you when you work with them?
Eric Bellinger: Heavily! I've been listening to Usher since I was a little kid, like "8701" and "Confessions" and those albums have done nothing but help mold me and figure out who Eric Bellinger is. Looking at Chris Brown and his entertaining skills on stage, it's like no other. From the singing to the dancing, and just the charismatic energy that Chris brings to the stage and record, you can hear him having fun on those records. I'll be looking at him while we're working together and he's in the booth, and I'm vocal producing him, but he doesn't know I'm taking notes. When I'm writing, I'm learning. It's cool because those guys look at it like they're learning too and my approach to it. There's no egos at that level. I think when you're at the higher level, there are no ego because everyone is there because they're willing to learn rather than hard headed people that think they know it all and they haven't even making major moves because they think they know it all. When I work with the bigger artists, they're the ones that are more open to criticism and asking what I think. That's what separates a lot of the people that take it there and the people that stay down here.
YouKnowIGotSoul: The surprise collaboration on this project was the one with one of our favorite artists, Jon B. Two generations coming together. How did that come together?
Eric Bellinger: Jon B. has actually always been one of my favorites growing up in the 90's listening to his songs. Especially "They Don't Know", that's such a classic. I recently did a show with him and he was a fan of my music and he said "Bro, we've got to work!" We exchanged information and I hit him up and he asked me to come through. I went to his house and told him he had a song that I thought people would love but it's a little different from what he's done. He heard it and instantly fell in love with it, ran in the booth, he has a setup in the booth where he engineers himself. I just watched him go and it was another situation where I was learning. I'm someone that's just always open to new things. Once he was in there and did everything he did, I just let him do it and said "thank you!" and we did a song for him as well.
YouKnowIGotSoul: How did you end up doing the "Do for Love" cover of Bobby Caldwell?
Eric Bellinger: Midi Mafia is a production team that I've been working with since I first started writing. They believed in everything I've been doing. They recently put out a mixtape and produced all the beats on the project and reached out to all of the artists they knew. They played the beat for me and instantly I knew it was a no-brainer. The track was a no brainer, they flipped it. When I heard it, I wanted to flip it conceptually. I didn't want to do the original concept; I wondered how I could make it a positive song. All of my records, I try to do them in a positive light with everything that's going this way, I try to go that way with my concepts. I just made it about a girl. Nowadays women are selling themselves short in settling for being the side chick or giving it up to the guys too soon. I really look at it like I can help this generation change and be a tiny grain of salt in the evolution to where I feel music should be. I just go full force and people love it. It's dope. I'm taking the concepts and the same vibe that all the songs on the radio have, I have the same vibe as all those songs except if you listen to the lyrics, I'm really spitting. I'm giving something that people can think about. It's conceptual r&b over hip hop and r&b beats.
YouKnowIGotSoul: Talk about your song "Drake's Ex" and where the idea came from?
Eric Bellinger: For the song "Drake's Ex", with music today I look at it like every song is about I Love You, I Hate You, It's Over, Let's Work it Out, all the same concepts. In the world we live in for new artists, you have to come new, you can't just write the same song we've heard a million times. So really the song is about a break up but I twisted it to where Drake is one of the biggest artists of our time and I'm sure that any girl that was with him or used to be with him is somewhere feeling salty every time they hear the radio. I was like I'm going to write a song about the exes or the people that didn't believe in me or took me as a joke and now they're looking at it like "Wow, he actually grinded it out and stuck with his dream."
YouKnowIGotSoul: You have a lot of great collaborations on the project like Jon B and Tank. Who are some of artists that you still want to collaborate with?
Eric Bellinger: As far as working with people, I had a list in the beginning when I started and I've literally checked off everybody as far as working with them on the writing side. I have songs I wrote like Drake and Justin Bieber's "Right Here" which is my favorite. I worked with Beyonce on her last album. The songs didn't end up making the cut, I worked with her hands on three weeks straight. There's not anybody that I haven't worked with, it's just that i've been working for their projects. Now the tables are turning and I'm doing the artist thing, I just have to get them on my project. Really it's the same people I've been working with over the years, but it's just about reaching out in a way that's not thirsty. You don't want to go crazy like "Yo, we need to work!". But I've already grown a relationship with them so I know when the time is right, I'll get a song with Beyonce, Chris Brown and all these other people I look up to so much. I'll get a song with Usher. It'll be in the works. I'm just excited and I'm patient. Luckily I'm not someone who is in a rush. My process and my journey has been a slow journey, but it's been a journey to where I've gained true quality fans who appreciate the music I'm making. For that alone, that's success to me. When I do shows, the fans come out. Wherever it is, they tell me how much they appreciate what I'm doing for music and they can't go a day without listening to my music. I'm just excited for the whole ride.
YouKnowIGotSoul: What's coming next?
Eric Bellinger: Next up, I've got two projects coming. Everybody is doing different things now for the marketing of their project and their release. I feel like that's the new wave like "What can you do differently?". For example, Kanye did the premiere of a video on like sixty six buildings on projectors. Beyonce just released a project and no one knew. The word of the mouth was her marketing and her promo. Everyone had to download it because they didn't want to be left out. They wanted to hear the lyrics people were putting as captions on Instgram and tweeting them. Jay Z did the Samsung deal where he automatically sold a million records before the album had been released. In the day and time we're in, you have to do something clever. For me, I'm a songwriter so I'm like "Why not take advantage of that?" I made a free project where the purpose for it is to market my album. I'm putting a mixtape called "Choose Up Season" that talks about the single life like the dating game and the different girls in and out of your life. My album "Cuffing Season" and by the time you're finished listening to "Choose Up Season" for a few months and as that spreads through out, you're going to be reminded that "Cuffing Season" is on the way. I used my talents in songwriting to market "Cuffing Season". I think that's the project that's really going to put one on the map as far as who I am and what I'm doing as far as not being afraid. "Cuffing Season" is all about love and the single life is overrated. It's okay to have a girl and turn up with her. I'm really promoting love and relationships instead of the ratchetness that's going on nowadays. I'm an R&B guy and a romantic guy, so I figured I'm going to reel them in with "Choose Up Season" and then when they get "Cuffing Season", the people in relationships are going to be happy because someone is finally speaking to them. The people aren't in the relationships, I think it's going to motivate them to find one.