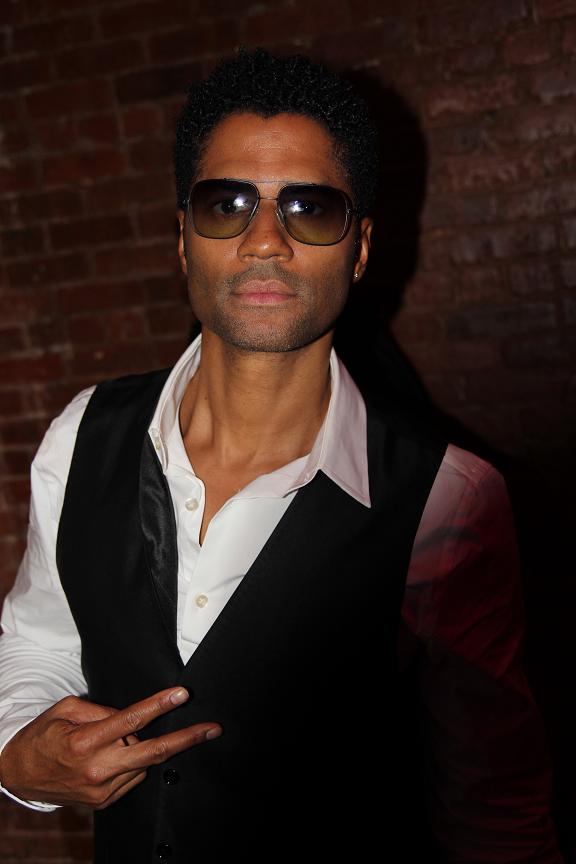 Tons of artists signed to major labels have been dropped from their label over the years, but how many artists do you come across bold and confident enough to ask for a release on their own? That's the situation Eric Benet found himself in after nearly a decade and a half at Warner Bros. With the opportunity to go the independent route and start his own label, it made all the sense in the world for this veteran with an established and loyal fan base. A day after his listening party to celebrate the release of his single "Real Love", YouKnowIGotSoul caught up with Eric to discuss the song, what to expect on the new album, building from his previous album "Lost in Time", if there's any pressure to top his number 1 single "Sometimes I Cry", changes he sees going the independent route, and much more.
YouKnowIGotSoul: Talk about your new single "Real Love". Give me some background on how you created the song.
Eric Benet: It was interesting. It's always been a dream of mine to release something independently and have my own label. I saw an opportunity earlier this year when Warner Bros. was going through its situation it was going through. I kinda asked if they would graciously let me out of my contract at that point. *Laughs*I'm very happy that they did. I had also just hooked up with a new management company Primary Wave, and basically between myself and Primary Wave, we thought now was the time if ever to have my own label. Instead of waiting for maybe a whole year to go into the studio and record a whole record and figure out what the single is, I just decided to go into the studio right away and pick the song that was classic Eric Benet in the sense of how it sounded and in the sense of it was very personal and intimate kinda looking into my life. I just kinda went into the studio and wrote "Real Love" with my cousin George. The plan was to just release the song and let it do its thing on radio while I go into the studio and make the rest of the record. So far the plan has gone beautifully. People are really feeling the single, I've got an amazing start on this album which definitely feels like the best work I've ever done in my life or previously. The album is going to be release in the Spring of next year.
YouKnowIGotSoul: Now being independent, do you foresee any changes with the way you're going to be doing things? You've been with Warner for so long and now you'll be handling your own situation.
Eric Benet: I feel like the major difference this time around is the joy of freedom. The joy of ownership. The energy that infuses into the creative process and basically the whole campaign of the album itself. Being at a major record company, it's always a situation where you're in competition with all of the other artists that are there. No matter how much you love them and no matter how much camaraderie is there, there's only so much financial backing that can go around to support everybody. Everybody is jumping up and down kinda being like "Me, me, me , me, me!!!" and this time around having my own label it's so incredibly liberating just a powerful feeling that I'm calling the shots. This is my situation. To make it ever better, at the end of the day, I'm going to own the masters instead of the record labels. You can imagine that just infuses so much energy into the process.
YouKnowIGotSoul: Your last album "Lost in Time", loved the album, it was like a throwback to 70's soul music. Do you see yourself going that route again with this album?
Eric Benet: Thank you, I appreciate that. "Lost in Time" was very much a conceptual record where I really wanted to make this homage to the mid 70's pretty much with every song on the record. I think when you listen to all of my albums over the years, you can hear an influence of the 70's because I'm a child of the 70's. With "Lost in Time", I wanted it to just go a couple of steps further and sound as if the record was recorded in the 70's. With the new record, I think me being who I am and me being where my influences lie, you're definitely going to hear the 70's influences. What I'm going to do differently this time is just kinda hybrid it a little bit and cross it with more a contemporary approach on some of the production and some of the songs. It's going to be a nice little mixture. It's going to be something where those die hard Eric Benet fans are going to absolutely love but also pique the interest and the ears of maybe some of the younger audience out there that always maybe liked some of my songs over the years but never thought about buying an Eric Benet album. It's definitely going to have some contemporary elements in it.
YouKnowIGotSoul: One thing I know about "Lost in Time" is you had a bunch of great duets on there with the likes of Chrisette Michele, Ledisi, Faith Evans. Do you see yourself doing more of those types of collaborations on this album as well?
Eric Benet: Yea I'd like to have a couple of collaborations on the album. Right now I'm at the point where I'm just writing the songs and I have the foundation of the songs and the only definite collaboration that I have right now is my daughter India. We have a song that we're going to do together, she's an amazing talent, has an incredible voice. Closer to the end of the project and once the songs are recorded, I'm sure I'm going to collab with somebody. It probably won't be as many collaborations on this record but there will be one or two I think.
YouKnowIGotSoul: Your duet with your daughter "Summer Love" on your last album was a great song!
Eric Benet: Thank you so much.
YouKnowIGotSoul: You had another number one single on this past album with "Sometimes I Cry". Do you feel like that puts any pressure on you to match that again on this new album?
Eric Benet: I've never really been that kind of artist that felt pressure from album to album to duplicate it. I almost like to approach every album like it's my first one and like I don't have to compare to anything. I open my heart up creatively and just with every song on the record just make sure I get those goose bumps and that excited feeling when I'm playing it back or the first time I put the vocals on it. When I play it back if I feel those crazy goose bump feelings and then I know it's ready. I don't have to think in my mind "Is it better than this? Is it better than that?" I just have to make sure that it feels good to me.
YouKnowIGotSoul: Talk about your recent performance at the Soul Train Awards. I was reading on Twitter and a lot of your fans were raving about it and a lot of people said you gave an amazing performance. What was that like?
Eric Benet: It's always an honor to be asked to do Soul Train and be asked to be part of a tribute or a performance. It's one of those things when you're asked, you just say yes, and then you find out "Ok, what you want me to do?" For me it was the Earth, Wind & Fire tribute which was another honor. To take it a step further, they asked me to sing one of my favorite Earth, Wind & Fire songs "Reasons" which was a bit intimidating considering Philip Bailey, the best falsetto in the game, was sitting right there in the front row! It was great being up there with two other great artists, Joe and Robin Thicke, and giving love to legends, Earth, Wind & Fire. It was incredible.
YouKnowIGotSoul: You starred in your first film over the summer, "Trinity Goodheart". Do you see yourself getting into more acting in the future?
Eric Benet: I'd like to. That was the first time I actually had an acting experience where I felt like I really got something about of it. I've done acting before, little things before here and there, but to me that was always a matter of memorizing the lines and showing up. This time around with "Trinity Goodheart" I actually got an acting coach, I actually did the look and developing the character. It was the first time that I actually felt like I got something out of it and I really enjoyed the process. In saying that, I'd love to do it again. Fortunately I'm blessed enough to have a career where I don't have to just take an acting roll just to take it. I'll do it again when it's the right part and it's the right situation and I fall in love with it.
YouKnowIGotSoul: You got married over the summer and you're expecting a child. Do you foresee yourself slowing down with music anytime soon and living more of a family life?
Eric Benet: I feel like it's quite the contrary. I just feel like I'm at this point in my life where there are so many blessings. When you have a family love like that, for me it just motivates me even more to produce what makes me the happiest. Other than being around my family, it's me on stage making music. It's quite the contrary, you're going to see more music projects from me and other projects in general; just more.
YouKnowIGotSoul: Anything you'd like to add?
Eric Benet: I'd just like to say thank you to everybody for supporting me and my music over the years. I'm on Twitter @EBenet. Go to my website EricBenet.net to keep up with my touring schedule and all of that. If you'd like to be a fan of Eric Benet go to the TrueEBFans.com site. Also, thanks for the interview!