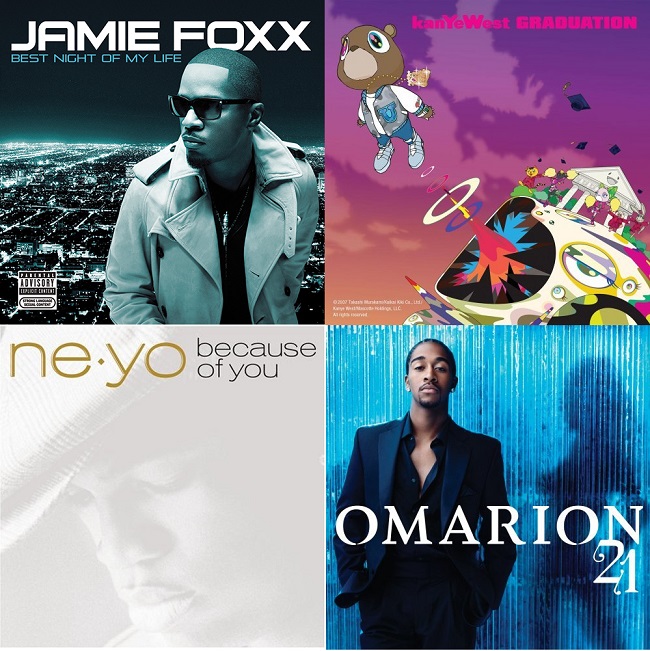 Let's face it, the music industry is currently filled with producers right now. There are some producers who stand out because of their distinctive sound and there are others who are big because of their association with certain artists. Then there are producers like Eric Hudson who just thrive on making good R&B music. His name may not come to mind immediately when you think about some of the more consistent producers in the past 10 years, but his name appears on almost every R&B album from artists like Mary J. Blige, Ne-Yo, K. Michelle, Jamie Foxx and countless others. YouKnowIGotSoul had a chance to speak with Eric Hudson about his sound, his upcoming projects and we also talked to him about some of his most memorable hits including "Flashing Lights" by Kanye West.
YouKnowIGotSoul: How did you get your start in the music industry?
Eric Hudson: I was producing up underneath the producer Buckwild. He was a pretty big Hip Hop producer and I did songs like "These Are Our Heroes". I played the piano and bass on that song for Nas. I did a song on Game's album, the song "Like Father, Like Son" featuring Busta Rhymes. I also did "I Don't Need 'Em" on 50 Cent's "The Massacre" album. Those were my first joints in the actual game.
YouKnowIGotSoul: How did "Entourage" by Omarion come about?
Eric Hudson: I took a meeting with Kawan "KP" Prather and he was like "Omarion is trying to go in the Michael Jackson "Off The Wall" type of vibe" so I went home and I cooked up "Entourage" and a bunch of other records on that album. That was the first track I played Omarion when I went to LA and the rest was history.
YouKnowIGotSoul: From listening to your music, I can tell you incorporate a lot of live instruments. How important is it for a producer to be able to play instruments?
Eric Hudson: I feel it's very important and it helps me out a lot. Like for instance, sometimes I'll hear a sample and instead of just sampling it, I'll just replay it. That's one of the things my father forced upon me. Everyday man, I would jump from piano to bass to drum to guitar. He made sure that I practiced and knew my craft. I think it's very important.
YouKnowIGotSoul: When I listen to your music, I get a lot of colorful sounds. How would you describe your sound?
Eric Hudson: I would describe it as soulful. Colorful is a great word too because I think it's colorful. I like to add a lot of the colors to my music with strings and the old school rhodes and guitars. I just try to do soul music. I love doing things that come from the soul.
YouKnowIGotSoul: Talk about the creation of "Can We Chill" by Ne-Yo.
Eric Hudson: We were in the studio together and I started playing the chords. It was just the harps at first. He was on his way to an interview and then he heard the chords and loved them. I remember asking him "Should it be a ballad or an uptempo?" He was like "Make it an uptempo" and the rest is history. He did the interview, he came back, I finished the track and played it for him. He wrote that song on the spot.
YouKnowIGotSoul: Your next big placement was "Flashing Lights" by Kanye West which ended up being a Grammy award for you. What did that song do for you as a producer?
Eric Hudson: The phone started ringing a little bit more after that record came out. I definitely got a chance to work with a lot of people that I always dreamed of working with. I got to sit under Dr. Dre for a year and I got a chance to work with Usher, Beyonce and Jamie Foxx. These were people that I always wanted to work with and they started to reach out. That song changed my life.
YouKnowIGotSoul: One of the opportunities that came about was you working with Whitney Houston on her last album. You did the song "Worth It". What do you remember about that working on that song with Whitney Houston?
Eric Hudson: Just how fun it was to vocal produce her. Just working with Whitney man, she's the voice. You never dream in a million years of doing that. At the time when I was vocal producing her, I was 21 or 22. It was unreal. I was in the studio with Whitney Houston and she's singing on a song that I did. It's one of those experiences I will never forget.
YouKnowIGotSoul: You also had a couple of a sessions with Brandy. What do you remember about those sessions?
Eric Hudson: I learned a lot. I thought I knew how to vocal produce until I got in with Brandy and then I was like "There's another level of vocals." She is the queen. That woman is amazing. I learned a lot from her.
YouKnowIGotSoul: One of your biggest placements is working on most of Jamie Foxx's last album. Is that the biggest moment of your career?
Eric Hudson: Wow that's a good question. It definitely is one of my biggest moments. I will definitely say "Flashing Lights" by Kanye is one of my biggest moments. Definitely doing the Jamie album was an amazing experience. Just the fact that I had a chance to do a body of work and it was my first opportunity to do so. It was challenging and it taught me a lot as well.
YouKnowIGotSoul: When you're working with all these different artists, how do you decide what to give one artist versus another?
Eric Hudson: Well that's been my downfall I guess. It's hard to identify my sound. I haven't been able to catch a run like a Pharrell or Timbaland or Swizz Beats because I can't stick with a sound. Anytime I deal with an artist, I try to do with they want to do as opposed to just giving them my sound. I try to combine both worlds, so you usually get a different sound. Jamie Foxx's "Best Night Of My Life" sounds nothing like "25/8" By Mary J. Blige. I just try to vibe with the artist and do what the artist is feeling at the time.
YouKnowIGotSoul: Talk about your relationship with Mary J. Blige because you guys have worked extensively over the past couple of years. What do you think she sees in you?
Eric Hudson: We're just connected. Mary is the queen of soul. She loves soul and I grew up listening to Gladys Knight and Curtis Mayfield. Mary can relate to that, so when I come in with those soulful tracks, she always laugh and jokes and says that I have an old soul. We're just connected. She calls me her little brother and that's like my big sister. We just connect musically.
YouKnowIGotSoul: Talk about Elle Varner's new single "Rover" and what we can expect as far as the sound.
Eric Hudson: You know what? I don't know if that's her first official single, but I'm crossing my fingers on that. As far as the sound, it's just some new Jodeci. It's like a female doing Jodeci. That's how I can sum it up.
YouKnowIGotSoul: Who else you are currently working with?
Eric Hudson: I'm actually back in with Mary. We're working on her new project quietly. I also executive produced Justine Skye, she's on Atlantic. Her EP dropped August 20th. I just finished wrapping that project up. I'm just doing some stuff for Jennifer Hudson, Omarion and RaVaughn. I did a lot of RaVaughn's upcoming album. I also did 5 songs on Marsha Ambrosius' upcoming project.
YouKnowIGotSoul: Talk about Trey Songz "Without A Woman" and what you remember about that one?
Eric Hudson: I was just listening to some old Isley Brothers. I was just trying capture an old school vibe. We just went back to the roots of those old guitars, basslines, bridges and when music had changes.
YouKnowIGotSoul: What about Mario's "Stranded"?
Eric Hudson: Me and Sean Garrett did that record. That was fun. Sean is a genius. He just started singing the melody and humming it. I just started playing on the keyboard and playing behind him. The joint just kind of came together. That took Sean 15 minutes to write that record.
YouKnowIGotSoul: I've noticed that you mostly work with real vocalists. Are you more selective as far as who you want to work with because you've worked with so many real vocalists?
Eric Hudson: Yeah I am. I'm really excited about Justine Skye. Her EP is incredible and it's the first project that I'm actually executive producing. You'll get a chance to hear real vocals, real harmonies and real production. It's just real singing. I'd say I would like to work with singers that can sing. *Laughs*
YouKnowIGotSoul: It seems like real instruments are coming back for R&B and Pop radio. Do you think it's your time to capitalize?

Eric Hudson: Yeah, I do feel like this is my time. If you look at my career, anytime I put music out, it's changed the tempo of music. When "Entourage" came out, there was nothing on the radio that sounded like that. There was nothing in that tempo. That was against everything the radio was doing at the time. That's my thing. It's the same with thing "Flashing Lights". That song kind of changed the tempo of radio. I just want to keep pushing music forward and keep bringing challenges to music.
YouKnowIGotSoul: Anything you'd like to add?
Eric Hudson: I appreciate the interview. I've done a lot of work, but a lot of people don't know.
Follow Eric Hudson on Twitter @EHudMusic