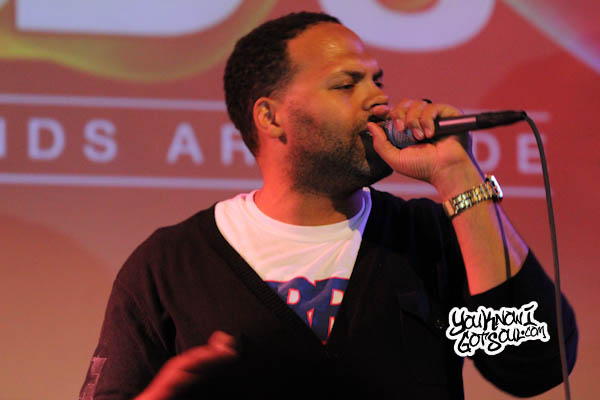 The original pioneer of the independent movement in r&b/soul music, Eric Roberson now has over a decade worth of experience in this music industry. It seems that whereas he began with sort of a grass roots movement, more and more fans have discovered him over the years to where he's now more popular than ever and he's getting the proper recognition he deserves. During a listening party in NYC for the release of his 8th album "Mr. Nice Guy", we got a chance to catch up with Mr. Roberson. We discussed what you can expect to find on the new album "Mr. Nice Guy", writing with his newborn son with him in the studio, his new deal with Purpose/E1, what the "honest music movement" means to him, if he could ever see himself on a major label at any point, and more.
YouKnowIGotSoul: In your own words, what can we expect to hear on the new album?
Eric Roberson: A lot of silliness. I think the humor side people may see on my shows, that level of revealing myself showed up on this album more than any of my previous albums. As well as I think a little bit of my theatrical history. I majored in musical theatre, so for my story telling from a theatrical stand point, I think this record has songs that are more like monologues than R&B songs. Those are the two main things that people will get from this album.
YKIGS: You're a very creative guy and you write all of your music. After being in the game for a decade with 8 albums, does the writing get easier?
ER: Yes and no. You kind of wish you could go back to your ignorant days like "I wish I didn't know this part." Now I so try to fight routine. I think it's great to get lost at times and you discover creative things when you try to find your way out of it. At times it can be easier, but the more you write the more you're digging deeper, the more you're trying to find a new challenge to write about. That's when it gets more difficult. I go from the theory that the song is already written and we're just fishermen that are trying to find it. No matter how hard it is to write a song, I'm usually really patient. I never get to the point like "I'll never get to the point", it's more like "It's going to work. I don't know when the timeline is for it, but I'll stick to it until I have to."
YKIGS: I know you had a child year ago. I was reading that while you were recording this album, you were babysitting at the same time. What was that process like?
ER: Whatever has to be done has to be done. I went through this business learning a lot from different people and the guy who mixes a lot of my records named Kevin Jackson. I worked at his studio when I went to college and I remember his kids being around all the time when he worked. I always said to myself: "When I have a child or kids, I want them to be in the studio with me and to be in that environment. I don't want them to think I closed the door." There were times where my son was in my lap while I was recording because there was nothing better to do. If I had an idea, I wasn't going to lay him down and do it. You might hear him burp or fart on the album somewhere if you listen close enough, like with some Dr. Dre beat headphones. *Laughs*
YKIGS: Talk to me about the single you have out "Picture Perfect". What was the creation like for that song?
ER: That song was really a poor attempt at a gift for my wife while she was pregnant and swollen walking around the house. Half of the album was written before my son was born and the other half was after he was born. I remember coming to the stairs with the song finished saying "Baby I wrote a song about you and about how I feel about how you look like right now," and she was like "I don't feel picture perfect." *Laughs* After a while, she started realizing for me, it was more just saying women in general are just designed in amazing ways. They're designed to handle stuff that we can't even imagine. For that, I'm grateful to her and women in general. To me they're picture perfect whether they're feeling something is out of place or uncomfortable. At this moment right now, God made you look perfect to me. I think that was really the basis behind it. The song really came easy to me and shared it with the world.
YKIGS: Talk to me about this new deal that you have with Purpose/E1. Is anything going to change with the way you do music?
ER: Nothing is going to change from the way we do music at all. For me, it's a great learning experience and a great step in growth. I have an uncle who I've always listened to from a business perspective and one thing he's always shared with me is organized growth. He really hammers that like "Organized growth is growing to a place in an organized fashion where you don't get too big, too fast when things crumble. You learn and attack and keep building up." To me, it's a great step joining Purpose/E1 because my staff, my label as a whole, we can learn a lot from these people. Purpose are guys I've known for years, and every year, we'd get up and exchange notes about what we learned and what we could improve on. When there was a chance for us to work together through a collaboration with E1, it just made sense and I'm looking forward to what we can all learn from it as well as putting out some successful albums.
YKIGS: In the press release, you mentioned the "Honest Music Movement". What does that mean to you?
ER: To me, it's sticking to a process. I'm just not into assembly line music. Especially soul music is not that. To me, honest music is approaching where you are at honestly at that time and not getting so caught up in genres, routines or perceptions or assumptions. To me, if you feel a certain direction and you give your heart and soul into it creatively, it's going to work. My iPod doesn't strictly just have soul music. If you look in it, there's going to be Bob Dylan, Tom Waits, Radiohead, The Police, Sade, Al Green. When I go into creating music, I can't now go "Okay, let me turn off Radiohead and let me focus on Donnie Hathaway." To me, it's about the creative process about being open to whatever I'm feeling at that time. I'm going to attack it whole heartedly and present it without any apologies.
YKIGS: You've been a major pioneer in this independent movement since you started and you stuck with it all these years. Could you ever see a point hypothetically where say a major label approached you and said "We like what you're doing, You can continue to do what you're doing. We want to bring you on". Would you be able to join that?
ER: I can never say never. I will probably say that where the industry is at right now, I wouldn't be that interested. I would have to be guaranteed such a level of creative freedom that I just don't know if that would be offered to me. I have too many friends in the business that have sold millions of records and are not happy with what they created to ever dare be that, but I have a lot of friends. Let's say one of my staff members became president of Def Jam tomorrow, if he calls me like "We got the keys to the Bentley, let' go!" I would strongly have to consider it. I trust my staff whole heartedly that they would give me a chance to grow. It is possible, but with where the industry is right now, I'm kind of good with where I'm at.
YKIGS: What's the best piece of advice you can give the people who are you trying to make it in the industry?
ER: The most important word in the music business between who wins and loses is completion. I think that's a word every single person who is inspired to be something in a creative form of business whether it's in film, television or music, they need that word tattooed into the inside of their eyelids. They need to wake up and go to sleep to that word. It really is the word between who wins and loses. It's not just about completing my song, but completing the steps to get that song to where it needs to be at. Taking the advice from people to improve the song as well as paper work. Understand it's the business of music. If you don't properly take care of the business side of it, you're not going to be able to keep doing music for long. I don't care how great your music is. If the bills aren't paid, if it's not feeding you in a financial or inspiration standpoint, in all aspects you just have to focus on the word completion. Know that the Timbaland's, Jermaine Dupri's, Ushers, Beyonce's, they understand that word more than anyone else and that's why they are who they are.
YKIGS: Anything you'd like to add?
ER: Check me out at EricRobersonMusic.com.