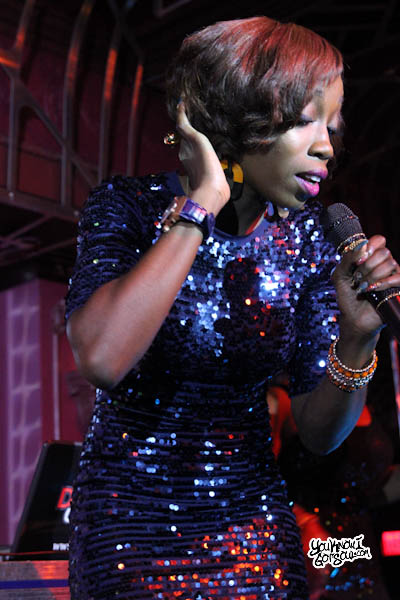 With the release of her album "All of Me" earlier this year, Estelle gave us an effort that was more personal and more vulnerable than we'd ever heard from her before. When she penned the singles "Thank You" and "Wonderful Life", she gave us a glimpse into the spectrum of emotions she felt in her daily life. One of the hardest working artists in the industry, she toured for four years straight prior to the release of this album, and now has been back at it again for the six months since its release. That won't stop either, as she's slated to join Anthony Hamilton on tour next month. We sat down with her after a recent private show she had in NYC hosted by Rosa Regale and talked about her vulnerability on "All of Me", her work ethic, if fans have finally found there's more to her than "American Boy", and more.
YouKnowIGotSoul: Your album "All of Me" has been out for about 6 months now. You've been all around the world touring in promotion of the album. What's the reception been like so far to the album?
Estelle: Right now the album has been out a few months and the reception has been amazing. So far people have been like "I'm so happy you put out this type of album, you put out records that are really touching". This is the type of album that people can really feel and vibe to instead of dance music and all of that. I'm really thankful, I put my baby out there, and people are really feeling it.
YouKnowIGotSoul: You've got some really heartfelt and personal songs on there. Is it hard exposing yourself through your music in that way?
Estelle: I really felt like as an artist and just myself as a human being I was able to be a little more vulnerable than I've been in past years on the last two albums. This one I dug a little bit deeper and said "I'm going to write about every experience the minute it happens and see what happens". *Laughs* That being "Wonderful Life" and "Speak Ya Mind" and all of these records that make people go "Oh that's how I feel!" I'm happy about the new album, it took awhile, but it came out good.
YouKnowIGotSoul: You've got out the single "Wonderful Life" and just released the video. Would you say that song sums up where you are in your life right now?
Estelle: Yes, "Wonderful Life" absolutely sums up where I am right now. I have a lot of fun doing what I do and this is my calling, so I thank God for putting me where I am right now.
YouKnowIGotSoul: In the past I've heard you say you've had trouble getting fans past "American Boy" and they really just know you for that. Now with "Thank You" also being a number one single, would you say they've got past it?
Estelle: *Laughs* I think fans have gotten a little past "American Boy" to the point where they don't sing as loud to "American Boy" as they do to "Thank You"! It's kind of a good thing because you want more than one hit; you want more than one thing people can remember you for. So this is a really good one for that.
YouKnowIGotSoul: How is the approach different for you when it comes to writing a rap or writing lyrics to a song you will sing?
Estelle: Rapping and singing to me are the same thing. I've done both my entire life, and I don't find one harder to do than the other, I just do it. I think people are just more shocked when I start rapping because they're like "One minute she's singing, and the next she's going in!" It's a thing for people to kind of get used to. I try to do it authentically without any gimmick, it's coming from me. I think people get it, they understand it. I've been doing it for 14 years, so it's easy for me.
YouKnowIGotSoul: You've got the song on the album "Do My Thing" with Janelle Monae, the fans seem to love that one. Talk about that song.
Estelle: Janelle Monae is a friend of mine; me and her were the only ones who could do that song because she's like an American version of me! *Laughs* She's a sweetheart. She'll check in on me, I'll check in on her, to make sure each other are alive, as much as we're flying! I appreciate real people and real individuals, and it's always good to have real people in your life. So that's my homegirl.
YouKnowIGotSoul: You've been touring for so long and now you're getting ready to back on tour with Anthony Hamilton. Do you think that work ethic is something you need to stay on top of your game in this music industry?
Estelle: Absolutely. I think part of the reason I was gone for so long was because I was touring so much in those four years, I just didn't stop. For me, it's a second nature thing, I've always been performing during my career, so I just want to continue doing that. I think people want to hear the growth in your music as well as hear the songs performed live. I've been to Japan recently and they're like "She's finally here!!!" It's a blessing. It's tiring, but it's a blessing.
YouKnowIGotSoul: Anything you'd like to add?
Estelle: I'm on tour with Anthony Hamilton, I'm excited to go back on tour with him in September. The single "Wonderful Life" is out right now. I'm working on the new album, multiple features coming out in the short term. I'm just happy to be here.