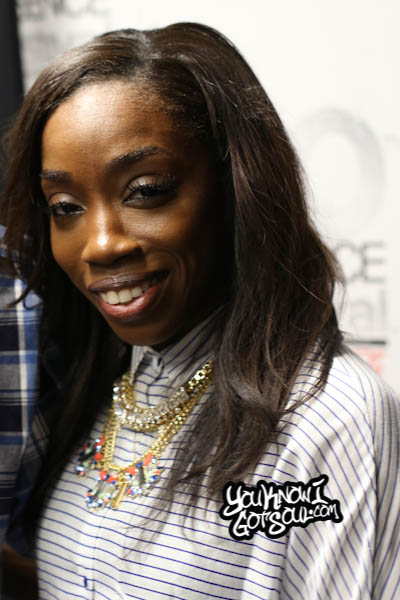 The UK has had so much success recently in the US market with artists like Sam Smith, Daley, Ed Sheeran and Emeli Sandé. The soulful sound being imported from overseas has connected with the mainstream audience and people continue to crave for more. Although Estelle probably won't get credited as the artist who started the UK movement, she cannot be forgotten. Her single "American Boy" with Kanye opened up many doors for herself as well as other artists. She's also been able to establish herself as an artist in the US and has been able to showcase her many talents whether it's singing or rapping. YouKnowIGotSoul had a chance to speak with Estelle at the 2014 Essence Music Festival about her upcoming album "True Romance" and her plans coming up.
YouKnowIGotSoul: Introduce us to your new project and the sound of it.
Estelle: My new album is called "True Romance". I'm so excited, this is my first baby on my new label. We did the album based on the four possible themes of love. We grouped them as passion, the BS, courage and true romance. It's the idea of what you go through like being passionate about something, gain yourself with courage, dealing with your BS and then you might find some true romance. It's very real, it's real music. You can feel it. I'm excited for it.
YouKnowIGotSoul: This is your first album going independent since your last major label deal. Talk about the transition.
Estelle: The transition isn't that bad especially nowadays. Everyone says that the independent is the new major, but it's more or less the same thing. I always felt like I was an independent artist while I was on a major and with this new label, we're kind of indie and major. We're on Sony BMG so we're still backed by a major, but we control it. It's sort of like Jay-Z and Rocafella. It's not so much completely independent, it's just way more control and that's what I wanted. We do so much for ourselves. We're not being paid for it and we didn't have the funds, but now we do. I'm really happy that we have it and I'm very excited to be one of the first girls to do it.
YouKnowIGotSoul: Who have you had a chance to work with?
Estelle: Lots of great producers. I've worked with J.U.S.T.I.C.E. League, Kevin "She'kspere" Briggs and a guy called D. Smith who produced "Make Her Say". We've done a lot of brand new stuff. I'm excited.
YouKnowIGotSoul: The UK has had the re-emergence of the soul sound and there's a lot of Pop success over in the US. Do you see yourself fitting into that movement?
Estelle: I feel like I was one of the Godmothers of that movement. It was me, Amy Winehouse and Adele. We all came out super early before Jessie J and all of them. I'm just happy to still be here and still be relevant. People still care about doing music that influences them. When I go home and get love, I hear people who say "If you didn't do it, we wouldn't be here". I don't feel crazy about the steps I took and the energy I put into making sure that we were known in the US now. I feel good.