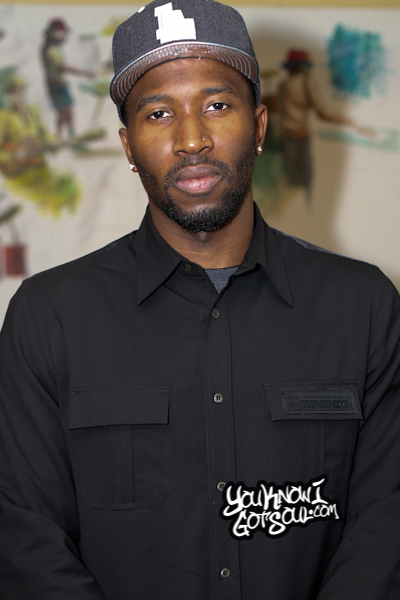 There are so many different factors that go into making a hit record. Obviously the song has to be good, but the timing and promotion of the song have to be correct as well. If a producer or songwriter is extremely lucky, they'll be able have one of those great runs on the charts where every song they put out is basically a hit. Ezekiel Lewis is part of that blessed group to be able to create multiple hits in the industry. As part of the writing team The Clutch, he's been part of hits such as "Ice Box" by Omarion, "Take Me As I Am" by Mary J. Blige and "Like a Boy" by Ciara. Outside of his writing team, he's been heavily involved with Trey Songz career as he's been involved with the majority of Trey's albums. YouKnowIGotSoul had a chance to speak to Ezekiel Lewis about his history as a songwriter, developing acts such as Trey Songz and Kevin Ross and he also talks about his new role where he is the VP of A&R at Motown.
YouKnowIGotSoul: Talk about how you got your start as a writer. I know one of your placements was for Luther Vandross.
Ezekiel Lewis: That was one of my earlier placements, but my first big placement was on Pink's first album. It was a record called "Do What You Do" which I actually co-wrote with a group called PA and that stood for Parental Advisory. They were actually the first group in the Dungeon Family and of course that consists of PA, Outkast and Goodie Mob. KP (Kawan Prather) was a member of PA and now he has a career in A&R and he's a good friend of mine. I got my start with him and we worked on Pink. After that, I got to work on Luther Vandross which was big.
YouKnowIGotSoul: Eventually you linked up with some other writers to form The Clutch. How did that happen?
Ezekiel Lewis: Well first off, we're skipping the initial Trey Songz era. Troy Taylor and I got together and we were writing demos with this kid. Trey, who was from Virginia, would come up to New Jersey and do demos with us. From those sessions came a record deal for Trey and his first album which was "I Gotta Make It". I co-wrote at least six or seven records on that album as well. I've really been involved from a writing perspective on every Trey album with the exception of maybe one. With all that being said, with all that Trey stuff came The Clutch. I was still signed to LA Reid at the time and there was a young lady who was working with us and we linked up with some writers from Universal where Ethiopia Habtemariam was a publisher. They set up these writing trips that were co-sponsored by Sony Music and once again, here comes KP again. I started with him, so we already had that relationship. He was an A&R at Sony at the time and they wanted to do these writer camps where they would pick writers from different companies and flew them out to work on different projects. I guess I was one of the people they picked and we all went to Miami and there were other writers, but the people who ended up being in The Clutch, we all connected on a creative level, so we just stuck with each other throughout the whole trip and wrote a lot of records together. I think out of that week, we did about seven records and six of them got placed. We knew we had something special and we did another one again. From those sessions came "Take Me As I Am" for Mary J. Blige which I co-wrote with Keri Hilson and Candice Nelson.
YouKnowIGotSoul: What was the creative process for The Clutch? There are so many writers making one song, so what was your role in the group?
Ezekiel Lewis: That may have been the biggest misconception. The Clutch was the brand, so it didn't mean we all wrote on the same song. Whether it may have been credited as The Clutch, but "Take Me As I Am" was just me, Keri and Candice, so it wasn't the whole group. Even on "Ice Box" by Omarion, it was me, Keri and J. Que Smith. On "Like A Boy" by Ciara, it was me, Balewa Muhammad and Candice Nelson. It was actually very rare that The whole group wrote on one song. I think there was one song where that happened which was a Jennifer Lopez record called "Wrong When You're Gone".
YouKnowIGotSoul: You guys had so many songs in that time period. Is there a song that stands out as your favorite?
Ezekiel Lewis: I really love "Take Me As I Am" for how we really channeled Mary and executed. Another song, it was really post-Clutch but Balewa and I still credited it as The Clutch, but we wrote a record for Justin Bieber called "One Less Lonely Girl". We also produced that one and that was a special record because I really loved the wordplay and how big it became from the standpoint of branding. The phrase was used on all of Justin Bieber's merchandise and also his "One Less Lonely Girl" nail polish line. It was a big record. I really enjoyed creating that record as well as the success of it.
YouKnowIGotSoul: One of the songs that stood out to me was "Store Run" by Trey Songz because it was such a creative concept
Ezekiel Lewis: Oh yeah, that was a great record. *Laughs*
YouKnowIGotSoul: It seemed like a lot of records you guys were putting out during that time period were fan favorites, but they didn't necessarily translate into single success. Was that frustrating for you?
Ezekiel Lewis: I think there was a good balance of success and fan favorites. We had some critically acclaimed records and then we had some single success like "Take Me As I Am", "Like A Boy" and "Ice Box". They were certified platinum singles, so I can't say we didn't have success. I think the quantity of records that we put out, we had so many records placed in different places that you saw us a lot. It was hard to balance what was actually a single, buzz single or album cut. What mattered to us mostly was that we were doing our best work and that people could appreciate it. We didn't do it for commercial success. I mean we definitely enjoyed that and that's a part of what we have to do to survive, but at the same time, what was really important was that creatively we had done some great things.
YouKnowIGotSoul: One of your writing partners was Keri Hilson who ended up blowing up as a solo artist. Did you see that potential in her in the beginning?
Ezekiel Lewis: Absolutely! Keri was actually already signed as an artist when we formed The Clutch, but the project wasn't moving at that point. I definitely saw her as a superstar and I saw her potential. We're still very good friends and I'm looking forward to her next project. By the way, her next project is amazing. There's some great stuff on her new album.
YouKnowIGotSoul: After The Clutch went their separate ways, you started doing your own thing. What was that transition like?
Ezekiel Lewis: It started with "One Less Lonely Girl" but we still credited that one as The Clutch. I started to develop acts and I did the next Trey Songz album on my own. I think it was "Passion, Pain And Pleasure" where I co-wrote "Unusual" with Drake. That was a top 5 R&B record and then after that, he put out an EP called "Inevitable" where I co-wrote every song on that EP. On that EP, we had another top 5 R&B record which was "Sex Ain't Better Than Love". I ended up locking in with Trey again really heavily and we had a lot of success. It was fun because it was a full circle kind of thing.
YouKnowIGotSoul: In addition to being a songwriter, you're also managing artists and A&R-ing for Motown. How do you like that type of role versus songwriting?
Ezekiel Lewis: I don't like any over the other. I'm just a creative person first and then I'm an executive. I guess with all the time I've spent in the business, I'm very well versed in the business. It only made sense for me to use that. Troy Tayor and I went in and developed Kevin Ross. I took him down to Motown and we did a partnership. We put together a really good EP and his album is going to come after that. That will be amazing as well. He's a really great talent.
YouKnowIGotSoul: You and Troy Taylor started out with Trey Songz and now you guys are working with Kevin Ross. Do you see any similarities between the two artists?
Ezekiel Lewis: I don't think they're similar at all as artists. I think they're both equally great. Kevin Ross is different in that he's a pianist and he's also a great vocalist. I think what would separate him apart from a Trey Songz is his instrument, but they're both great. As a matter of fact, Kevin ended up co-writing some records on "Trigga".
YouKnowIGotSoul: Of course, you're still doing the songwriting thing. What projects can we expect from you?
Ezekiel Lewis: I definitely will pick and choose the right projects to work on. I'll always work with Trey and there's certain people I'll always work with, but right now, it's all systems go on the executive front. I'm the VP of A&R at Motown so look out for acts like Mila J, Kevin Ross and we're working on the next Ne-Yo project. Just a lot of cool stuff
YouKnowIGotSoul: Have you had a chance to work on Keri Hilson's project?
Ezekiel Lewis: No, I've just been able to listen to the music as a friend. We're all one family, so between her and Trey, I'll always be able to connect with them. But from a writer perspective, I haven't had a chance to write with her.
YouKnowIGotSoul: Take me through your creative process as a writer.
Ezekiel Lewis: It would vary from project to project. Back in the day, a lot of times it would start with me plucking around on the guitar or on the keys. I would come up with the melody or idea. Then it evolved into people doing the music and then I would write up with the track. It all depends. Every process is different and every song is its own creation.