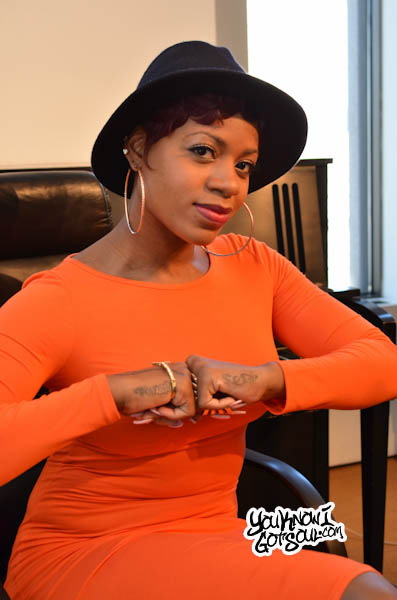 With all of the media attention that has been paid over the past few years to Fantasia's personal life, we sometimes forgot not only how talented an artist she is, but also that she's one of the best voices we have in r&b. In fact, it's exciting to see how she's channeled all of her energy and emotion and focused it on her new "Rock-Soul" movement. That genre is the sound of her new album "The Side Effects of You", which we're already touting as her best album to date and an album of the year contender. The fact is, Fantasia embodies exactly what a soul singer should be all about; one who when she sings, you can feel the emotion in your heart. She could have faltered with all of the negativity swirling in the media, but instead went and put out a timeless album that solidifies her place at the front line of r&b. YouKnowIGotSoul sat down with her while she was in NYC for the release of her album and discussed what led her to the "Rock-Soul" sound, deciding to have Harmony produce the whole album, growing more comfortable with her voice, her musical family, and much more.
YouKnowIGotSoul: The new album "Side Effects of You" is in stores now. I was reading you were going for a "Rock Soul" sound on this album. What led you in that direction?
Fantasia: I was raised up on good music. I always tell everybody I have a musical family. In my home, my mother and father sing. Everybody in the family sings. K-Ci & JoJo are my first cousins. There was always music being played around me and it wasn't just Soul or Gospel. It was Rock, Jazz, Folk and all kinds of music. On this album, I was kind of being a rebel. I wasn't going to record or do anymore albums until they let me do what I wanted to do and what I'm passionate about which is bring all of those types of music together like Rock and Soul and lyrically and musically make it out of a package or a story like Michael Jackson did with Quincy Jones. That's something I'm passionate about and they allowed me to do it.
YouKnowIGotSoul: On this album, you're using your voice differently than you've used before. Do you feel you're becoming comfortable with your voice now?
Fantasia: I feel like I proved myself. People know I can rock and I can just go out there and go. This time I kind of wanted to show the different types of sounds that I love. Everything doesn't have to be so hard. When we were on Idol doing "Summertime", that was a very laid back song. Doing "You Were Always on My Mind", it's just about showing people what I can do with the vocals.
YouKnowIGotSoul: You went with one producer on this album. What made you decide to go with Harmony for the whole project?
Fantasia: Harmony Samuels is an amazing man. He is my baby Quincy Jones. When I walked in to the studio with him, there was just a comfortable feeling. I think artists have to have that to be able to deliver and be comfortable. I walked in with him and he had that same vision that I had. He wanted to bring back that sound that people missed. Coming from London, they listen to all types of music. I remember when I was in London, that one radio station played every different song from old school, new school, Rock, Pop, Hip Hop and I was surprised. I felt like he was the best person for me to work with. I wasn't going to go anywhere else. He got it and he gave me exactly what I wanted.
YouKnowIGotSoul: I was also reading that you took more of a writing role than you have on previous projects. What made you want to take a lead on that more?
Fantasia: That was something I was standing for. I feel like I've been through a lot and I'm the best person that can tell it. I felt like I owed that to my fans that have been following me and been loyal to me. They come to the shows. I felt I knew what they wanted on the CD. They wanted that live feeling that we have on stage and that place that we go. Let's put that into my album. Nobody can tell it like I can tell it.
YouKnowIGotSoul: Your new single "Without Me" takes us sonically to a different place than we've heard you go before. What did you want people to get when they heard that song?
Fantasia: Honestly when we recorded "Without Me", that was a night where we were in the studio. We weren't working or planning on working, I just got a phone call and it pissed me off. I remember coming back into the studio and I said, "Harmony I need you give me some hood." I took Al Sherrod's hat. He's another artist who worked with me. He's a writer and producer. Shout out to Al Sherrod. I took his hat and I was like "Let's get in the booth". I got in there and came up with "Really gon' make me expose you for exactly what you are." That was my way of getting that rage and anger out and put it on the record.
YouKnowIGotSoul: In the past we've talked to a few producers who have worked with you in the studio and the one thing they always comment on is how emotional you get in the studio. How important is it for you to portray that emotion and put it in your songs?
Fantasia: I'm a soul singer so emotion, the passion and the story is going to come out. If I can't do that then it's not right. When I go in the studio and if I'm on the stage, or just sitting here talking to you, it's my honesty. If you were to say "Look we might want you to not say this", then I can't do it because I'm not being who I am and I'm not being myself. Going into the studio with every producer that I've worked with, I think they know by now coming from Idol and coming in with them that I was going to go into that booth and just put it all out there. Plus I'm a Cancer woman. That's my sign, so I'm very emotional and it's going to show through everything that I do.
YouKnowIGotSoul: You put that emotion out when you're on stage and give it your all there as well. Do you feel a connection with the crowd allows you to do that?
Fantasia: I do. When I do shows, if there's a gate up and I get in trouble for this all the time, but they have to move the gate because when I'm on stage, the people can't be too far. If you've noticed on some of my live shows when we do television things, if the people are too far, I'll go in the audience because I have to feel the people. There's so many people out in the audience that are going through different things and when I touch or reach out to them, I can feel that and I can feel that I'm able to bless them and they're giving me what I need to deliver the music.
YouKnowIGotSoul: Of course you have a very musical family. How big of an impact did that have on you growing up?
Fantasia: We didn't know what else to do. That's all that was going on in the house. After school, it was singing. On the weekend, it was singing. My father's family, I would have to say everybody in my father's family sings. There's sixteen of them and everybody sings. K-Ci & JoJo are my first cousins. I would always follow them and they started in Gospel. I would listen to Gospel albums as a young kid. I would listen to my uncles The Barrino Brothers. They traveled overseas for a very long time. At five, my father put me and my brothers on stage and he was like "Okay we're the Barrino Family." We had two gospel albums out. It was always singing going on. I knew that at the age of five, this is what I wanted. I love it.
YouKnowIGotSoul: A lot of people are very excited to hear that you're collaborating with Michelle Williams on her gospel album. Tell us about that.
Fantasia: Michelle is a very beautiful spirit. Every time I see her, she's always the same. She never changes. She's never Hollywood. She's just very nice. When they called me and said "We want you to be on the song", I was like "No doubt." They sent it to me and she is killing on the song. She's killing. Her vocals sound amazing. You can tell she's in a great place. I was honored to be able to work with her. Kelly Rowland, Missy Elliott, Lil' Mo, Faith Evans, Nikki Gilbert, Coko, VaShawn Mitchell, Joe, Tank, Anthony Hamilton and a lot of artists, if they call me then I'm there. It's not about money. I'm there.
YouKnowIGotSoul: Anything you'd like to add?
Fantasia: It's a Rock Soul movement going on. You don't want to miss it. Get on board while you can because the tickets might be gone in a minute!