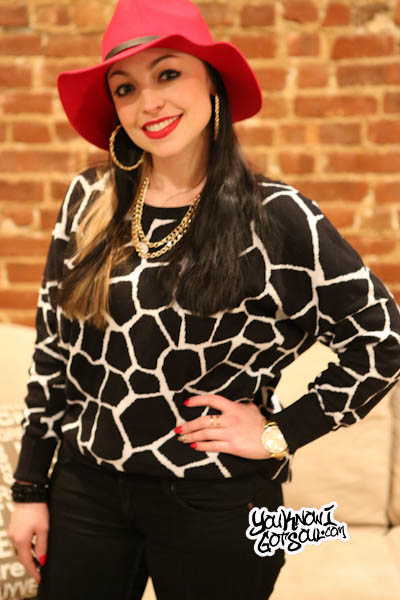 When our friend DJ Soulchild introduced us to his new artist Faye B, we literally idea had no idea what to expect. An r&b artist from Switzerland? We never heard of anything like it! However, our curiosity soon turned to admiration when we heard her debut single "Finally" as we realized we had a fresh new talented artist on our hands. Influenced by many of the r&b greats of the 90's, her music is a refreshing and feel good take on the genre. We can really appreciate her journey as she continues this path to greatness and fully support as she continues to build. YouKnowIGotSoul sat down with Faye B when she was in NYC recently and discussed her beginning as an artist, her sound, influences, r&b scene in Switzerland, upcoming project, and much more.
YouKnowIGotSoul: Let's start out with your background as an artist. What first made you want to pursue music as a career and be serious about it?
Faye B: I always loved music and we did a lot of music with my family; we always sang at home. I always listened to music from the beginning. When I was young I loved to watch MTV and that was the turning point in my life when I knew I wanted to do music and especially r&b.
YouKnowIGotSoul: Where do you develop your singing talents?
Faye B: I had a few different teachers in Switzerland. I did a lot myself and practicing and learning from listening to music. I feel that's a good way to always improve yourself.
YouKnowIGotSoul: Who were some of the artists that influenced you early on?
Faye B: The ones who inspired me the most were Alicia Keys and Tamia. When I watched MTV I knew that I wanted to do r&b, but when I heard Alicia the first time with "Fallin", I was so hooked and knew that was the direction I wanted to go. Tamia influenced me a lot and I love her music and voice technique.
YouKnowIGotSoul: Talk about your debut single "Finally". You came with a fresh throwback sound that many had been missing. You got a lot of people's attention as an r&b artist coming out of Switzerland. What did you look to do with the single?
Faye B: It's a funny story because I recorded the single many years ago and just put a snippet on YouTube because I wanted to show people what I'm doing. At the time, it wasn't my idea to release it as a single. The feedback was so good, that people were asking if they could buy it and I said "No, it's just a snippet!" That's the reason why we decided to release it as a first official single. The first single of course needs a video and it was crazy. Everyone loves that song and I still get asked about that single. The thing is, I feel honored that it reached #3 in the UK Soul Charts and #8 in the UK Club Charts. For me, as a Swiss artist, as a first single, it means so much to me. It will always mean a lot.
YouKnowIGotSoul: Then in late 2013 you released the Mike City produced "Any Other Way". It's very impressive because he's a very accomplished producer and he believed in you enough to work with you. Talk about how the song came together.
Faye B: The reason why we did this second single is a lot of DJ's told me that "Finally" is a great single but not for the clubs so we wanted a more uptempo single. Me and my manager, we love the stuff that Mike City has done. We decided he would be the perfect one to produce it. To be honest, when I heard the single for the first time, it wasn't what I was expecting from him. But the more I got into the song, I said "Yea this is a good uptempo song and very positive". The story started with my manager sending him the first single and he wrote back with a few words like "I like her, let's work together." It's a big honor of course!
YouKnowIGotSoul: Back this past December you release the video for "Used to Love Me". Talk about that song.
Faye B: I know nowadays it's not easy for ballads. Radio prefers more uptempo songs. I love ballads, especially in the 90's. I wanted to do it and I also wanted to show vocally more of my potential. I'm happy about it. I just love it! *Laughs* It's my own story. We did the lyrics and the production with a team in London and I was involved in everything, so it's the first time it's 100% me and that's why it means so much to me.
YouKnowIGotSoul: What can we expect from you next in terms of new music?
Faye B: My next single is coming soon. It's called "Ready for Goodbye" and it's also produced by the producers of "Used to Love Me". This time it's going to be uptempo like "Finally" and the video is coming also very soon. The interesting thing is, maybe a lot of people already saw it, these two singles build one story. We shot the videos back to back and it's a very interesting thing. I can't wait to release it. I'm working on my first official EP and it's coming hopefully soon as well.
YouKnowIGotSoul: What do you find to be the biggest challenges as an r&b artist coming from Switzerland and also as an upcoming r&b artist?
Faye B: The biggest challenge is to be patient! *Laughs* That's very hard for me. Everything takes so long in the music business and I don't like that! I have to learn that. I can't say it's hard to be an r&b artist, I think it's just in general it's hard to be new artist these days because we have so many artists. With the opportunities we have these days, anyone can record at home. Maybe it's not as special anymore because everyone does it. The other thing is that a lot of people are more impressed by already famous artists and they don't give chances to new artists because they don't know you so they don't listen. There are lots of people all over the world who support new artists and I appreciate all of the love we've got.
YouKnowIGotSoul: We've talked about how your music has a unique sound for r&b; it has a throwback feel good vibe to it. How do you want people to feel when they hear a Faye Bee song for the first time?
Faye B: I want them to feel happy. Music was always my friend, it was always there for me. No matter how I felt, it was always there for me. Music, I can really say it saved my life, I know a lot of people say that, but it's true. I want people to have a connection to the music and know what I mean and feel what I feel. I want it to help them so when they feel down or need something, my music can help them.
YouKnowIGotSoul: The r&b scene here in the United States has been rough lately. The support for r&b hasn't been like it used to be. What has the r&b scene in Switzerland been like?
Faye B: Honestly, we don't have an r&b scene. At the moment, I'm the only artist who does r&b. But I think that's not the reason why I couldn't have success in Switzerland. I think good music is good music. I don't think about that too much. I just love music and I love r&b and I just do what I love and what I feel and what touches my heart. I don't think about that because I think at the end of the day, good music is good music.
YouKnowIGotSoul: Anything you'd like to add?
Faye B: If you guys out there want some classy, feel good r&b music, then you definitely need to check me out. I can't wait to be back in New York in October. To all of my supporters, I love you and thank you so much for your support, I really appreciate you. I can't think you enough with my words. Thank you of course to YouKnowIGotSoul for supporting me so much from day one. I really appreciate that so much and I can't thank you enough!