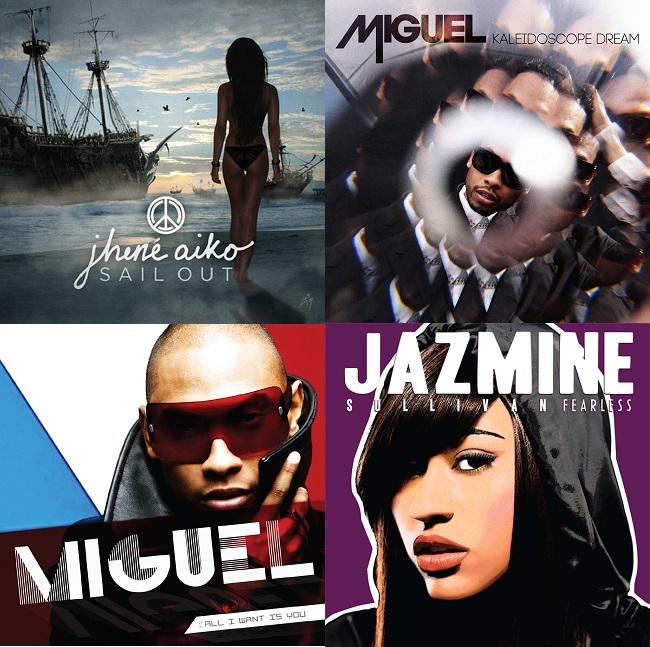 The dynamic production duo of Brian Warfield and Mac Robinson (better known as Fisticuffs) have been making some noise with their production which features a unique fusion of multiple genres. Their music has opened the door for different sounds that don't necessarily fall into the realm of traditional R&B, but has sparked new life into the genre. Their partnership with Miguel has been of the better stories as they've been able to create their own lane and bring us different but unique R&B records like "Quickie" and "#Beautiful". YouKnowIGotSoul had a chance to speak to the Fisticuffs about their music and their relationship with Miguel and also Jhene Aiko.
YouKnowIGotSoul: Talk about your origins in music and how it led to your first big break in the music industry.
Fisticuffs: We've known each other since high school and both played and produced music back then. It wasn't until a few years after we graduated that we started making tracks together and ultimately combined our setups and got a studio together. Aside from producing film, tv, movie trailers and touring with a few artists, we started working and vibing with Miguel back around 2006. This is before he had his record deal. This is also before we had any major song placements. We knew there was something special about him and we continued cutting songs and releasing music on our Myspace page. His buzz started growing, one thing led to another and next thing you know, Mark Pitts signs him over at Jive Records. We ended up producing 5 songs on his debut album and that was our first introduction into the music industry as Fisticuffs.
YouKnowIGotSoul: How did you guys come up with the production name Fisticuffs?
Fisticuffs: For those who don't know what the term Fisticuffs means, it's actually an old style of fighting that most bare knuckle boxers used back in the day. How does that pertain to us? It doesn't really. *Laughs* But we liked how it sounded. We also found it interesting how backwards and different that style was so in a way, it kind of described us and what we were aiming for.
YouKnowIGotSoul: One artist you guys have worked with extensively is Miguel. How did you all meet originally?
Fisticuffs: We've known Miguel since he was about 16. He had a situation with some mutual friends who were also in a band that we were apart of. We kept in touch with him though the years and eventually cut a song together. Stuff was sounding good and we just kept working from there.
YouKnowIGotSoul: Talk about the creative process with Miguel in the studio because you guys are in your own lane when it comes to the sound.
Fisticuffs: Working with him is fun. He's one of the most talented individuals that you'll meet. It's always cool to see what melodies or ideas he comes up with. He likes to record his own vocals so once we're done vibing with a track, he'll take it into the other room to start cutting. As far as the creative process goes, it varies. Sometimes we'll start from scratch and put ideas down once we have something that's feeling good. Sometimes he'll bring us an idea he started on from his laptop and we'll either strip it or produce around it or sometimes he'll write to a track that we already had finished. There's really no set way. But sonically we always have an idea or direction in mind. We also all have pretty similar tastes in music which I think helps.
YouKnowIGotSoul: Talk about your work with Jhene Aiko as you guys have done a lot of work together as well. Is the creative process with her different from the work with Miguel?
Fisticuffs: Jhene is another artist that we knew was very special. She has such a unique voice and great personality that working with her doesn't feel like work either. We had a similar situation with her too. We started working with her before she had a record deal. We kept cutting records and eventually released her mixtape entitled "Sailing Souls" which got the attention of producer and executive V.P of Def Jam, No I.D, who ended up signing her. As far as the creative process, same things apply. We either all vibe from scratch, start with an idea or play her tracks that we started with her in mind. Once we start seeing a song take shape, we execute until were all happy with the final product.
YouKnowIGotSoul: Your sound has been linked to this new "Alternative R&B" wave that is very popular currently. Did you expect your sound to work on radio because generally speaking, traditional R&B music never really has the type of sounds that you guys include in your music.
Fisticuffs: I think it stems from our musical influences. We like all music, not just R&B so naturally, everything else incorporates itself into what we make. We both love pretty chords, grimey sounds and 808s. It's got to have that low end that knocks. We try to keep those elements as the foundation of our tracks.
YouKnowIGotSoul: One of your first placements was on Jazmine Sullivan's Grammy nominated debut album. The song "One Night Stand". Talk about how that song was created?
Fisticuffs: We actually never got into the studio with her. It was a track that was submitted which she ended up writing to. She cut the song, sent it to us and it was on the album. We got our first gold record and Grammy nomination from that album too. That was a pretty cool experience.
YouKnowIGotSoul: Talk about your work on Mariah Carey's single #Beautiful and how it all came together.
Fisticuffs: Miguel had rented out a studio and invited a few of his producer buddies to come through and create. We all jammed, came up with ideas and recorded them as we went. That track was one of the ideas done in those few days. Miguel did his thing on it, made the connection and were happy to see what it did and to be a part of it.
YouKnowIGotSoul: Who else are you currently working with?
Fisticuffs: There's a few new artists and writers that were looking to sign and develop. We find joy in being able to break an artist into the industry rather than chase placements. There's also a few major names we're about to go in with but we'd rather not jinx it. We can add that were about to start working on Miguel's 3rd album along with Jhene's 1st LP so be on the look out for that.
YouKnowIGotSoul: Anything you'd like to add?
Fisticuffs: Jhene's EP entitled "Sail Out" drops on November 12. Make sure you pick that up! We produced all the songs on it. You can also follow us on twitter and on youtube to know what were up to and working on.
Twitter: @Fisticuffsmusic
Youtube: http://www.youtube.com/fisticuffsmusic1