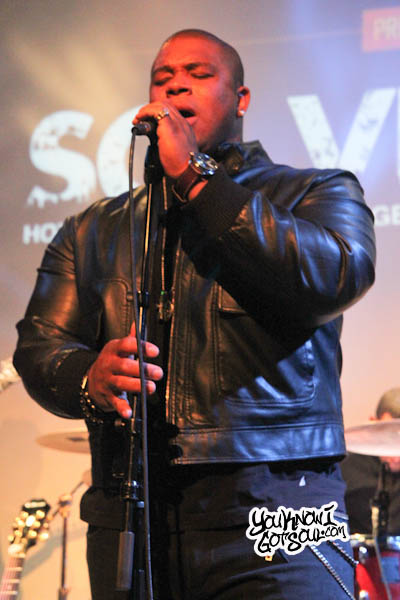 Fans of American Idol should remember "Big Mike" Lynche, a contestant who finished 4th in 2010 and also was known for bringing the judges to tears with his rendition of "This Woman's Work". In the past two years since his time on the show, he's been touring and carefully crafting a sound for his debut album that will be as close to perfect as possible for him. Already making noise with the lead single "Who's Gonna Love You More", a song that is currently charting and also has been picked up by Keith Sweat's radio show, all indications are that Michael Lynche has come into his own. Known on the show for her versatility, his debut will also demonstrate his creativity and most importantly that he's got a whole lotta soul. YouKnowIGotSoul caught up with Mike on a recent promo run in NY, and discussed with him how he's grown since Idol, what he could have done differently to win the show, what to expect on his debut album, his segment on Good Day NY, and much more.
YouKnowIGotSoul: Many know you from your time on American Idol a few years ago. For those who haven't kept up with you since then, talk about where your career has gone.
Mike Lynche: My career has been in this really creative zone since my time on the show and the tour which was amazing. I've just been working on my record; it's been like 18 plus months trying to make it perfect. I've taken this approach that I feel like there's a perfect version of a song, I feel like there's a perfect place to get to. We just work to get it there; re-writes and re-productions and all sorts of different remixes on different songs. I wrote over 30 songs for this album and to get it down to 13, I really felt proud of all of the songs and I'm just so blessed to be able to be putting this album out, and I just hope the people love it.
YouKnowIGotSoul: You're currently signed to Big3 Records. After the strong showing on American Idol, what was the label interest like for you? Were there labels coming after you?
Mike Lynche: Yea, it was really cool because during that time, I had some different options, but I was just looking for that right option. My management, we just looked at every situation and tried to get into the best thing possible for me. Because I had been living in NY and making music and writing music before I did American Idol, the creative freedom that I was going to have on the record was important to me. My label always wanted me to make the most creative record possible, it was never any time constrictions on me, there was never any constrictions on me or restrictions period. I got a chance to really say all of the things I wanted to say and make a record for the people, for my fans. Like I said before, I just really wanted to do something that the people could love and just play from beginning to end and just enjoy.
YouKnowIGotSoul: Since your time in the spotlight on American Idol, how have you grown as an artist in the past couple of years?
Mike Lynche: It's tough to quantify how you've grown as an artist. For me, I've never been at this place. I think any musician or any person period who puts their time into focus on making something special and making something great, you can't help but get better if you practice. I've never wrote better songs before and never been able to work with such great people before than I did on this record. The band that I put together to play on this record is amazing. I think that the whole team in general was just really dealing with top notch people in their profession. I feel like even more than growing as an artist, I grew in my business of knowing who was going to be right for my team and who wasn't. I think we've come up with a pretty good product from that. We'll see how the people enjoy it.
YouKnowIGotSoul: You've got out the single "Who's Gonna Love You More" which is starting to get airplay on radio. Talk about the creation of the single.
Mike Lynche: It's a song that I wrote with Jamie Jones who was one of the lead singers from All 4 One. It really was a song about that declaration of love for whoever it is, your man, your woman, your partner, whoever it is. It's saying that there's nobody on this earth that's going to love you like I love you. There's nobody who's going to treat you like I will treat you and it's because of you make me feel and what you've done to me. It's given me the confidence to know that I will love you harder than anybody will ever love you. It's a good jam that you can play late at night, early in the morning, mid day, whenever you are trying to make your special time. I think it's one the people will really gravitate to. It's doing really well, we're at #27 on the charts right now. So we hope to just keep moving forward and hope people keep hearing it.
YouKnowIGotSoul: From checking out the single and some of your other music, you strike me as an old soul; a younger guy who makes that soul music. Is that the type of sound that will be reflected on the album?
Mike Lynche: *Laughs* Yea, on the album what's really going to be reflected is creativity. I really wanted to do something besides all of the old soul and besides trying to be Mr. R&B man, I really just wanted to do something that was creative from every facet. From the way the songs were put together, the way the songs were written and the way the songs were performed, I just wanted to do something super creative that will keep your interest and that people will have a good time listening to and also get the message from it about love.
YouKnowIGotSoul: Did you have a chance to collaborate with anyone on the album?
Mike Lynche: I wrote some songs with Ruben Studdard on the record. Mainly the record is me. It's my voice, there are no features, there is no rapping on the album, not that I have any issue with it. We were just so engrossed in this project for the last year and a half and just making this studio, night after night, day after day, nothing ever really struck us as "Hey we need to get somebody else on this." It just made more sense that it was my voice.
YouKnowIGotSoul: In addition to the album, I was reading about a segment you have on Good Day NY where you talk about American Idol. How's that experience been?
Mike Lynche: It's amazing, Greg [Kelly] and Rosanna [Scotto] and the producers over there they are amazing to me. They were always so good to me from when I left the show. When you leave American Idol, you go sit in the studio and it's so cold and you do all of these satellite interviews, over 100 of them. I remember I did a satellite interview with them and they were like "Please come through when you come to NY" and when I got there, they were just so loving of me. It was just an amazing time, it always feels like I'm going home or going to the best job that I love when I go over there to talk with them. It's an amazing time over there, they treat me well and it's a great show.
YouKnowIGotSoul: Looking back on American Idol, you are two years removed. Is there anything you know now that maybe could have helped you to win back then?
Mike Lynche: *Laughs* Well of course, hindsight is 20/20. I guess looking back now, I would have sang "This Woman's Work" every week since people loved when I sang it! *Laughs* I had a really amazing time on the show and I think that if there was anything, it was just not realizing how much sacrifice your family puts in for you to do something like that. My wife and my child, we moved them out to L.A. and they weren't living with me at the time and we were living in Korea Town and then living in Venice Beach and then finally we got to live together after we got to a certain point in the show, it was one of the perks of making it through that week. I don't know what you could ever really do differently, I made it to number four on the show, which I felt good about and proud about. Being an r&b male singer, you don't always do so well on the show. So for people to like what I was doing on it, I felt proud about that.
YouKnowIGotSoul: Is there any advice you could offer to upcoming artists? You're someone who realized their dream as an artist, how can you help them achieve theirs?
Mike Lynche: It's just sticking to it. It's just staying on that grind. It's just like doing that work that no one sees behind the camera, early in the morning, late at night. It's what you're willing to invest in yourself as an artist and just really as a person on this earth who wants to have some type of confidence and feel good about yourself. It's that work that nobody sees that makes you who you are. I would just say do it, it's not hard work for no reason. It's hard, so do it, do it.
YouKnowIGotSoul: Anything you'd like to add?
Mike Lynche: I just hope you guys get a chance to buy the record and enjoy the record, share the record and love it. I made this for you, so I really just hope the people love it. You can find me, I'm online at MichaelLyncheOfficial.com. Facebook.com/MichaelLyncheOfficial. Twitter is @BigMikeLynche. I'm always on Twitter, I put a lot of videos up and a lot of pictures up, I'm documenting this whole experience I'm going through in releasing this record. I always respond to my followers out there, so please, follow me and tweet me and send me messages and I'll tweet you back. Love you guys!