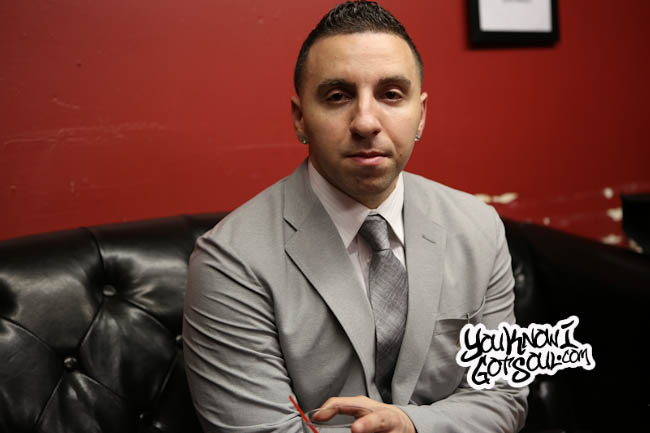 There probably isn't an upcoming NYC talent we support more than Gaetano. If you've been a fan of YouKnowIGotSoul over the years, you've undoubtedly seen us feature his music at least once. His story epitomizes the struggle of an artist trying to find his way in the industry all while staying true to the pure r&b sound that comes from within. There are no gimmicks here; just hard work, dedication and talent. But perhaps what we admire most is his humble spirit and never give up attitude. We sat down with Gaetano prior to his birthday concert that he put together feature all of his friends and fellow artists, and got a chance to hear more of his story. Get to know Gaetano.
YouKnowIGotSoul:Tell us, who is Gaetano?
Gaetano: I'm just an Italian guy from the Bronx. There's not many of me. Not many from that area with my cultural background that feels like they have what it takes to be something. You do see a lot of similarities with myself and artists who are currently out, as well as upcoming artists. Which is great, and as you can see tonight from my party, there's a lot of amazing people here, a lot of talented people here… But the reason they all came is because they told me I'm just THAT DUDE! That's what I'm honestly striving for, I just wanna be known as THAT DUDE. A lot of people have said "Yo, your character is unmatched. You have the talent, but you don't brag about it. You're not selfish, and you look out for other people." And that's true. Matter of fact, I've booked a few artists myself for Tom's show, Sol Village at SOBs, and they all worked out well. Every time I refer one of my artist friends to Tom he says, "Damn Yo, she was dope. Or she was ridiculous, I wasn't expecting that." So that's pretty much who I AM! You know, I have a crazy passion for music. My love for music is like something I can't even explain. I've never loved anything so much in my life before…
YouKnowIGotSoul: So what sets you apart from all the other artists out there?
Gaetano: A couple things… What everyone tells me is, "Yo we didn't expect that from you. Because you have a look that's different than what's out, and you sound like something that's unexpected." So that's probably the first thing. The second thing would probably be, technically with music I'm very sound. I've been studying music forever. I'm a musician and I play lots of instruments. So I understand music. I understand the roots of music. Many different types of music… Everything from Carlos Santana and George Benson to Chris Brown and Justin Timberlake, shit like that. As Tom knows, my favorite artist is Tank, one of Tom's personal favorites! (Laughs). But Tank is definitely my favorite artist because I relate to him in certain ways. You know, being a talented R&B artist and musician, you get kind of frustrated seeing other things that are out and getting more attention and are not necessarily as good quality and content wise. So the other thing that sets me apart is that I'm warm hearted. I have a heart of gold, and everyone knows that, that's why they are here. My technical musical skills, and the last thing is my musicianship. Everyone knows I play the guitar so that makes me different as well.
YouKnowIGotSoul: Tell us about your debut project, "Fade Away."
Gaetano: Well, Fade Away was titled Fade Away because a female that I was with actually faded away. So I titled it Fade Away because she was gone! *Sips Drink* Pretty much every song was about her. I made it as a therapeutic type of thing to get over that. Also because I never compiled an album together before. It was always a song here, a joint there, you know whatever… And I decided to create Fade Away. I played a lot of guitar on it, produced a couple of tracks. I worked with a Grammy Nominated, now Grammy AWARD winning producer, K Quick. As well as some talented writers. It was really just about making the music that I wanted to make. There's some love songs, some happy songs, songs where I'm talking shit kind of (laughs), you know what I'm sayin… so that's what it was.
YouKnowIGotSoul: Tell us about the creative process of "Fade Away."
Gaetano: Well it depends you know. Depends on what goes into the particular song. Damn he's killing that bass… (laughs). He's a beast! But anyway, there's a lot of live musicians so we got some live musicians in the studio. I played guitar on every song, there's also keys too. I'd say per song, mixing and mastering, anywhere from 3 – 5 hours per song, maybe longer.
YouKnowIGotSoul: Tell us about overcoming setbacks in your career thus far.
Gaetano: Well yeah I used to get very frustrated with this shit. There would be times when I cried, times when I asked myself "What the fuck am I doing?" Times when I thought, "Maybe I should just go work at Starbucks." No, I'm kidding I would never do that. (Laughs) No offense to anyone who works there of course. But, the thing that keeps me going through it is my love for music. I put out a joint recently called "Do It For The Love." It talks about doing music for the love. I really began to think about why I even started doing music in the first place. So that's why…
YouKnowIGotSoul:Tell us about any upcoming projects you're working on.
Gaetano: Well yeah I know it's been some time since I've put something out but I've actually been working on lots of projects for major artists, as well as upcoming artists. I landed a placement on Ryan Leslie's latest album, MZRT, which just came out on July 4th. I co-produced/wrote the track with my partner K Quick, whose an incredible engineer, musician, vocal producer, DJ. We came up with it together, I played the guitar and melodies on it, and we got it together. It's Ryan Leslie feat. Bobby V, titled "Sounds", so I've been blessed to get that. I've been doing a lot of work for upcoming artists as well. I kind of put that stuff to the side for now though. Cuz I've been doing it for a while, and I really do enjoy it. I'm also a producer and I love to produce music. But now I'm working on an acoustic album, and it's a duet album, every song is featuring somebody. So yeah, we out here workin man!
YouKnowIGotSoul: Anybody you want to work with? Any upcoming collaborations?
Gaetano: Really I love working with everybody. It doesn't necessarily have to be R&B. A couple things that I'm working on right now… me and my producer K, we're working on some stuff to pitch to Justin Timberlake. We tryina get that going. Some guitar inspire tracks. Also working with a producer by the name of DG MAYNE. He's a beast as well of course. We workin on stuff for Dej Loaf. So different genres and different avenues, but we tryina get it in right now. Me and my team are diverse in production so we just tryina get it in!
YouKnowIGotSoul: What's your advice for new artists?
Gaetano: That's a good question man. I do get hit up a lot like "Yo G, I wanna do what you're doing but I don't know where to start." And the first thing you gotta do is become really good at what you do. So, if you're gonna produce, then be a dope producer. Learn the craft. If you're gonna be a singer, learn the craft. For example, my show tonight, I didn't even practice! I don't even practice anymore, I just do it. I feel like Allen Iverson right now! PRACTICE?! (LAUGHS) We talkin bout practice?! Yeah so I don't practice that much anymore, maybe that's kind of bad. I'm not cocky or anything but, I did sound check and I was good. So the other advice I would give is to treat people good. Treat people good. That's a really important thing. In this industry there's a lot of Hollywood shit going on, un-necessarily. I'm not gonna speak to it that much, but people in the industry already know what it is. A lot of my personal music friends, people who are performing tonight even, are saying "Man, this industry is so Hollywood, and it's so great that there's an event like this tonight that's so chill." I take pride in that. Tonight is about the artists. I'm not a selfish person, I purposely wanted my birthday party concert to be about my talented friends. I might do a song or two but, that's about it. So yeah, that's the advice I would give.
YouKnowIGotSoul: Final thoughts?
Gaetano: Yeah you know just a thank you to you guys. You Know I Got Soul has been my #1 supporter since Day 1. I actually met Tom at a showcase I did at SOBs a few years back. He saw me perform, and I just told him about myself, and we became mad cool ever since. I went to his bachelor party and wedding! It became more than just like, "Oh you do music and shit. Cool." That's how I am. Once I get to know somebody and once they get to know me they're like, "Oh shit, this dude is dope. I wanna be cool with him. He's a great dude." I have a good heart. That's what I'm about.