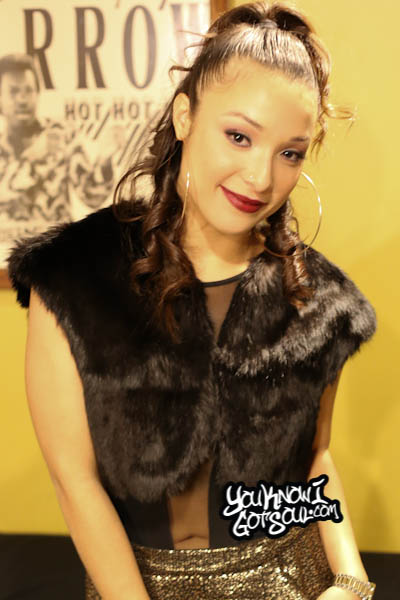 Being signed to a major record deal is a dream come true for many aspiring singers, but most people don't get to see the ugly part of the business. Like at any other job, you're not going to necessarily see eye to eye with your boss on certain things. That's what happened with Ginette Claudette when she signed with Motown a few years ago. But instead of bashing her former label like many artists seem to do these days, she took the high road and left on a positive note. She was able to develop relationships with producers during her time in the industry and that's allowed her to get to the position that she's in now. Her debut album "Tainted Emotions" has been well-received by fans in different countries and she continues to push forward with her career. YouKnowIGotSoul had a chance to speak with Ginette Claudette about her debut album, her time on a major record label and what we can expect from her next.
YouKnowIGotSoul: I read that your mom was a Latin pop star, so how did she influence you and push you into a career in music
Ginette Claudette: Growing up, my mother sang Latin music and she was a big pop star in the 80's in our country Dominican Republic. I was always naturally around it and I used to always watch her. She never really pushed me in the direction, I would just beg her to let me sing on stage, so it kind of just happened naturally. When we moved here, I kind of just found my own way and started doing the R&B thing. She's always been a huge supporter of mine.
YouKnowIGotSoul: When you started doing your music, how did that eventually lead to your deal with Motown?
Ginette Claudette: I was doing a lot of school talent shows and I went to a performance school in the Bronx. I was just going wherever I could to go sing. When I graduated high school, I begged my mom a year to give me a year to get a record deal. I was like "Just let me work and I'll figure out out!" I worked for a year and I just grinded my way. I networked a lot and I was working with small producers until I met a couple of people who knew a couple of people. It just naturally happened. I put in work for a long time and it's funny because you work for so long and then in one week, I had a meeting with every record label. In the end, I decided to go with Motown and that was a dope experience for me. I spent two years there and it eventually didn't work out. I wanted to do the R&B thing and they saw me more as a Pop artist. Creatively we didn't mesh, but it was a really dope experience. I met a really great producers and songwriters.
YouKnowIGotSoul: How tough was it for you to walk away from a record label and start over?
Ginette Claudette: After getting the deal and then doing all the work that comes after it, I realized really quickly that getting the deal is not the hard part. It's all the work that comes with it. It wasn't too hard for me, but it wasn't a happy moment because I spent a lot of time working on an album on that label. It wasn't a super happy moment, but I actually felt relieved that I could go and do the music that I wanted to do from the beginning. I met August Rigo who I did my entire album with and he meshed with me perfectly. I really feel comfortable now and that was towards the end of my Motown thing and I found somebody that can make the music that I want to make. I knew that I would fall into the right situation eventually.
YouKnowIGotSoul: Your sound is a blend of R&B and Pop. Is that something that developed over the years or was it something you developed while being at the label?
Ginette Claudette: I feel like I've always been an R&B head. I grew up listening to a lot of Lauryn Hill, TLC, SWV and Aaliyah. I've always loved that genre of music. When I was on Motown, I was being pulled in a bunch of directions so I questioned it for a bit, but I've naturally always been into that genre of music. I write as well, so it just comes naturally and I fall into that genre. It's the music that I love to listen to.
YouKnowIGotSoul: Introduce us to your debut album "Tainted Emotions".
Ginette Claudette: That's my baby! I did the whole thing with August Rigo who is my partner. It's the best album I've always wanted to make. It started with this one song called "Tainted Emotions" which set the tone for the project I was working on. I was writing and I was taking some time to myself. That record came about and set the bar. After that, I put together a project that I really wanted to put out, so I'm really proud of that.
YouKnowIGotSoul: I know you've developed a following overseas like in Japan. How did that come about?
Ginette Claudette: I love Japan by the way! I just got back from there. The way that came about is that I toured with Far East Movement. They're all mixed with Asian, so that's how I got introduced to any international type of platform. I went out with them and did all of these crazy festivals. That's how I developed a bit of an international fanbase. Once that happened, I licensed "Tainted Emotions" to a record label in Japan called Manhattan Records. The album debuted on number 6 on the R&B charts last month. I just got back from there and I was doing radio promo. It was so dope and I felt super appreciated. Not saying that I didn't get that here because "Tainted Emotions" got a lot of love here too, but I just really was in awe that a different place in the world loved the music.
YouKnowIGotSoul: What do you have planned next?
Ginette Claudette: I'm thinking maybe a mixtape or EP. I'm shooting for the end of February or March to put some new music out. I always put out music on my Soundcloud so I don't keep the fans hanging. I've realized a couple of tracks and I'm probably going to release another single by the end of the year. Maybe in March, you guys can expect a new project. I'm writing now and I'm into the creative process now, so we'll see.
YouKnowIGotSoul: Anything you want to add?
Ginette Claudette: Shout out to everyone who has been following me. Check out the album "Tainted Emotions" and if you're not following me, follow me @IAmGClaudette on Twitter.