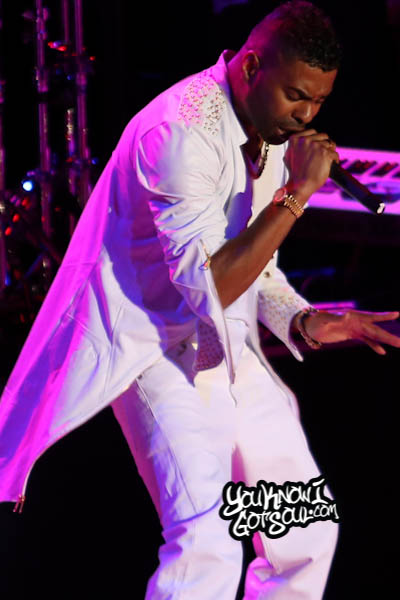 We've heard the phrase "Real R&B is back" for years, but the fact is the genre is still out of the limelight and looking for a savior. With the announcement that TGT (Tank, Ginuwine, Tyrese) were once again coming together to form a group and had also signed a deal with Atlantic Records, many felt we finally had the star power behind a movement to make a difference. Ginuwine, like his counterparts, had been a superstar in his own right for years since he burst onto the scene with "Pony" in 1996. He's now poised to move to the front of r&b once again. We caught up with Ginuwine while he was in town during a recent show in NYC. For the interview, we discussed with him what to expect on the TGT project, his new album "Old School Young" that will follow, dance music in r&b, his motivation for creating music at this point in his career, and more.
YouKnowIGotSoul: You just recently announced TGT signing with Atlantic records. Give us some details around that whole situation.
Ginuwine: We just signed with Atlantic records. Me, Tyrese and Tank formed a group called TGT and it's been a long time coming. We actually started it four years ago, but our schedules were conflicting and everything so we never had the opportunity to finish the actual record. We actually did three songs and I'm pretty sure the people that have been following us know about that. One of them is called "Sex" and I forgot the name of the other one, but we could be using those songs as well. We are like 10 songs in so far and we're going to probably end up doing about 30-35 songs. We have quite a few producers that want to be a part history and we're actually waiting for them to finish the tracks that that they're going to submit. Then we're going to start writing and of course, Tank is a great producer so he's going to produce a lot of it as well. It looks like it's going to be a good year next year and hopefully everybody will come out and support us as TGT because the radio is really missing what we grew up with. You can't really hate on the music that's out right now. It's not my cup of tea, but my parents, our music wasn't their cup of tea. You tend to like what you grew up with and that's what it is. I do like some of the stuff that's out now, but hopefully the people that grew up with my music and Tank's music and Tyrese's music will continue to support us as TGT.
YouKnowIGotSoul: Tyrese has been on Twitter saying that it's going to be real R&B. Is that going to be the case?
Ginuwine: Well yeah, when we say real R&B, again that's what we think R&B is. It's stuff that we grew up doing and the stuff that they're doing now is their R&B. It is what it is, but we're going to go back and recapture that depth of R&B that we feel is missing now. I came out in 1996 and the music was totally different back then and we're just going to go back and recapture that and pick up where Jodeci left off.
YouKnowIGotSoul: Do you think you're going to contributing to any of the writing on this project?
Ginuwine: Absolutely, we're pretty much going to have something to do with every song on the CD. We're not going to allow anybody else come in and not be a part of the process. We're going to absolutely sit down and do what we've been doing for almost two decades. We're definitely going to play a major part and role in the music and the writing.
YouKnowIGotSoul: Prior to this situation, you had been working on your solo album. Is that still happening?
Ginuwine: Absolutely, I'm working on "Old School Young" while we're doing the TGT thing because right after the TGT thing ends, we're going to drop mine and just keep it moving. I think this platform for all of us will be a better platform for us to come out after TGT because of the star power that you have. That's why I believe like a lot of rappers clique up now because it's bigger power in numbers and the celebrity. If you get a few celebrities together and y'all are clicking, everybody is getting on everyone's song and everything, it's more power to it versus you just doing it by yourself. I believe with the TGT thing, it's going to be a platform for me afterwards.
YouKnowIGotSoul: People have seen you communicating on Twitter with Timbaland and Missy Elliott. Do you think they'll be working with you on your next project?
Ginuwine: Well, we hope so. I haven't worked with Tim or Missy in a while, but I'm always keeping hope and keeping the faith. Hopefully we'll be able to create that magic that we once had and that magic that people in our age bracket grew up listening to and loving. Hopefully we'll be able to do that, I would love it.
YouKnowIGotSoul: As you've grown as an artist and where you're at now, what do you think your fans want to hear from you as an artist?
Ginuwine: One thing I realized is that a lot of times, people like the stuff I write. Of course they don't really realize I wrote it, but the stuff that I sing that someone else writes, it doesn't come off as good. I guess it's because it's coming from me. I'm writing it and I know when I want to go up and when I want to go rift or whatever. So I'm picking up that pen more this time and really not allowing others to just write for me and me singing their lyrics. I really realize now that people really want to hear from me and it comes off better when it comes to you and your heart if you can do it.
YouKnowIGotSoul: Do you think it's possible for male R&B artists to be successful without making a dance song in this day and age?
Ginuwine: Absolutely because you can't make love to a dance song. I think the effect ballads have on the world or baby making music, slow skating music. I still love to skate *Laughs* I'm not really into that other stuff. They tried to make me do it. but If it ain't you, it ain't you. I've never had an uptempo smash. All my smashes have been ballads or mids. It's never been an uptempo song that I've done. The closest that I've gotten to a number one song with a fast joint was "Hell Yeah" and that was written by R. Kelly. So nah I'm not going that route. I'm going to stick to what's gotten me here and that's the ballads.
YouKnowIGotSoul: Back on your first couple of albums, you and Timbaland seemed to have a ton of creative control over the music done. Nowadays, it seems like labels are hooking up artists with certain hot producers at the time and it seems like it's hurting the creativity. Do you think that's the case?
Ginuwine: I think it's more focused on money versus the artistry. Now it's just so packed and full. If you're not signed to a label, you could be on YouTube and be a star. Any one of those social networking sites, you could be on there and not even be talented in the way people say people are talented. You could be a huge success, so it's really about the quick buck. To me, it's no superstars out there. Michael Jackson is gone, Prince doesn't come out as much and Whitney Houston is gone. I came up around the time where people were superstars. Right now, you have 50 of the same rappers out there, but the only thing that sets them apart is that hit song for that few months. To me, there are no superstars. That's what I've always tried to focus on. I fell by the way side for awhile myself because you've got to roll with it sometimes or get roll over, but a situation like TGT allows me to sit back and really concentrate and do what I've been wanting to do and that's focus on being a superstar and not just doing clubs. The money is still good, I ain't going to say no to $25,000 for 45 minutes of work. Some people don't make $25,000 in a year, so it's all good. It's just one of those things where I just have to keep working and be the celebrity and superstar that I know I am and not get caught up. TGT allows me now to do that.
YouKnowIGotSoul: Since you've had so much success, you can basically live off your life out and just tour around the world and make money living off that.
Ginuwine: I hope so. *Laughs*
YouKnowIGotSoul: Well you pack these shows out, people always come out. You got hits.
Ginuwine: Yeah, they love hits. Hopefully I can continue to do that, but I never want to take that for granted.
YouKnowIGotSoul: What motivates you to keep trying to make music especially when the music is changing a lot?
Ginuwine: Honestly man, you have to realize that I've been doing this now for almost two decades, so I don't know anything else. As I told you before, I do animation and I like to shoot movies and stuff like that, but that's not what I'm known for. I can't make a living off that yet, so I have a responsibilities and I do love it. I don't have the love that I once had for it because of a lot of the things that happened in my career, but as far as the performing part of it, I still love it. I can't stand the studio, I hate the studio. One thing that I'm trying to do is take on the studio with a better attitude than I have in the past years. I can't stand the studio and I never have, but that's where the magic happens. If you don't do it right there, there is no stage. I'm just working my way out of that.
YouKnowIGotSoul: We talked to Teddy Bishop who produced "I Miss You" which of course is an Aaliyah song, but he told us that was a Ginuwine song originally.
Ginuwine: Thank you, that was my song.
YouKnowIGotSoul: How come that didn't end up with you?
Ginuwine: I wrote that still for her when she was still alive. They just didn't use it for the record. I think it was not "One In A Million" but the next one, but yeah they didn't use it. That's what we do as artists, you do songs. With my CDs, you only get 12 songs, but we do about 25-30 songs and because we don't own the rights or own our masters and all that kind of stuff, the label still has those songs. Sony probably still has 100 songs of mine, they're probably waiting for me to die and then put it out. *Laughs* That's one of those songs that i wrote for her, but it didn't make that record. I always knew what kind of record it was anyway, but they just didn't use it. Once she passed, then they used it and it is what it is.
YouKnowIGotSoul: Anything you'd like to add?
Ginuwine: Thank y'all for supporting me for nearly two decades and we're not going to stop. We're going to keep going and as long as you support me, I'm going to be there.