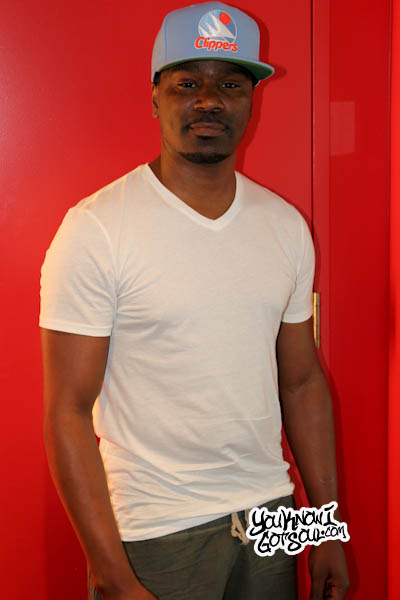 Glenn Lewis is a rare breed. Looking past the undeniable talent, he's been able to remain relevant in an ever changing r&b genre despite not having released an album since his debut well over a decade ago. There's been many obstacles along the way, but he's getting that chance with the release of his official ("Back for More" and "Remember Me" were shelved) sophomore album "Moment of Truth". If you heard the lead single "Can't Say Love", you'd think he picked up right where he left off in 2002. That's not to say his music today is dated, it's more an indication of the fact he continues to make music that's timeless. As one of the defining voices of his generation, r&b is better as a whole with Glenn Lewis around. YouKnowIGotSoul sat down with him recently in NYC and discussed his reintroduction through this album, the importance of his collaboration with Melanie Fiona, finding success in the U.S. as a Canadian artist, memories of his debut "World Outside My Window" and much more.
YouKnowIGotSoul: You're preparing to release the new album "Moment Of Truth". Are you looking at this album as your moment of truth?
Glenn Lewis: Funny in a lot of ways, yeah. The title, though it didn't originate from that, needless to say anybody hearing it kind of feels like there is that correlation of "Yeah it's been a minute." There's that anxious anticipation that I've received from fans. The actual title itself really came from the process of making the album and wanting it to be very personalized. I think any artist expression is signature to what they do. There's millions of love songs that have been created and for the most part, that's usually the theme for a lot of songs. There's some socially conscious songs, but for the most part, love songs have existed forever from sonnets to now. I wanted to show evolution in the actual conversation pieces, making them personal and understand that my demographic is women so I want them to be able to have fun with me. That was a big deal for me, just having fun. Each song, we had talked about just taking it one song at a time. Each conversation kind of pieces a moment of truth.
YouKnowIGotSoul: Sonically on this project, what type of direction were you going for?
Glenn Lewis: I mean definitely I want to display evolution. There are elements that I think people have sort of become familiar with from me from taking that approach, so I think it's somewhat expected for me to add those elements, but R&B music is R&B music. Neo Soul is an interesting title. I think some people just have different influences where they may express them a certain way. If you understand my take, Adele is just as much as a Pop act as Taylor Swift, but it isn't like Adele is a certain category and Taylor is a certain category. It's popular music. I think with me it's like, it's R&B. With respect to the traditions of R&B and my heroes that have come before me, that element is always going to be there. I think the one thing I can say about this album is that because it's coming from my Philly fam and producers from Philly, you get those tinges of that Philly international soul type feel because pretty much anyone that's around that area, that influence is there. The music is heavily influenced from that particular era, so you do hear a lot of those tones on this album.
YouKnowIGotSoul: A lot of people know you from your debut album back in 2002, but do you feel like this is a reintroduction?
Glenn Lewis: This is a great time because to keep it all the way real, the game is very fickle and for one reason or another people may not know what's happening behind the scenes, but if you step away for too long people will move on to the next thing. The fact that I can stay relevant to this point and for people to recognize me as an artist and for there to be a lane created and an opportunity for me to share again, it's a real blessing and I'm really grateful to be in the position that I'm in. I think given the opportunity to be able to show evolution creatively like "Storm". There's "Good One" which still has the Neo Soul element, but yeah, I feel like I still have a lot more to say and I'm glad to be able to be in that position to get the music out for the people to see and hear the process and where I'm going.
YouKnowIGotSoul: You have the single "Can't Say Love". How did you decide on that as the right single to lead this project?
Glenn Lewis: I have to be real, in doing the song, I thought it was a great song. I thought it complemented the body of work, but I didn't really hear it right away as a single. That's the really importance of having the right people around you because I didn't necessarily hear it, but they kind of sold me on it. They were like "Pay attention to what you have here." I think one of the ways I heard it described to me was "Glenn you have to think of it from the stand point of your fans." For a woman, it's like poetry not in the corny way, but in the way it's stated and it's just an honest moment. Even for a dude, it's like "Oh I can play it for my girl and really be able to express what I haven't been able to put together in words." I was like "That's powerful." And performing the song is a joy, I love performing it. It's really heartfelt and I feel like you always get the best performances out of songs where there's that connection between what you're trying to communicate and the listener where it's an honest moment. Whereas on some songs, you're able to just have fun and you keep it light. Everyone has fun and it's cool. but a song like "Can't Say Love" really pulls something special out because there's an opportunity that can be had and you're able to make a genuine connection with the listener.
YouKnowIGotSoul: You've got the collaboration with Melanie Fiona on the album. How big is it for you to have that kind of collaboration?
Glenn Lewis: It's funny because I've seen her growth throughout the years. She's hustled and burned the candle at both ends type of thing going for it. There's a sincerity and geniuineness as a result and the success that she's having and the continued success that she's going to have just growing and being bigger and more of a presence in the industry. She's already a Grammy-award winning artist and easily one of the best female vocalists of this generation. She's going to continue to have success, but it's amazing that in all of that, her sincerity and humility. She came to me and was like "Glenn, you don't understand" and she starts singing specific records off my first album. She was like "Yo I'm a fan. I'm here for a reason." I was like "Wow" because I can relate. There's certain people I feel the same way about and needless to say, her voice is crazy to me. I've been saying that she is one of the top five vocalists in the game right now. To be able to work with her and the fact that it's hometown and the effect it can have within the community, people knowing where we come from and trying to make something out of nothing, for us to come together it was a really positive thing. It was a great moment and easily one of the most memorable in my career so far.
YouKnowIGotSoul: We've talked to fellow Canadians like Melanie Fiona and Tamia and they both mentioned that they had to the come the U.S. to get success. Do you ever feel like that?
Glenn Lewis: It's difficult because I think that for one reason or another, there really isn't a infrastructure for R&B or Hip Hop to really thrive. There's a couple of artists that have found success out there and that's tremendous, but it's different. It's like you have one premiere female vocalist, one premier MC type of thing, but once that slot is taken, there really isn't a whole lot of room. I think it's also the ambition to want to reach out on an international scale because you feel like music is universal, so you're like "Okay I understand what I got here at home." Toronto is one of the roughest cities coming up as an artist because they're straight faced and when you're on stage, they're looking at you like "Impress me." They will not budge and will not move. It's real. They contribute to you grooming that way, so I have so much love for that city because I've often heard people say that some of the hardest cities are like Toronto and Philly. It just so happens that I've lived in both and came up in both communities. It's really contributed to me being able to get out and set the tone. I can just get that energy out there regardless of whatever, I can push through. To answer your question though, I think Canada will gradually grow and change and there will be more room. I think the more artists that step away and have success, I think more opportunities will eventually open up.
YouKnowIGotSoul: The "Moment Of Truth" album is already released in Japan. Talk about your fan base overseas like in Japan.
Glenn Lewis: Actually crazy enough. I went to the Essence Festival this year and there were some guys that flew in from Japan specifically knowing that I was going to be there. I was like "How long is the flight?" and they were like "18 hours!" I don't know if it's all like that, but if that's any indication then I'm grateful. I haven't had the opportunity to go out there yet, but I've seen how they react to other artists and music in general. I wish the rest of the world was like that. It's that real appreciation and they're like connoisseurs. They create their collection and they have their favorite artists. They're willing to venture out and check different artists out. That's what the art is for, it's for consumption. The opportunity to be able to explore, they're definitely all about that.
YouKnowIGotSoul: I know Stevie Wonder has been a big influence on you. I've seen you perform his songs live. Have you ever considered covering one of his songs for your album?
Glenn Lewis: The funny this is almost everybody I've talked to, they've always said "Glenn, for you to do Stevie, it's redundant only because that influence is 50% present in you." So, I love to perform it live because it's always my way of paying homage. I beat up on myself if I ever make mistakes performing because I'm like "Man, if he ever heard this…" *Laughs* Maybe one day, because there are a couple of records, there's no one favorite when it comes to Stevie. I think right now it's the sort of thing even the man himself would understand, in talking to him, it's the thing where he's one of my heroes and I pay homage to him.
YouKnowIGotSoul: For your classic debut "World Outside My Window", we've had a chance to talk to Dre and Vidal and Marsha Ambrosius about their contributions to it. We'd like to hear from your point of view, what do you remember about creating the album?
Glenn Lewis: What do I remember about creating the album that I can actually talk about on camera. *Laughs* Well, it is amazing seeing them with the success that they've had is no surprise. Working with them at the time, it's just crazy because just moment to moment it brought the best out. Being around Marsha, as vicious of a vocalist and songwriter that she is, she loves the creative process. The lights in her eyes are just on all of the time. It's always something hot. That always pushed me and motivated me as well. She had the hunger, I had the hunger, Dre and Vidal had the hunger and we came together. The energy was always at a high level. It was just funny because I'm a little bit meticulous, I'm a little picky, so they would tell me "Glenn, the take you just did was fine!" and I'd be like "No, no I could do it better." I remember them always trying to reel me in. There was always just the dynamic between our personalities. It was just memorable how from the outside looking in what it must have looked like.
YouKnowIGotSoul: Going into the project, what were you looking to create?
Glenn Lewis: Interestingly enough, I'm starting to wonder if this is what always sorta happens for artists. I went into it with the mindset that I wanted to make an impactful debut. I wanted it to be something that really made a statement. What ended up happening was with working with Dre and Vidal it ended up being this very loose, very mood driven, open, concept thing. Literally the 15 records that ended up on the album were the 15 records we cut for the album. There wasn't really like the typical process of cut 20 to 30 records and pick 12 or 13. It was really like we just vibed, everything was just real old school, throwback what we cut is what it is, capture the moment. It wasn't until we got towards the end that we looked up and it was like "Ok, so this is it!" and I was like "What do you mean? Can't I cut some more records?" That's sort of funny to me because sometimes you go in with a certain vision, but life has a way of taking shape in an unexpected way. That's one thing that I sort of stepping back and looking at "World Outside my Window" I can appreciate for that reason. I don't know if I really had the chance to structure it the way I wanted to. I know the experience I have now and I appreciate it for what it is. That was my introduction to the world.
YouKnowIGotSoul: Anything you'd like to add?
Glenn Lewis: I'd just like to let people know you can reach out to me on Twitter for shows, tours, or just to say what's up @BeingGlennLewis. My Facebook fan page is GlennLewis4Real and Instagram is @BeingGlennLewis.