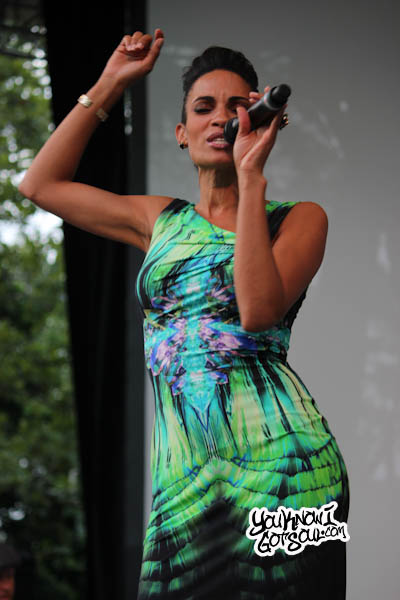 It seems like whenever an artist doesn't release any new music within a couple of years between albums, they've supposedly taken a "hiatus" and their next album will ultimately be deemed a "comeback album". What we tend to forget at times is just like us, artists are human beings and want to live normal lives like everyone else. Goapele hasn't released a new album in six years, but when you get down to it, she just made a conscious decision to start a family and live a life out of the spotlight aside from a few shows. In effect, she didn't disappear or turn her back on music, she was just living her life and is now at the point again when she feels comfortable creating a new project. As she prepares for the release of her third album "Break of Dawn" later this month, YouKnowIGotSoul had a chance to interview her to discuss the project. We talked about what to expect on the album, the creative process of her new single "Play", working with various producers on the project, collaborating with different songwriters for the first time, the gap between albums, working with Mateo on "Shoot Me Down", and much more.
YouKnowIGotSoul: Your new album "Break of Dawn" will be releasing this month on October 24th. Talk about what we can expect to hear on there.
Goapele: You can expect to hear soulful, eclectic, sensual, pensive music.
YKIGS: We love the first single "Play" and we picked it as our Featured Song of the Week last week.
Goapele: Thank you!
YKIGS: Talk about how the song was created.
Goapele: Yea, that song was created at The Zoo studio in Oakland. Electric Thunderbolt, an up and coming crew out of the Bay Area started working on it and it just kinda had the skeleton of the song. It was really vibey when I heard the track, the drums and that main synth. I just kinda went in the booth and sung what came to me. It was fun to just get to do flirty kind of song and I felt like the music was very funky. It was just fun and vibey really.
YKIGS: I was reading about the great mix of producers and writers you have on this album. Talk about some of the people who you worked on this album with and how you selected them to help create this project.
Goapele: I got to work on it over the past couple of years so it was a gradual process of me just getting to go into the studio and trying a lot of different things. There were some people that I had been starting to work with that I was really interested in collaborating with like Malay. We started working on "Break of Dawn" a little while back; that was probably one of the first tracks. There were a couple of writers that he worked with that I collaborated on that song with and it was probably the first song that I got to sit down with some other writers and bounce some ideas back and forth with which was fresh and new for me. "Milk and Honey" was one of the earlier songs and I did that with Bedrock out of the Bay Area. That was kind of another creative, in the moment song that I was just singing what I naturally felt without really writing it down and premeditating it. I started working with Dan Electric out of the Bay Area who's really talented and just coming up now. I wrote pieces over a beautiful track that he did. I really got to get in with a lot of different people and share a lot of different sides of me and a lot of different glimpses of what I've been going through. I feel like the album is a lot of those snapshots. I also got in the studio with Krucial to work on the song "Hush".
YKIGS: I was reading about this project and I found this was the first of your albums you decided to work with other songwriters. Did that make the album any less personal for you or were they able to help portray your feelings for you?
Goapele: I think in the past I was always worried about if I worked with other writers, would the project feel less personal? Would the songs be as close to my heart, would it still be as honest for me? I really just wanted to be more open with this album. I'm an ASCAP member, and after going to a few of their award shows for singer/songwriters and seeing how many people are behind one song, it kinda opened me up to thinking what matters in the end is the song and that people feel the end result and that it's the best that it can be and it's art in its own right. I want to come at it from that perspective and be a little more open and objective. I just thought let me try working with some different people and some of it I kept and some of it I didn't. On "Hush", it was nice to have that collaboration and it just be someone adding a little bit here and there on a melody. We can finish each other's lines. On "Break of Dawn" and even a little bit on "Tears" and the rest of them, they were more me by myself in the studio sitting in front of a microphone. *Laughs*
YKIGS: Your previous two albums were released on SkyBlaze Records, but in conjunction with a major label. This time the situation is a little different and you don't have the major label backing. Have there been any major differences?
Goapele: I would say the difference with a major label and independent is mainly resources. That's the difference that I feel sometimes where I as an artist would have to be more creative and more patient. It might take people a little longer to find out about the music and I really rely on my true fans to seek it out. As far as artistic creativity, I feel really lucky that I've been able to have a voice through it all. Even when "Change It All" came out on Sony, it was with SkyBlaze so my label was still involved. I really had a lot of freedom in the studio and in the whole project which I've been thankful for. So it's just a shift of less people and less backing. *Laughs* The creative freedom is always what's the most important.
YKIGS: Your last album "Change It All" was released back in 2005. Did you always plan to have such a large gap between albums?
Goapele: Not really. What happened between the time when I released "Change It All" and now is I was touring for the album and just steady performing. I wanted to take a little bit of time to be able to have a family and have a family life. I still kept doing shows but I limited it to less shows and was able to go in the studio really on my time on a more spaced out schedule instead of it always on the grind. It's really just more that I took my time and now I have a daughter and a family but I've really been excited and I really have energy and drive to be out there in sharing my music and my experiences. I'm thinking now even though "Break of Dawn" is about to come out I'm staying in the studio so I'm assuming the follow up album is going to come out fairly quickly.
YKIGS: I know fans are definitely excited to have you back and also hear that news!
Goapele: *Laughs* Yea, it's been a minute!
YKIGS: Talk about the collaboration you had with Mateo on "Shoot Me Down".
Goapele: Krucial is a music friend of mine and we working in the studio. I got familiar with Mateo through him and they were working on a mixtape and I liked how the project sounded so I got on "Shoot Me Down". We did a video for that I feel like I've heard a lot of the music that he's got coming out and I feel like it's going to be a strong project.
YKIGS: You've been classified in the past as being part of the neo-soul genre of music and I know a lot of soul and r&b artists don't like being placed in that genre because they feel like it limits them. Do you feel any type of way about that?
Goapele: *Laughs* Yes. I think that any category can become limiting in terms of what people are expecting from you. I say I do soul and r&b music and I think that I'm just creating music that I feel and sometimes it's hard to categorize it.
YKIGS: You've been involved in a lot of Human Rights work throughout your career. Talk about the importance for you to be involved in those types of things.
Goapele: When I decided to be a musician I was hoping that it would be one of my contributions in having a positive impact on the world. That's always what I wanted to do. I think as artists we have an opportunity to shed light and share different stories and expose different realities and inspire people and give a different perspective. That's what I try to do through my music and hope to empower people. I'm always looking for different relationships with different organizations out there that are just really doing positive things in the community.
YKIGS: Anything you'd like to add?
Goapele: The album is coming out soon on the 24th and I'm about to start touring. People should just go to Goapele.com to get those dates. I really look forward to sharing the music in person. I'm on Twitter and I'm on Facebook. I appreciate the patience that people have had.