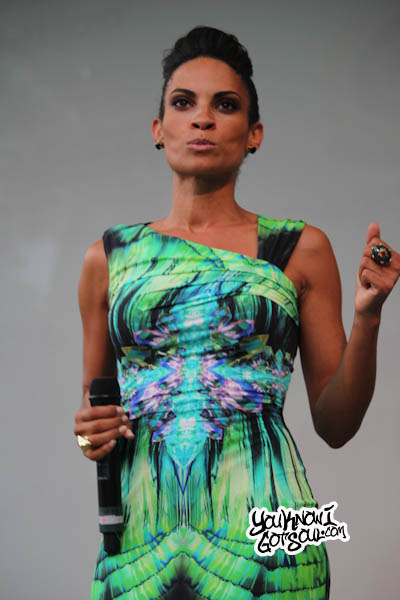 YouKnowIGotSoul had a chance to sit down with Goapele after her recent performance for NY Summer Stage. We took the time to discuss with the reaction by her fans to the new sounds she tried on the "Break of Dawn" album, what's next for her, and being business saavy as an artist.
YouKnowIGotSoul: We're here at Central Park summer stage. It's a celebration of the African National Congress, so how important was it for you to be a part of this?
Goapele: I was really honored to be here today at summer stage especially because that it's the 100th anniversary for the African National Congress. The ANC has been a subject that has had a presence in my life since I remember from knowing different people that were politically active in South Africa and fighting against the apartheid movement, so this was just an amazing honor to be here for the celebration part.
YouKnowIGotSoul: Your album "Break of Dawn" released last year. You tried some new things on the album, how has the reception been as you've been doing shows?
Goapele: My fans have been really supportive. They've followed me through these albums and I feel like my fans encouraged me to put new music out and really get "Break Of Down" out there.
YouKnowIGotSoul: You took 5-6 years between your last album and this album. What do you see as next for you?
Goapele: Yeah there was about 5-6 years in between the last two albums and I see my fourth album coming sooner and not as much space in between, but I'm also working on different things right now. I'm excited, "Sparkle" will be coming out in a couple of days and I would love to get more into films and songwriting.
YouKnowIGotSoul: Something I admire about you is that you're business savvy. You have your own label and you're very involved, so how important is it to be involved in that side of things?
Goapele: I wouldn't say I'm passionate about the music business, but I'm passionate about having creative freedom and feeling like my music really represents who I am and feeds me creatively just as much hopefully as it does my fans. So I end up being involved on the business side with our family label "Skyblaze" just so that the vision can stay fitting.
YouKnowIGotSoul: Anything you'd like to add?
Goapele: I'll be doing some more shows coming up in the East and West coast. I really appreciate having the loyalty of my fans over the past years.