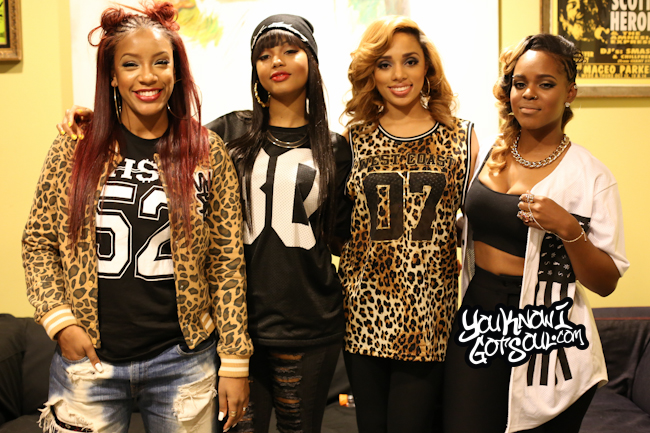 There are many r&b fans who are nostalgic about 90's r&b and long for sounds of that era to come back, and Good Girl is one of the groups who is dedicated to help bringing it back. Settling in together in Philly, they grew up with the essence of 90's r&b within them and that feeling has never left. In fact, their covers EP in which they take on SWV's "Rain" and Aaliyah's "4 Page Letter" shows just how much they've studied the greats from that era. They were also extremely impressive when they performed at our Sol Village show last month. YouKnowIGotSoul sat down with them that night and discussed the group's origins, how they make their 90's vibe sound current, their next project, and more.
YouKnowIGotSoul: Talk about how you guys met and came together as a group.
Bobbie: JL and I, we went to the University of Maryland. That's where we met on the dance team. Arielle and JL were in a group for awhile and I joined that group later on. During that, JL and I background danced for Megan on her solo project, so that's how we met. We connected and we were asked to do a show in Philly called a 90's throwback show by our current manager Dyshon Penn. We did that show together as solo artists and we just came together to do some 90's girl group songs by En Vogue, TLC and SWV. We did it and afterwards, the audience was like "You guys should be a group". We sat down at a table and hashed it out. I was in Maryland originally, so I moved to Philly. We had to be in the same area and we just blended. Our chemistry was great and the rest is history.
YouKnowIGotSoul: Did you all have aspirations to be solo artists at first?
Megan: We just wanted to be artists. We wanted to be successful at doing music whether it was singing, dancing or both together. We wanted to be up with some of the greats and we just happened to have found each other and it became this.
YouKnowIGotSoul: Talk about your roles when creating the music.
JL: I will always be on the bottom. I have the lowest voice, so I'll take over the bass. It's a good bass. Me and Bobbi come up with all the choreography on stage. I spit and I do the rhymes on the tracks. That's JL!
Arielle: I sing all the parts. Wherever you need me, I'll sing soprano, alto and tenor. I'll take them to church. I was born and raised in the church. I take care of the harmonies and make sure they're blending and they're tight.
Bobbie: I'm the highest voice, so I'll stay at the top. I'm the sassy, spicy and flirty one. Any track where they're sexy and talking about young love, that's what I bring.
Megan: For me, I'm the edgier Good Girl. Anything that involves something really aggressive, you'll usually hear me sing that. I'm a pretty powerful singer, so anywhere you need strength vocally, that's where I'll be.
YouKnowIGotSoul: You guys recently put out a series of 90's covers on your soundcloud. What was it about 90's R&B that influenced you so heavily?
Arielle: We all grew up in the 90's. We just have a natural affinity towards it. It was a great era for music and we just wanted to pull from it. There were great singers and instrumentation.
JL: The stuff they were singing about were real. We were talking about real singing and bringing it back. Brandy, Monica and Whitney Houston and those were singers of that era that were slaying.
Megan: A lot of the music was classic and that's kind of what we see ourselves. We want to put out things and you can hear it 20 years later.
JL: It's like whenever you play a Michael Jackson record, it never gets old. I want people to play our records 30 years now and people saying "That's my jam!"
YouKnowIGotSoul: How do you manage songs from the 90's and still make it sound fresh?
Megan: I think it's important to have current drum sounds. It's easy to have something sound like the 90's when we use those 90's drums. A lot of heavier drums and a lot more intricate basslines. It's just newer urban sounds kind of helps make it feel fresh. And also the vocal delivery has to be fresh.
YouKnowIGotSoul: What's coming next?
Arielle: We're nominated for 3 Philly Hip Hop awards. One category for Best Live Performer, Song Of The Year and Best New R&B/Pop Artist.
JL: Also we have this new movement we're doing called "The Queens Village" alongside some other up and coming artists from Philly. Our first one is December 14th.
YouKnowIGotSoul: How about plans for new music?
JL: We're always recording.
YouKnowIGotSoul: Do you guys have plans for a project?
Megan: I think eventually, we're going to put something out. Right now, we're more focused on being really great performers and singers. We're always working on those traits that we're good at, but we want to be great at. I think it's important to put out music, but I think people get too excited sometimes and people just want to pump it out without being prepared. We want to make sure we have songs people love and be able to sing them well.
Follow GOOD GIRL on Twitter @WeAreGoodGirl