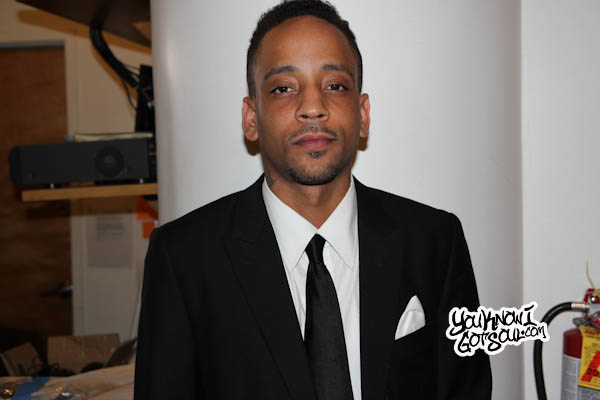 J. Holiday instantly became a household name a few years back after the historical success of his smash "Bed". However, further accolades didn't come easy in the coming years as he found himself released from his deal with Capitol, signing with Def Jam, only to be released again shortly after. Following the trend of how many other r&b artists have found success in recent years, rather than wait for a major label to come calling, he plans to put out his third album independently. He recently made a triumphant return with the new single "Sign My Name" with plans for a full album release later this year. YouKnowIGotSoul caught up with J. Holiday after a recent show at B.B. King's and talked to him about the new single, new album, the frustrations of label situations not working out, topping the success of "Bed", and what he remembers most about his debut.
YouKnowIGotSoul: You got out the new single "Sign My Name". Talk a little about the single.
J. Holiday: Basically we wanted to let the fans know that we wanted to come back with a vengeance of "Bed", "Suffocate" and now "Sign My Name" because it's kind of hard to follow up "Bed" and "Suffocate" with "It's Yours". We did "It's Yours", it was a good song but "Sign My Name" is probably the song that should have came after "Suffocate", so I'm back with "Sign My Name". It's the third album, I'm back!
YouKnowIGotSoul: Talk about this new project you're working on. What can we expect on there?
J. Holiday: The third album man, we're working on it right now. Ronnie, who did "Sign My Name", he executive produced the album. I'm going to work with a few other names. Right now I'm about to work with Common, Raphael Saadiq and hopefully I can get Q-Tip on the album. I'm trying to do something that R&B hasn't been able to do as far as certain producers that you work with. You have R&B guys that always want to work with specific producers. I want to go and work with some producers that I've been researching and studying.
YouKnowIGotSoul: I know you were recently signed to Def Jam. Is that a situation or are you now independent?
J. Holiday: Well I was signed to Def Jam actually for two years. I was signed to Def Jam in 2010 and some situations just aren't good situations. I just had to get out of there and right now I'm just doing my own thing with "Sign My Name" and I got the album coming. Any labels that's listening, holla at ya boy! *Laughs*
YouKnowIGotSoul: Was it ever discouraging for you? You had the Capitol situation and then Def Jam situation that didn't work out.
J. Holiday: I think any time you're an artist and you want to win and you don't, it's discouraging. I don't think it's a blow to your talent or your personality or blow to emotionally how you feel about it, but it's still a blow to your career like "I have to get back up from this knock down." It's like a boxing match like "I've got to get up back up. I got knocked down twice, I can't get knocked out a third time." It's not going to happen, I've got to win the fight.
YouKnowIGotSoul: Of course everyone knows you for your single "Bed". Do you feel pressured to top that?
J. Holiday: I have to say yes, I have to top "Bed" because people don't know "Bed" broke a record. People are like "What kind of record did it break?" That song was one of the fastest moving singles to number one in ten years. The last single that did that was "Scream" by Michael Jackson and Janet Jackson. So to break a ten year Michael Jackson and Janet Jackson record, to top that it's like "Hell yeah, I've got to top that!" I'll top it one day, I don't know when I'll top it but I'll top it. They say you're only as good as the last thing you did, but I'm going to be better. *Laughs*
YouKnowIGotSoul: Your "Round 2" album was a great album, but people know you most for your debut album "Back of My Lac". What do you remember about recording that album?
J. Holiday: For a lot of people that don't know, I got signed off of "Back Of My Lac", "Ghetto", "Fatal" and there was another song called "City Boy" with 8Ball & MJG. Four songs on my demo, and I got signed off three songs and they also made my album. It was personal to me and meant a lot. I named the album "Back Of My Lac" because that song was the last song I wrote before I got signed and the last song I wrote right before I quit. I almost quit and the only way I could get my frustrations out was to write "Back Of My Lac". I wrote the song, it was on the demo, it got me signed and it was the name of the album. That's how "Back Of My Lac" felt to me.
YouKnowIGotSoul: Anything you'd like to add?
J. Holiday: For my fans, thank you and I appreciate you for following me and sticking it out with me.