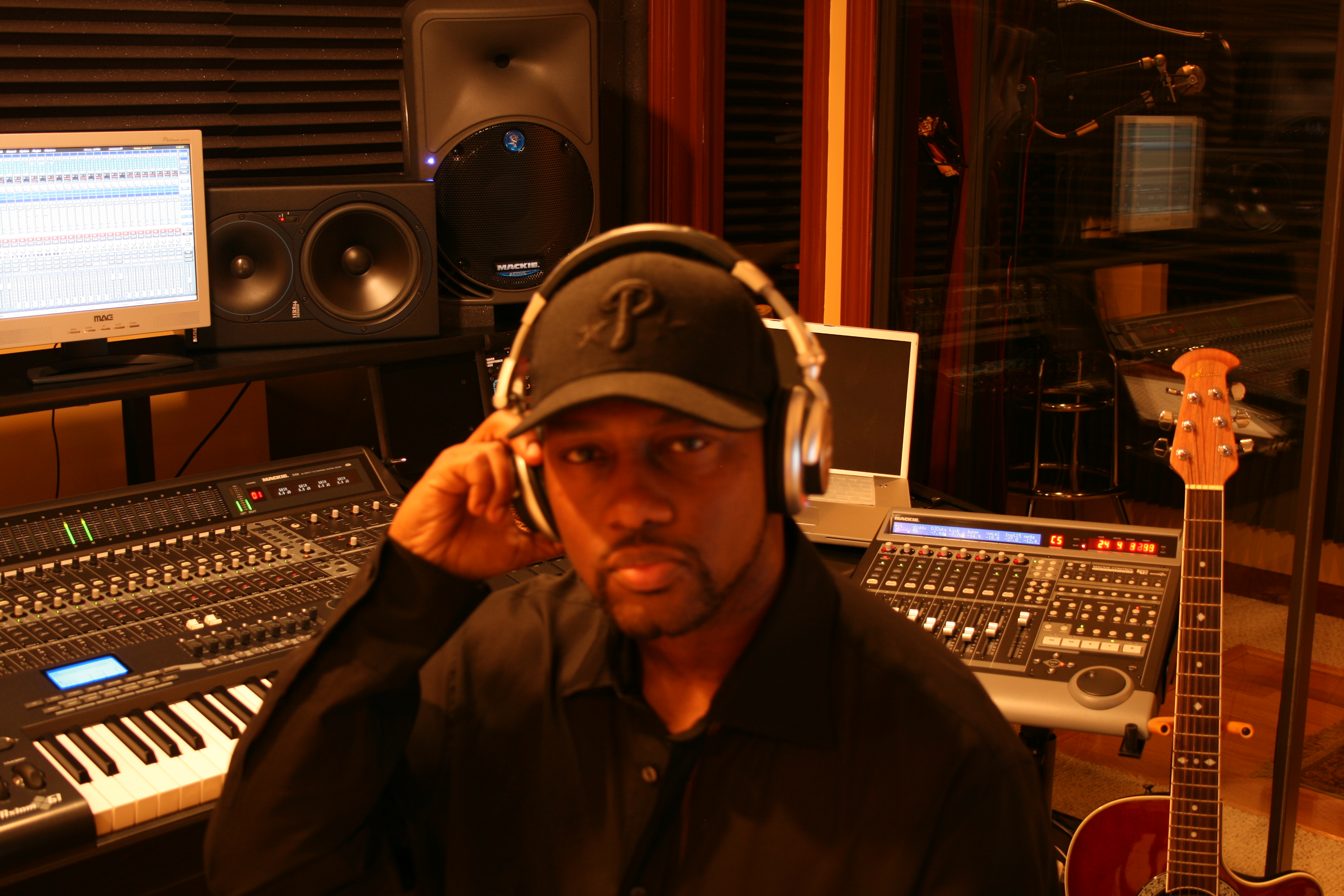 Even if you don't know who Teddy Bishop is, you definitely are familiar with his work. He was involved with Toni Braxton's debut album, but soon went on to produce huge records for the likes of Montell Jordan ("Let's Ride"), Aaliyah ("Miss You") and LeToya ("Torn"). With over 20 years of experience in the music industry, Teddy has not only gained the reputation of being one of the most consistent producers, but he's also established himself as a musician who is now doing work for industries aside from music such as TV and film. In this interview, Teddy talks about his journey in the music industry and also touches on the passing of his good friend Whitney Houston.
YouKnowIGotSoul: I noticed your name was in the credits for Toni Braxton's debut album. How did you get that opportunity?
Teddy Bishop: When I was first moved to Atlanta, Georgia I hooked up with a company called LaFace Records which was of course the label of LA Reid and Babyface at the time. LA Reid gave me my start in this business. By me being associated with LA Reid and his label they had Usher, Toni Braxton and TLC. That afforded me to be able to work on the Toni Braxton album. That's how I worked on that project at that particular time.
YouKnowIGotSoul: You mentioned LA Reid and Babyface really helped you in the beginnings of your career as a producer. What is one thing that you learned from being around them?
Teddy Bishop: I would say LA Reid more so, but Babyface as well. I learned how to make real records. I learned how to produce great songs by being around them. I learned how to create artists. I learned how to turn an artist into a great performer. Those are some of the attributes that I picked up from being around super producers like that at that particular time.
YouKnowIGotSoul: I have a couple of songs that you did throughout the years. Just give me the background about them.
http://www.youtube.com/watch?v=fbA-uypNMYI
Aaliyah's "Miss You"
Teddy Bishop: That was an interesting session because that song was originally written for Ginuwine. We were in the studio and we were playing Aaliyah records. She wanted to hear some of the records Johnta and I had written at the time. We played her a couple of tracks and that particular track happened to kind of pass by. She was like, "Wait a minute, back that up. I want to hear that again!" We played it for her and she was like, "I want to cut this record," and we were like "Well this is Ginuwine's record." She was like, "I don't care, I want to cut it." She got on the phone, called him and said "Hey I know you cut this record already, but I would love to cut it". Ginuwine, because he was a part writer on the song, it benefited him anyway. Plus they came from the same camp. Ginuwine told her to cut it and we cut it on Aaliyah and it went on to be a number one hit.
YouKnowIGotSoul: How come it took so long for that song to come out?
Teddy Bishop: Aw man you really want to hear the story of that?
YouKnowIGotSoul: Yeah *Laughs*
Teddy Bishop: When I first went in to produce that song, the labels didn't really think it was a hit record. They didn't. They didn't think it was a smash record. They bypassed that record a lot. Unfortunately when she passed, it was almost like that passing forced them to put that particular record out because it was symbolically saying "I miss you". She actually loved the record when we cut it. She loved it. She actually wanted to put it out herself. It took two years for that record to come out after I cut it and it happens like that sometimes. Sometimes you can work on a record in this industry and it might not come out for another 3-4 years then it blows up, but the public would think that you actually did that record at that particular time. It was just an interesting story because I don't think the label at the time really believed in that record, but they went on and took a chance with it. It blew up. It was number one for a long time on the charts.
YouKnowIGotSoul: I think that just goes to show you that a timeless record hit the top of charts no matter when it's created.
Teddy Bishop: Absolutely. It lets you know that people can't dictate what's going to be a hit. You have to let the people decide that because you don't know what people will like.
YouKnowIGotSoul: Talk to me about "Just Be A Man About It" by Toni Braxton.
Teddy Bishop: I flew out to LA. First of all mind you that I had already worked with Toni Braxton on her first album so she requested me again years and years later. I was able to bring Bryan-Michael Cox in on the project. She asked me to work with her so I brought in Johnta as a songwriter. We flew out to LA, but we actually sat around and talked about what she wanted to talk about because it was her comeback. We talked about what she wanted to talk about and we came up with a story about just a man being real about consenting himself about some of the things he's done. We came up with the record and put it together. She liked it and recorded it. Ironically Dr. Dre was in the studio next door and I went in next door to ask him if he would participate in the song. Just to give you a little bit of background. Martin Lawrence or Will Smith was actually supposed to do his talking part, but those two schedules were so busy at the time. Dr. Dre happened to be next door. I went next door and asked him to do it and he agreed. He ended up being the speaking voice on the actual song. When you look at it visually though, a lot of people thought that Dr. Dre produced that record, but it's because he was in the video, but that was by me if he would be part of it.
YouKnowIGotSoul: The last one I want to ask you about is "Torn" by LeToya.
Teddy Bishop: "Torn" was produced by myself and written by Dave Young. That song just kind of came about where LeToya had called me and asked me to put together some tracks for her. I went in the studio and I started coming up with different tracks. I had ideas of her doing something a little bit older. I dug in my crates and pulled out an old Stylistics record. Now Mary J. Blige had already did that particular sample previously, so I just did some different things to it. I flipped it and played live music and piano across it and gave it a different feel. When she heard it, she loved it. She went crazy over it. I flew out to LA and we cut up the song on her. Just like anything else, we put the song together vocally. We got in the studio and got her vocals and mixed it. At the time when you're cutting records you don't know what's going to happen, but the song turned out to be a number one smash.
YouKnowIGotSoul: The radio isn't really playing too much R&B right now, it's really dance-driven. I know that affects a lot of R&B artists, but does that also affect you as a producer?

Teddy Bishop: I'll be honest and say that it has, but I've diversified. You have to diversify yourself as a producer. It's funny that you say dance because that's what I'm producing now. I'm producing more dance-driven and club music. R&B has taken a backseat unfortunately and I think one of the reasons is because R&B on some levels is not putting out great music anymore. The world is becoming globally so music is a global thing now. R&B really has to go through a transition mode so to speak. It has to evolve into something else. To answer your question, yes it has affected me to a degree and a lot of other R&B producers, but you have to diversify and do other things.
YouKnowIGotSoul: We haven't really heard too much from you recently. Bring us up to date with what you're currently working on.
Teddy Bishop: Well because I've been in the business for over 20 years, my goal was always not to just produce music but to get into TV and Film scoring. Over the past 6 years, I've been involved in a lot of independent film scoring. I'm still producing songs, I'm still working on independent artists. I have an artist that I'm working on, she's a dance artist. We're producing her album right now. We have some labels interested in her. As far as me as a producer, I'm more or less now diversifying myself because of the effects of the music industry and the digital age. I'm doing more movie scores along side with producing records at the same time. That's where I'm at in my career at this particular time.
YouKnowIGotSoul: Are you able to talk about who you're currently working with right now?
Teddy Bishop: I'm working with a kid named Prince Royce. He's an independent act, but Atlantic has just signed him so I'm actually working on some songs for him right now. Like I said, I'm doing a lot of independent work. They're all overseas. There's an Asian group over there that I'm working with and a lot of times, they're really picky about me talking about their stuff at this moment so I kind of keep that under wraps. I'm just working on a lot of overseas stuff at the moment. I've been called on to work on some stuff for Lloyd. I've been called to put some records for these particular acts, but like I said, a lot of the stuff that I've been doing over the last year has been a lot more focused towards the TV and Films side.
YouKnowIGotSoul: Unfortunately this weekend we saw the passing of Whitney Houston. I know you worked with her on a couple songs. Talk to me about what you remember about working with her.
Teddy Bishop: I'm glad you brought that up because if you didn't, I was because I've been asked by a lot of people to be interviewed about her. I worked with Whitney Houston back in 2006, but I had worked with her prior because once again if you go back to my history, I was with LaFace Records so I was around her at the time she was working on "The Bodyguard" album. She called for my services around 2006 and she flew me out to her home and I stayed with her for probably a week or so. Man, it was a great experience because I've always wanted to work with Whitney Houston. Was she going through some of her problems at that time? Yes she was, but she still was very sweet. She still was a very outstanding person. She was just a very good person and it really saddened me to see that she passed away over this weekend. I have pictures with her and everything. I knew her really well. She called me The Bishop. That's what she called me because my last name is Bishop. She always kind of teased me about being a pastor. She was a very sweet woman and I would like to uphold her legacy by just saying that we really lost a big icon in this music industry. She was really one of the truly great performers of all time if you ask me.