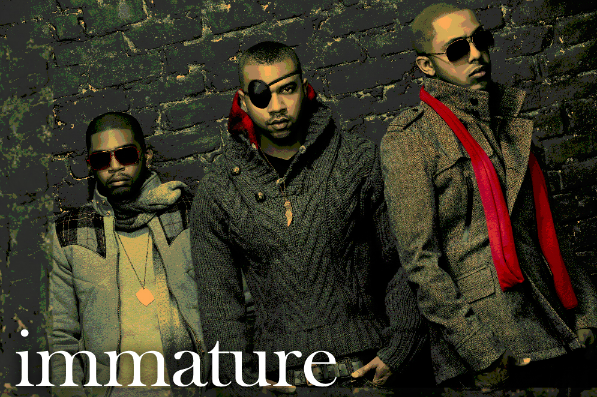 Before Marques Houston went on to become a solo artist, he was part of the successful R&B group Immature (later known as IMx). The trio came out with their debut album "On Our Worst Behavior" but really blew up with their following album "Playtyme Is Over" which had the classic record "Never Lie". After a decade in the industry, the group called it quits and everyone proceeded to do their own thing. The group is finally back after a 14 year hiatus with new life and new music. YouKnowIGotSoul had a chance to talk to the group about their comeback, their new EP "Remember" and their plans moving forward with their tour and new album.
YouKnowIGotSoul: You guys recently just put out the EP "Remember" so introduce us to the project.
Marques Houston: "Remember" was specifically designed to target our fans. We really felt like we wanted to give our fans something that they could listen to. Something with some new music, but a lot of the old school hits that we had when we were younger. We wanted to redo those and kind of give the fans something that was unique and different. We felt this would be the perfect music compilation to put out for our fans out there who have really been waiting for us to put out music for such a long time. We were really excited to be able to put that out.
YouKnowIGotSoul: Of course you guys remade "Never Lie" which is a classic to many people. When you went into the studio, what was the approach to attack something that you guys had already done in the past?
Marques Houston: Because we were so young when we put that song out, that was the song that really created the Immature brand and really made our career. We wanted to redo an oldie but goodie. We all felt like it was a perfect thing for us because no group has been able to do that at such a young and now redo our own record. Normally somebody else would redo the old school records, but we were like "Why don't we do it?". It was a blast from the past.
YouKnowIGotSoul: This will lead up to your upcoming album. How did you guys decide to come together and work a new album?
Romeo: It was just right. The fans have been hitting us on our social medias and just putting that buzz in our ear constantly. It's been like that for the last couple of years. Once we were all in the right place and we all felt like the direction of music was right, we just went for it.
YouKnowIGotSoul: Now Marques, you put out your solo album "Famous" not too long ago. Was it done by design to put out your album before you guys came back out as Immature?
Marques Houston: Nah, I think my album had been done a couple of months before we even came out. Once I put out my album, I went on to do television, film and production. I think it was more of a decision last year when we did the concert at LA Live. It sold out and that was our sign that we had something and that we should capitalize on it. We all got together as a unit because we're all still friends. We've been best friends since we were little and we never had any beef. We were just like "Let's do it again!".
YouKnowIGotSoul: Your last album had a very throwback sound. Is the sound of Immature going to be something similar?
Marques Houston: It's a lot different from my sound. When I do solo albums, it's more me and more of a reflection of who I am. As Immature, we're all three individuals that collectively, we make one. It's as a unit and what we like to do, so the sound will be a lot different.
YouKnowIGotSoul: You guys have always been able to adapt to the current sound throughout your entire careers. R&B is so much different than when you guys last came out, so talk about the sound you guys are working on.
Marques Houston: We want to be current, hip and we want to do a sound that's more up to date for the people nowadays so they can jam to it, but we also grew up in the old school. We group up to Marvin Gaye and The Temptations, so I think we can definitely incorporate our old school feeling with a new school sound. That's what is going to be great about this album.
YouKnowIGotSoul: You guys are going by Immature again rather than IMx. Why did you guys come back as Immature?
Marques Houston: Immature was where we started and that's what the brand was. We grew up and we came up with IMx when we turned 18, but I think Immature was really the brand that made us. That's why we decided to go with that.
YouKnowIGotSoul: When you guys did initially change your name to IMx, was there a fear it would affect the brand at all?
Marques Houston: There was definitely fear on our part. Whenever you do something different and you don't know what people are going to expect, there's always a fear. You always think in the back of your mind what will happen or what the outcome will be. Everything we did, we've just been blessed by God just to be able to do things people would enjoy. We just want to keep putting out great music that people can listen to and then we'll go on this tour. We're really excited about going on tour this spring and we want to start the tour in Washington, DC because that's where we really broke. That was the first market to play "Never Lie" so it's a homecoming for us. We're really excited about the tour and the album.
YouKnowIGotSoul: Would you guys have been happy ending off the Immature legacy with your last album?
Marques Houston: The last album was very successful and we had our first number one BET video with "First Time", so it was successful but it was abruptly ended because we all decided as individual men that we wanted to do different things. I wanted to pursue a solo career, Rome wanted to get more into the business and Kelton wanted to do different things. We didn't break up, but it did end abruptly. I feel like it's only fair to give our fans one more run because if it was going to end now with this new album, it'll be okay for us. We aren't retiring though. We may be getting a little old though, but I feel we're still young. We look youthful and we're in our early 30's. I think it's just the beginning.
YouKnowIGotSoul: Did you guys ever think it would be possible for you guys reunite or was it ever in the plans?
Marques Houston: I don't think it was in the plans. We kept it open but we didn't plan it. It kind of just happened. We followed God and we let him control everything that we do and it was in his plan. It happened at the right time.
YouKnowIGotSoul: You guys started in the industry so young. What was it like navigating through the industry and finding your place?
Marques Houston: For us it was easy because we had fun. It was like being around your brother. We're very close and we grew up together. For us it wasn't a job. It was more like entertaining and it was just fun. We never took it too seriously as a job or how we were going to put ourselves into this industry and make it. We always just had fun. We've always said that the minute it stops being fun, we'll leave it there.
YouKnowIGotSoul: You guys have all done projects outside of the group. Do you think that has strengthened the Immature brand or do you think they're separate?
Marques Houston: I think it's very separate. I think people look at Immature as one thing and our individual work as other brands. I think it's very different. It's like the Avengers movies where the Ironman movie is good on its own, but it is completely different than the Avengers.
YouKnowIGotSoul: A lot of artists from the TUG camp are blowing up like Jhene Aiko, Mila J and Sevyn Streeter. Are you surprised by that at all?
Marques Houston: I'm not surprised at all. Chris Stokes is a genius at finding talent and he found Jhene, Sevyn, Mila J, Immature and B2K. When you have a talent to find talent, that just carries on. It's not a surprise at all that these artists are finding success because that's what he saw in all of us.