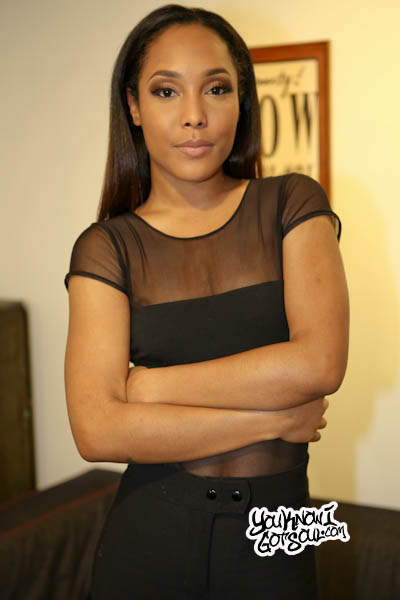 When India Shawn dropped her "Origin" EP a couple of years back, we were immediate supporters. However, when she released her collaborate EP "Outer Limits" with James Fauntleroy recently, we admired that she took her artistry to a whole new level. Initially making an impact as a fresh new r&b talent on her first project, she really pushed the limits sonically beyond just r&b with the help of Fauntleroy. The results leave us excited as ever for the career and future of India Shawn, an artist who got her start as a writer and paid her dues in the industry. YouKnowIGotSoul sat down with her prior to a recent performance in NYC and discussed her new EP with Fauntleroy, the comparisons she gets to Brandy, pushing the limits of the r&b genre, writing placements early in her career, and much more.
YouKnowIGotSoul: You released your "Origin" EP in 2012, but you've been writing for other artists before that. Talk about your start in the industry.
India Shawn: I started off writing music with my sister and a good friend of ours in college at Georgia State. We were writing in our dorm rooms. I had some really good relationships with some local producers because of my artistry that was budding in Atlanta at the time. We began writing actually with Hit-Boy, Mad Scientist, Polow Da Don who ended up signing us to a publishing deal through Universal Music. That was really my early history in writing. That moved us to LA where we started writing for Chris Brown, Keri Hilson, Monica and we wrote with Timbaland and also Dr. Dre. Our very first placement was on El DeBarge.
YouKnowIGotSoul: When you released the "Origin" EP, what kind of doors did that open for you?
India Shawn: It was the writing that sparked the whole theme of "Origin" for me. When I was writing, I wasn't doing much singing. I was only writing for others and demoing for others. I wasn't working on own stuff and I was neglecting it. One day, a song which ended up being the last song on "Origin" which was the song "Be Myself", the song just came to me. I just began writing it down and that song really prompted a desire in me to move back to Atlanta and write my "Origin" album.
YouKnowIGotSoul: Talk about your sound. You have R&B elements but you really push the limits sonically.
India Shawn: I just think it's my diverse pallet. Of course everyone brings up Brandy. I grew up on Brandy, Destiny's Child, Lauryn Hill and Mariah Carey. I also love Alternative Music. I love Indie Rock. I love Unknown Mortal Orchestra, Radiohead and Coldplay. I love Country music. I think just that mash of eclectic tastes came together. I look forward to experimenting even more on my next project.
YouKnowIGotSoul: What do you think new people would draw from your music?
India Shawn: I think people seem to think it's a breath of fresh air. They like that it's something new. I've touched on things that aren't as cliché as a lot of R&B that we're used to. My music is very personal and honest. I try to make it a little uplifting her and there. I've always said that I wanted to make cool Gospel. This is my way of spreading the good news and teaching through personal experiences.
YouKnowIGotSoul: Talk about the "Outer Limits" EP with James Fauntleroy. How did that project come together?
India Shawn: I met James Fauntleroy years ago through MySpace. I was a huge fan of his. He had just put out his placement which was "No Air". That was his first big one. He liked my three songs that were on my page and we started corresponding. We've been really cool and we've always wanted to work on a project together. He hit me up and flew me out. We did this project in a matter of weeks and people seem to love it.
YouKnowIGotSoul: When he asked you what type of music you wanted to do, you said that you wanted something that was "Outer Limits". How did that go?
India Shawn: He is a genius in that way. He literally took it beyond what I could have even imagined for it to be. I appreciate that. He literally freestyled the songs and that's James. *Laughs*
YouKnowIGotSoul: How do you tap into creating something that is organic?
India Shawn: Through collaborations. Definitely working with James who makes it look so easy. My contribution on this project is more conceptual than anything. I took my two cents here and there, but when you work with someone like James, you have to give them the reigns. Just his energy makes for a really great environment.
YouKnowIGotSoul: You've once said "Art is freedom. It's about exploring and expressing every part of you". What does that mean to you?
India Shawn: That was my way of telling my listeners that this isn't "Origin", this new project is going to be something different. I'm going to force you to use your creativity and figure out what I'm talking about on some songs. That's art and I didn't want to be held to what I've done in the past, so I wanted to get that little disclaimer like "This is art and this is a part of me that you may not have seen, but I want you to appreciate it just as much as you've appreciated everything else I've done".
YouKnowIGotSoul: Talk about the Brandy comparisons that you've gotten from people on social media. It seems like a lot of her fans are fans of your music now.
India Shawn: It's the craziest compliment in the world. Brandy to me is the greatest. I don't know how true the comparisons are, but I think it is the airiness and raspiness at times that are comparisons. As far as technique, Brandy is next level. I still worship her. Brandy, I love you if you're watching. They say she's the vocal bible and I'm just skimming the surface of it, but I do appreciate the comparisons.
YouKnowIGotSoul: Talk about the song you did for Ashanti called "Don't Tell Me No",
India Shawn: I created that with my writing team Full Circle. The producer was a guy named Mansur. We wrote that in LA when we were out there writing. We didn't know it would ever land on Ashanti. That was our daily thing with us just writing. We always wanted it to be placed. Ashanti heard it and cut it. She changed a few lines, but it's still a great song. *Laughs* I'm still happy to have that placement, but it was a surprise. I didn't even know it was coming.
YouKnowIGotSoul: We loved the "BBM" line in the song.
India Shawn: That's how you know the song is dated. *Laughs* That's when we had Blackberrys.
YouKnowIGotSoul: Talk about this Stevie Wonder tribute EP you put out. What made you take on that challenge?
India Shawn: It was a huge challenge. My manager came to me with this idea and I was apprehensive about it at first because it's Stevie Wonder! His birthday was coming up and I do love Stevie. I thought it was a cool idea that people would enjoy. I hadn't people out any content and it was time for me to put some music out. It just made sense and I gathered some of my favorite producers. We did the best we could. People really loved it and I think it sounds pretty good.
YouKnowIGotSoul: What can we expect next?
India Shawn: I'm in creation mode right now. I'm just listening to a lot of music now that I have some downtime. I'm studying and becoming a fan of music again. I'm just gathering some ideas for my next project. Look forward to some new music by the end of the year. I'm trying to promote this EP "Outer Limits: as much as I can so I look forward to traveling.
YouKnowIGotSoul: Anything you'd like to add?
India Shawn: I love your blog so much. Thank you so much for supporting me throughout the years. I never knew anyone would care about "Origin". I did it for myself and the fact that you guys have picked it up and played it for your listeners, I just appreciate you guys.