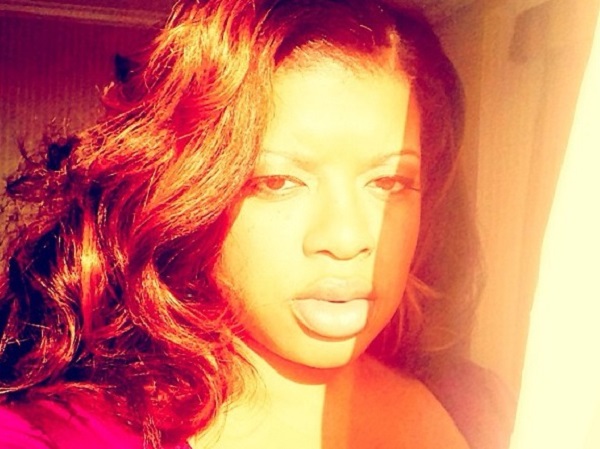 If you don't know her by name, you definitely know her hits. As part of the writing team The Clutch, she has written hits such as "Anonymous" by Bobby Valentino, "Take Me As I Am" by Mary J. Blige and "Like A Boy" by Ciara. As a solo songwriter, she has been pretty incredible as well as her heartful lyrics were all over Brandy's Grammy nominated "Afrodisiac" album. Now Candice is ready to give the world everything that they heard from her written hits plus more. YouKnowIGotSoul had a chance to speak with Candice Nelson about her upcoming EP "Fling", her initial struggle internally with being a solo artist and other projects including her role in the development of the group Mindless Behaviour.
YouKnowIGotSoul: You got the new song out "Fallin" which I know you did with Jim Beanz. Talk about the creation of that song.
Candice Nelson: He sat down at the piano as he usually does when he goes to create something because we just prefer to work that way. We like to start from scratch. He sat down at the keyboard and he started playing me some keys, and he was like "I want to do a song for you." I was like "For me?" because at the time, I wasn't considering doing a project or a solo album. I was like "Well whatever you want to do" because our thing is that if one of us is inspired, we just go with it. So he starts playing these chords. He was like "This feels like a mid 90's Faith Evans type of record!" I was like "We have to do it." We just finished it out and it was great. It took no time because I had a flight that day and so, we had to put a rush on it. We finished it really quickly and we loved it. It was really inspired. We weren't shooting for any artist or anything like that. Of course he said he wanted to do a song for me, but I wasn't doing a project at the time so we were just doing the song just to do it. We were so inspired and that's one of my favorites that I've ever done.
YouKnowIGotSoul: That song will be included on your upcoming EP "Fling". Explain the title and what it means to you.
Candice Nelson: Well the song is sort of a bonus because originally it wasn't going to be included on the EP, but I figured it would be a nice set up for the EP. It's gotten such a great response that I think it will be added. The title of the EP is "Fling" because I really wanted to have fun with the process of recording my own stuff. I didn't want it to feel like it was too technical. I was able to draw from some experiences and relationships that I was in to write the material that kind of fell under that category. I wanted to have fun with it and I wanted it to be breezy and cool and sexy, but at the same time, if I decide not to do anything else or make another EP or album then it would be fun while it lasted.
YouKnowIGotSoul: What can people expect from the EP as far as the sound and who are some people you've worked with on this project?
Candice Nelson: The sound is definitely 90's. I think that is kind of a trend with everybody. For me personally, those were the days when I was inspired by a lot of music that was out. That was when I decided I wanted to be in the music business. I think a lot of us feel the same way and we kind of miss those sounds, feel and soulfulness of the music at that point. I had the pleasure of working with j.Que Smith, Isaac Hayes III, Greg "Yung Billy" Watts, Happy Perez, The Klasix, Needlz. It was such a privilege to have them contribute or allow me to use any of their material.
YouKnowIGotSoul: You've flirted with the idea of becoming a solo artist for awhile now. I remember hearing you on a song from one of Timbaland's albums and also on LL Cool J's album. Why do you feel now is the right time to really branch out and do the solo thing?
Candice Nelson: I was a lot younger so lack of confidence was the issue. I honestly didn't really have the confidence to pursue it. I was still growing creatively, and while people would always ask when I was going to do my own project, I wasn't ready. I was afraid. Now I'm a little more secure in myself. I figured now is probably the best time because of that.
YouKnowIGotSoul: The timing is really interesting because in the past, we've seen writers use the success of their placements to immediately transition into becoming a solo artist, but with you it seems like you've taken a little hiatus with the writing and now you're slowly emerging yourself as an artist. Talk about that route and why you decided to go that way.
Candice Nelson: Of course when everything was happening and all of the songs were coming out, there was always the next session for another artist to do, so finding the time to do my own stuff was kind of a challenge. Again I also wasn't in the right space to do it anyway. My image was always an issue because of course being a plus size woman, you're not going to walk into a building of a record label and have them say "Of course!" so that was another hurdle. I had to grow into the confident woman I am, and that took YEARS. Now that I'm a lot more comfortable with myself, it's like "Hey, why not?"
YouKnowIGotSoul: Of course you're a very accomplished songwriter penning songs for almost every artist out there. Talk to me about your writing process and how a song comes together for you.
Candice Nelson: It varies from time to time. I think what I find myself doing the most is, I like to be on my own with the music. I started out doing it that way. A lot of the earlier stuff that Walter Millsap and I were doing with Timbaland was just a Boombox, being in a car or a hotel room. We would have to take the music away from the studio setting and do it. I think that's my favorite way to write because I get to zone out and being in a different place helps me to paint a picture that I otherwise would not have seen. I draw a lot from my own experiences. Sometimes I'll switch the scenario and put a different outcome in the end or have it start out differently or change minor details about something that happened in my own life to make for a more interesting story or easier for people to get into. Sometimes I'll take the experiences of the people around me. It really depends on what the music sounds like or what the music is trying to say. That's when I wrote to the music. There are times that I just write to no music and then I have to sit down with the pianist and figure out the song and figure out how the music will build around that.
YouKnowIGotSoul: Can you talk about the approach to writing to different productions because you've had a chance to work with producers like TImbaland and Danja who have very unorthodox styles of production and you've also worked with the producers with more classic R&B beats. How do kind of attack a track and make it work?
Candice Nelson: I think growing up with the diversity of my parents' music collection really helped with that. There might be a part that I heard in a Glen Campbell song that a Danja beat would bring to mind. If it's not Danja, it would be like Walter Millsap or Happy Perez. I like that I'm able to mix and mesh these sounds together sometimes because they're all kind of all mixed together in my head anyway. That was one of best things about working with Timbaland. I feel like he has tons of influences as well so they all kind of mix together. He's just a genius.
YouKnowIGotSoul: It seemed like a lot of the music that you were writing with The Clutch as well as your own were fan favourites, but when they came out as singles, they didn't hit the top of the charts like you may have expected. Was that frustrating for you?
Candice Nelson: Well there have been times, like the "Afrodisiac" album. Obviously I would have wanted that success with Brandy being a huge inspiration of mine and I respect her as an artist so much. Having an opportunity to contribute to that album meant the world to me and I would have loved for it to have been a bigger commercial success, but I think I was just so geeked to be on the project and to have the opportunity to write for her. Of course bigger sales would have been nice, but the experience of being in a room with someone I respected so much really overshadowed that. I think once I do a song or work on a project, it's more like "Wow that was great. I'm really happy to have done this." I know I gave it my all, and I hope for the best. That's kind of always been my approach to the process. It's still trippy to me when people say certain songs connected with them or got them through certain situations. I think that's the ultimate payoff.
YouKnowIGotSoul: In addition to being an artist and songwriter, I know you've had a hand in developing the group Mindless Behavior. Talk about that whole experience because in the past, you've developed artists through writing songs for them but this is more than just the artist, you're now essentially developing a brand right?
Candice Nelson: When Walter Millsap brought the concept to me, I was like "Of course!" I thought it was a brilliant idea. What's interesting is that when I started doing songs for them, I hadn't seen them yet. Walter didn't want me to. I'm basically doing this off the fact that I trust his instincts, being that we've worked together so much in the past. We just started doing songs and then when I was finally able to see them rehearsing and going over the choreography for one of the songs that I had written before, I was blown away. Walt had their image and all that mapped out already. Sonically, is where I came in. Walter commissioned me to contribute to that part of the project. I'm still blown away by their talent and the fact that they worked so hard. It's crazy. It's a privilege to work with talent that works hard.
YouKnowIGotSoul: Besides Mindless Behaviour and your solo career, are you currently working with anyone?
Candice Nelson: Well, a couple of my friends in the music business are developing new acts. Anything I'm considering doing outside my own project is for new artists. But yeah, with the EP coming up soon, I'm more focused on the completion and promotion of that. I'm mixing right now, but it's done! I'm excited to present it. That really consumes most of my time these days.