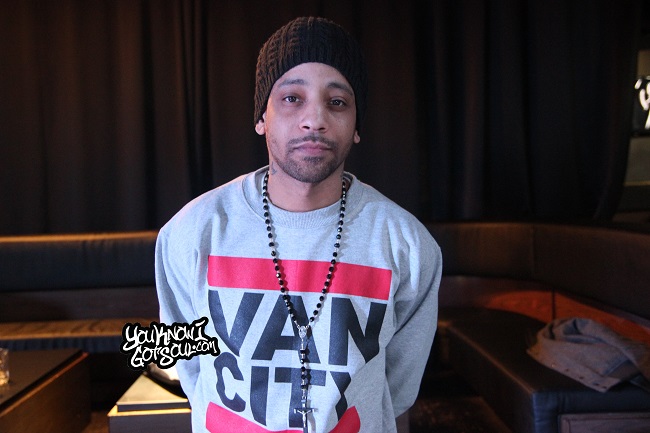 J. Holiday finally made his return in 2014 with his third album "Guilty Conscience". The album, which J. Holiday released independently, was a nice surprise for R&B fans as he was able to effortlessly come back with an album that was more refined and mature. The 4-5 year break that he took may have been a huge risk for him business wise, but he was able to satisfy fans that have been following him since his 2007 smash hit "Bed". YouKnowIGotSoul sat down with J. Holiday to discuss his journey as an independent artist and the struggles that he's encountered since making the switch over from the major label situation.
YouKnowIGotSoul: Your last album "Guilty Conscience" came out more than a year ago. Just talk about the work that went into that project.
J. Holiday: This is my first independent project on Holiday Music Group. It went well and I learned some things about the business that I didn't know in that process. The process into making the music though, I had been gone for so long like 4 or 5 years. I had a lot of people in interviews that didn't know who I was. They heard the songs, but they didn't know how personal those songs were to me and stuff like that, so I decided to make a really personal album.
YouKnowIGotSoul: The time between "Round 2" and "Guilty Conscience" was about 4 years, so do you feel like you lost some momentum after that?
J. Holiday: Anytime you take a break in this industry, you lose momentum. Also social media has changed and a lot of the things that we used to call "underground" is just independent now. My core fans are still there though and they love me.
YouKnowIGotSoul: For most artists who go from a major label to an independent situation, it usually takes them more than one album to figure out what direction they want to go into and a lot of is due to them having to take care of every aspect of their career. You were able to put together an album that was high quality on your first try, so what was the process like putting it all together?
J. Holiday: This was the first time I decided to do an album using one executive producer. All of the records came filtering through that person which was Lil Ronnie. I think that made a big difference. Not to say that the first 2 albums weren't high quality, but I was still learning. I've learned things from the first album to the third album just vocally and I've learned a lot when it comes to recording and just putting together quality music that people can say is heartfelt. I did the album in about 4 months and it really didn't take me that long to record the records we kept and we obviously recorded more.
YouKnowIGotSoul: What was the biggest challenge releasing music as an independent artist?
J. Holiday: The biggest challenge is meeting the buyers from different conglomerates. It's just about different places where you can get the album. For them, it's a money game and a numbers game. The break I took probably hurt me in that aspect when it came to stuff like "Why should we have your album in stores? Beyonce is coming out!". Actually Beyonce put her album out right around that time and she kind of took that attention away. *Laughs* Those are definitely things that you have to think about. You have to worry about if Beyonce is going to throw an album out with 7 videos to go with it. That was just a learning process in itself.
YouKnowIGotSoul: How do you measure success now?
J. Holiday: I measure success by being able to still do it. Some people can't even get people to buy into their brand anymore to where they can get a complete album. As you can see, a lot of artists are putting out singles and EPs. They're just putting out short versions of what they really want to do and I just didn't want to do that. I was like "I need to find whoever is going to be into my project and want to tell the story I want to tell" and I didn't settle for anything less.
YouKnowIGotSoul: When you were on Capitol, you had a chance to work with big producers like The-Dream, Tricky Stewart, Rodney Jerkins and Ne-Yo. On this album, you had Lil Ronnie as your executive producer, so what made you go with him?
J. Holiday: It's a little bit of business as well as selection. He's based in Atlanta and he can get it done. Of course, he ventured out to get different writers and producers on there. I actually had a chance to work with Jerry Wonda on the last track "Heaven" so that was a big step for me just to be able to get in the studio with him. I didn't necessarily get away from the names, but we just wanted to make sure the names didn't have to be the reason why the album sold.
YouKnowIGotSoul: Your album was a lot more grown than your previous work and you also incorporated a lot of live instrumentations. A lot of the peers that you came up with have been making more Hip Hop driven music, so what made you stay with the traditional R&B sound?
J. Holiday: Somebody has to keep the integrity of the music. Once you start taking those changes, your music changes. You can never necessarily go back. You can only keep moving forward. I've always made sure the soul is felt in the music. If you can't feel the soul then that means I'm trying to be too Hip Hop.
YouKnowIGotSoul: Did you ever consider going in that Hip Hop lane? A lot of that type of music is on the charts while the traditional R&B material gets throw into Urban AC.
J. Holiday: Not to take away from the records that are out, but I do those types of records for my mixtapes. I just feel like if I want to be classified as a marquee artist that is stand alone and I can stand by myself and sell this art. I'd rather it be the music I want to do versus the music that people tell me I should do. I feel comfortable staying where I'm at.
YouKnowIGotSoul: Are you working on new music currently?
J. Holiday: I am. Actually we've been doing a lot of shows. That's another thing you learn in the game is that it's all about timing. Sometimes it's good to keep pushing and sometimes it's good to take a break. I'm working on a few things and I'm aligning myself with so many different projects. I'm getting into some TV stuff. Between juggling the independent thing, TV and music, it's all merging together.
YouKnowIGotSoul: Just to take it back, your debut single was "Be With Me" and then the huge hit "Bed" came afterwards. Was there a reason why "Be With Me" was released first?
J. Holiday: It was a great record. *Laughs* Even if you look at "Be With Me" and "Bed", I had to release "Bed" to get noticed but a lot of people tell me that "Be With Me" was one of their favorite songs. Then they put the two together and it's like "I didn't know it was the same person. He's a dope artist!". We went with "Be With Me" first because that will always be my core sound. With "Bed", those were just songs that I knew people would love. They were infectious songs and as you can tell, I still had a chance to incorporate my soul into it. Shout out to The-Dream, Tricky Stewart and Los da Mystro.
YouKnowIGotSoul: "Bed" is one of the biggest R&B songs in recent memory. Where do you think your career would be without that song?
J. Holiday: Good thing I had "Suffocate". I don't think it would be that much different. Obviously "Bed" went #1 and it helped me get a Grammy nomination. It helped a lot, but it's a gift and a curse.
YouKnowIGotSoul: As an independent artist, you don't get the exposure that you used to get. So is it frustrating when you read tweets like "What happened to J. Holiday?" when you just put out an album recently?
J. Holiday: It's not necessarily frustrating for the comments, but it's more so because I know the quality of the work I did. For them not to be able to hear them or not know about it is frustrating. Not to say I'll never do the major thing again, but if I do it, it's going to still be independently driven where they'll have to deal with the business setup that we have.