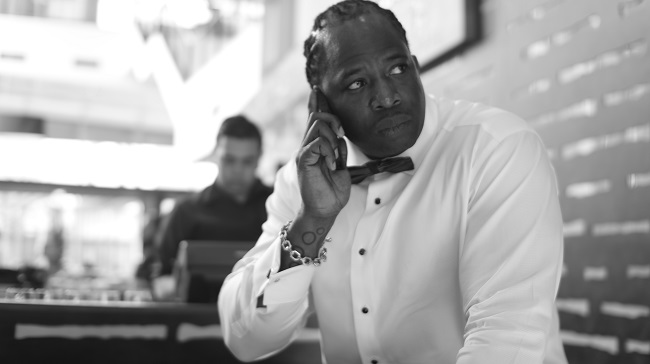 What an amazing run it has been for J-Roc. His name has been in the writing credits for some of the biggest songs of the past two years including "Mirrors" by Justin Timberlake, "Drunk In Love" by Beyonce and "Holy Grail" by Jay-Z. Everything looks easy now, but the road to success was the exact opposite. The Grammy Award-winning producer who is most known for his work with Timbaland and Justin Timberlake was once viewed by fans and critics as "just another guy in Timbaland's camp". It also didn't help that Timbaland's absence from the charts happened around the same time he started collaborating with J-Roc. However, the two never gave up on crafting their sound and now they are reaping the benefits of their dedication in the studio. For J-Roc, not only has he proven the critics wrong, he's made them into believers. His work with Timbaland on critically acclaimed albums like Justin Timberlake's "20/20 Experience", Beyonce's self-titled album and Michael Jackson's "Xscape" album are prime examples of the magical touch that he brings to the table. YouKnowIGotSoul had a chance to speak with him about his work on the new Michael Jackson album, his road to success with Timbaland and he also runs down some of the hits that he's had this year.
YouKnowIGotSoul: Talk about this run that you and Timbaland have had since the Justin Timberlake project. You've been able to work with Jay Z, Beyonce, Jennifer Hudson and now the Michael Jackson project.
J-Roc: I can't believe it's happening. It's like hitting the lottery, it feels like that. I've never hit the lottery, but I can imagine. It's been good luck. *Laughs*
YouKnowIGotSoul: It took a minute for you and Timbaland to develop that sound to where it would work on the radio. I know when you guys started working together a couple of years ago, you guys were putting out material but nothing was sticking on the radio. Now it seems like everything is a hit, so what was the key to putting it all together?
J-Roc: I wish I knew. I wish I knew what the key or formula was, then we could use it all the time. But I guess the only conclusion I can come with is that we as consumers, once we are used to a certain product or brand, we become adapted to it. When that trend has been broken or disrupted, I guess in a good way on our part, people soften up to change. I think that's just with everything. Once it becomes a certain way, we don't know why we like it but it's just something we're used to having and it's comfortable. Once something has been disrupted and something has been produced, it could be the best product ever. People will still be like "I'm used to Tide. I'm not sure about this OXI". That's just how it is with a new product. I think I can just equate it to that. Then when people get used to the new sound and they like it, it's like they've been hearing it all their lives. But yeah, it's a little bit of old with the new that we're doing.
YouKnowIGotSoul: Talk about your chemistry with Timbaland and how it has changed over the years. In the recent productions, it seems you're having more input and there's more musical instrumentation which I know is your specialty. Have you had more creative control as the time has gone by?
J-Roc: I'm not going to say more creative control because I always had that. Whenever I'm in a partnership with someone, it's all about what I can bring to enhance what someone is doing. I just take the experience I have and I make the best out of what they have as well and vice versa. I think it's something Timbaland has always wanted to do, but he just didn't have the means of doing it or the people around him in his camp who were that versatile. I consider myself pretty versatile and well versed in different genres and styles. It kind of helps. When he has an idea and he says "I can hear this", I know exactly what he wants and what he hears. I credit it to the good ear that I have that I can stylistically change his sound, but keep Timbaland all around it. It's Tim, but I just come and make it pop out a little better. It's always been like that.
YouKnowIGotSoul: Your name is becoming bigger now with your Grammy success. Was it ever discouraging for you earlier on in your career when the public didn't notice the work you were putting in?
J-Roc: I can't say I was. I've been involved in this thing called music since 1994, so I think it's all part of the process that everybody goes through. You're going to have peaks and valleys. I've had that throughout my careers. It was just that I was going from Gospel to Jazz to Hip Hop to R&B. I was being a typical producer or musician who just liked all types of music. It's just something I challenged myself doing. People were saying "You aren't getting noticed" but to me, it was all part of the process. In Gospel, we got the same acclaim credit. We got Grammy's and other awards. To me, it's really no different. It's all a part of it. It's like "Let me try this now". I don't ever look at it as "I want the public to know me". The producers are supposed to work the magic behind the scene to put the artist out. I don't get offended if I don't get the credit because I get a check. *Laughs*
YouKnowIGotSoul: We were talking about Keri Hilson's upcoming project two years ago and you said that you wanted the direction to be a little more organic and musical. We weren't really sure what you meant at the time, but then Justin Timberlake's album came out and it all started to make sense. Is a song like "Pusher Love Girl" what you meant by organic and musical?
J-Roc: That is one of them. That song all started out with a beatbox by Timbaland. When he did it, I was like "Yo that has a lot of soul and feel in it. This could be really good". It has that Gospel feel to it if you really listen to it. That's the direction I want to go with Keri. A style like a Minnie Riperton type of style, but up to date. Minnie Riperton has that sound and that soft voice. I think Keri can take over that for the ladies. We don't really have that right now. Beyonce is Beyonce, she's in a category of her own. We just need someone who can make women feel wanted, loved and appreciated. I think Keri Hilson can do that.
https://www.youtube.com/watch?v=V_XLAP_Pq_4
YouKnowIGotSoul: One of the songs that you produced was "Rocket" by Beyonce which really impressed me. Talk about making that song.
J-Roc: Oh man. We started working on that song in Virginia. Justin and I started that song. Justin is a musician. People don't understand, he's a bad boy. When musicians are in the room, things aren't forced. Everything just happens organically. Justin was sitting with the guitar and he started playing a couple of chords. I jumped in and it became this one great idea. We got to New York and we were working with Beyonce. Justin was like "Pull up that track we did in Virgnia!" We pulled it up and it wasn't lyrical yet. Timbaland was just kind of humming. Once she heard it, she was like "That's dope!" At first, it was just keyboards, bass and Justin's guitar. Timbaland started humming and that's when she heard it. I took all those pieces and started arranging the beat. It just kind of grew from there. But it started out real organic and natural. Those are the songs that work with people because it's pre-emotions and true feelings.
YouKnowIGotSoul: You were a part of the new Michael Jackson project. What was the approach to working on a project like that?
J-Roc: I don't know. I didn't know what to expect at first. When the project first came to me and not hearing anything, I kind of figured it was going to be what will.i.am did with a bunch of remakes. I was like "That's cool, but I don't want to do a remake of remakes. They already tried it and it wasn't well received. What makes you think we can make it better?" It was kind of like a dilemma until LA Reid was like "There's no remakes. It's all original material that's been locked away safe". Hearing it and his voice, I knew right away what era it came from. I didn't want to hear the original music because I didn't want to be influenced at all and I wanted to go in my own direction, but I heard just his vocals. Man, it was refreshing because it was Michael Jackson when his voice was magic. He was energetic and you could hear that. It was almost like I went back in time like I was back in Junior High. I was like "Damn this was the real era of music". Of course I had to dig and listened to a lot of "Off The Wall", "Thriller", Quincy Jones and Stevie Wonder because those were the artists he surrounded himself around. A lot of James Ingram, The Brothers Johnson, Luther Vandross and Diana Ross. I started studying to make sure I got the sound right. Then we would modernize the songs and make them up to date because a lot of kids from 18 years old and down, they've only heard of Mike but they weren't really part of that era. They kind of missed it. We wanted to make sure that kids would have that same feeling. I think it worked because if you look at the charts and sales, you'll see that Michael Jackson's album sales have had a huge spike rather than a decline. I think that's a credit to because we made it so modern yet old school so that the kids can still appreciate the music. It's almost like we revolutionized Michael Jackson. Wow, I never thought I would be able to say that. *Laughs*
YouKnowIGotSoul: I think the key to that project was the consistency with the sound.
J-Roc: Pretty much. We tried to stay consistent with the sound. Going from Justin's project and all the strings, horns and all these live instrumentations to Michael's project. We didn't want computer driven or programmed stuff. Michael loved real instruments. From a family full of musicians, that was something he was just around. If Michael made something organic, we had to keep it organic. Even though it was forward thinking, it had to be organic.
YouKnowIGotSoul: Working on something like a Michael Jackson project is a sensitive topic because he isn't here anymore. Would you consider doing another project like that for someone like Aaliyah or was Michael Jackson just a special case for you?
J-Roc: We were just talking about that when we saw the Michael Jackson Hologram. With the age of technology and how it has advanced, we can do everything. *Laughs* I don't think there's a limit. It has to be original material though, it can't be remakes. I don't know how Aaliyah's work ethic was and if she was recording a lot that wasn't used. I feel like Elvis or James Brown and I know I'm going a little too old, but these are some of the top artists that ever did it. I don't know, there's no limit to what we could do. I would love to do an Aaliyah project if she had that kind of material that we could work with. It was kind of hard and spooky though. You hear Michael, but you don't see him. On the tapes, back in the day when things were being recorded, you got all the back track noise, the coughing because everyone was in the room with three or four microphones recording together. Hearing all that stuff, it's like "Yo is he in the room? I'm about to get out of here". *Laughs* It was spooky at first, but then we got settled in. I would love to do it though. If there was a way to do it again, I'd do it again. Why not?
YouKnowIGotSoul: Of course you guys just had a number one Pop song with Justin Timberlake's "Not a Bad Thing". Talk about that song.
J-Roc: Well that's just a testament of where we're from. We're from the South. I'm from Texas, Timbaland is from Virginia and Justin is from Tennessee. I just think that was really heartfelt music from where we are. We can't be all super popped out that you exclude the listeners consumers who really appreciate good music. Sometimes you have to give people what they want. That was something that was heartfelt. It was something he wanted to give out to his wife. It's a story he told when they were dating and it was his cute way of saying "It's okay to fall in love". I think it was a love song dedicated to his wife. Whenever you do heartfelt music, you have to have a little guitar and a little twang to it. *Laughs* That pulls on the emotional people because it's real and true. It's the same thing with "Rocket". Those are real emotions. It's not "Let's put the song together this way", it's just something that just happens.
YouKnowIGotSoul: What projects do you have coming out?
J-Roc: I can't tell you. It's always been my secret. *Laughs* But when it comes out, you'll love it.
YouKnowIGotSoul: I know you're still working on Timbaland and Missy Elliott's project right?
J-Roc: Yeah, we're still working on both.
YouKnowIGotSoul: Do you have any singles coming out that we can expect soon?
J-Roc: The Jennifer Hudson song "Walk It Out" which is already out. That's the only one I know of. I know we have a lot of stuff in the works, but this part of the year is all about awards and hurrying up to finish up projects. It's that in-between time where you go to award shows and stuff like that. Look for Timbaland to drop some singles in the near future though. That's all I can say right now. *Laughs*
YouKnowIGotSoul: What is the direction of Timbaland's new album?
J-Roc: It's everything. Like I said, we're trying to pick singles now. Timbaland is a visionary and a trend setter. What he puts out is not going to be the same as what we did for Justin Timberlake. Even though it'll have the same feel, format and intention, it'll be totally different because he's not a singer or a rapper. He's just an artist and a producer. Everything he does is going to be a little ahead of time, but it's still going to be consistent with what we're doing.
YouKnowIGotSoul: Anything you'd like to add?
J-Roc: Follow me at @JRocHarmon on Twitter.