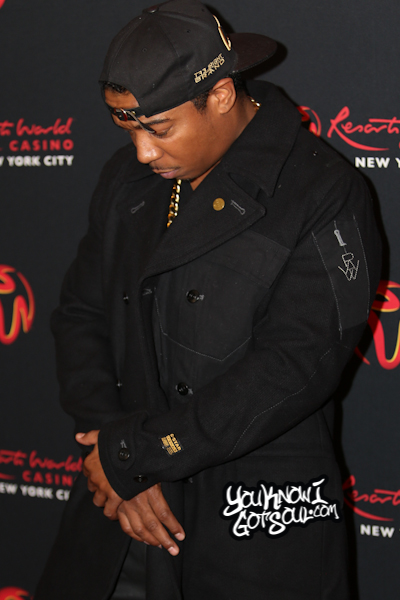 Ja Rule built up a name for himself as one of the top rappers in the decade of the 00's, but also got just as much of a rep for his singing. The response was always mixed, but the hits he constantly poured out could not be denied. You'd be hard pressed to find a rapper who had a string of success and hits that lasted as long as Ja did during tha time. YouKnowIGotSoul caught up with him after a recent performance in NYC and discussed his melodic flow, plan behind r&b collaborations, and influence over today's rappers.
YouKnowIGotSoul: Where did you develop your melodic sound from?
Ja Rule: It's a feeling to me, it's about the music more so than anything else. When I look at what I did musically, I'm just using my voice as an instrument over a track. I try to use it as best as possible and sometimes it calls for a melodic flow. That's where it starts from.
YouKnowIGotSoul: A lot of your earlier singles featured R&B singers like Christina Milian, Lil Mo and Ashanti. Was that done by designed?
Ja Rule: I didn't feel like I could sing those hooks as good as they could. The real truth is that when I first started making records, I felt my voice was too heavy and strong for radio. I would hear "Holla Holla" across the airwaves, it sounded very aggressive. It was almost to the point where it was like "Damn, I don't want to scare people away". When I started working on my second album, I wanted to mesh the two. My rough and big voice with some soft and sweet voice. I think it worked out.
YouKnowIGotSoul: In Hip Hop today, there are a lot of rappers singing as well. What do you think is your impact over there?
Ja Rule: One never knows. I'm sure a lot of artists were listening to me and watching when I was topping the charts. And whenever you have that kind of success, people will take notes. I know when I was a young emcee coming up, I was watching the big artists do their thing and I wanted to know why they were special and why they were so successful. I'm pretty sure there are artists who are looking at me like "What's making Ja Rule's records so successful?"