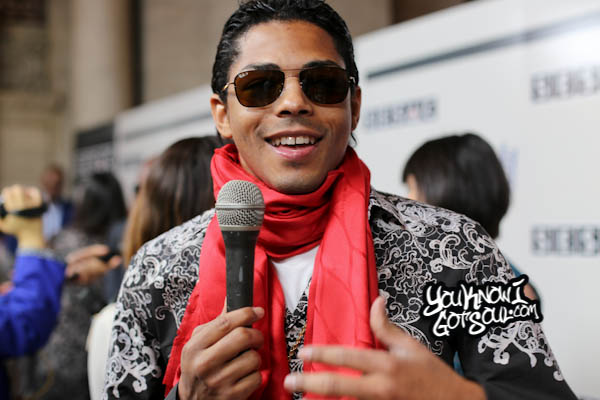 Years after being groomed by the legendary Jackson family and writing and producing for the likes of Marques Houston, Trey Songz, Omarion and Ginuwine, B. Howard takes center stage to shine on his debut solo project "Genesis". Although most of what you'll hear and see from him will surely draw comparisons to the "King of Pop", this is no gimmick, it's a product with his close relationship with the family through the years. In this interview with YouKnowIGotSoul, he discusses what we can expect to find on the album, transitioning from a producer/writer to an artist himself, his sound, avoiding the stigma of being a Michael Jackson clone, being an international recording artist, and much more.
YouKnowIGotSoul: Talk about your album "Genesis" which has already released in Japan and will soon release in the U.S. What can listeners expect to find on there?
B. Howard: Listeners have been surprised by the record so far. I wanted to make something that pulls from the sounds and melodies that make me happy. Each song should paint a visual movie in your mind and that's what I'm most proud of because we achieved that.
YKIGS: Give us some background on your current single "Dance Floor".
B. Howard: "Dancefloor" is a song that I first started working on with Sidney Miller. I wanted to give that feel good sound, something classic yet blending with tomorrow. We got James Poyser to add production as well as Questlove from the Roots. When we were done with that part, we knew this was special but to make it timeless, I called my friend Benjamin Wright to make it bigger than life with his orchestra. With the video, "Dancefloor" has a life of its own and is introducing my music to a lot of people all over the world.
YKIGS: What has the transition been like going from a producer to actually getting in front of the mic and being an artist yourself?
B. Howard: The transition was natural as I always wanted to have a direct relationship with my fans. I have something to say and prove and I couldn't accomplish all of my goals by being a producer and a writer. Now I'm a vessel for a message and my fans can hear it directly from my mouth.
YKIGS: Talk about the sound you're going for as an artist.
B. Howard: My sound is a blend of classic R&B / Pop and future Pop / Dance. But I don't go into the studio thinking, I'm creating an R&B song tonight or a Club song. Whatever comes out or is in my head, I know I didn't put it there but it has to come out. Once the sounds are in place, I try and make simple melodies that everyone can understand as I'm making music for a universal audience.
YKIGS: As a singer, songwriter and producer, take us through your process of putting a song together.
B. Howard: It's different all the time. Sometimes I make only the music and someone writes or I get a track and write the melody and lyrics. I like to collaborate but some of my favorite songs were just me in the studio by myself. I'm usually at a piano, keyboard or drum machine and start vibin on what I feel. If I'm writing for me or some other artist, once the music is laid, I go into the booth. I don't write lyrics down, they just come. More often than not, it comes quickly. Other times, it could take a few days or weeks for me to finish the ideas. I also need to be in on the mix sessions as my vocals are very specific to produce and mix. I produce my own vocals because I will end up changing them in the mix anyway or redo them when no one is around.
YKIGS: We know that you've been heavily influenced by Michael Jackson, and some have said you almost try and imitate him. How do you avoid this stigma?
B. Howard: It's called osmosis. I'm happy with who I am and I don't have to avoid the stigma. The music industry, the artists and writers all know I've been making music for a while now and that I've also been raised by the Jacksons. Because of that, I've been surrounded by the musicians and writers who worked with all the Jackson brothers. I enjoy the fact that when people hear my voice or my sound, it takes them to a positive vibration, just like my predecessor. Like Gaga says, "I was born this way." My wish is that when it's all said and done, I will be judged by my body of work.
YKIGS: Give me some background on the following songs you produced including insight into working with the artist and how the song came together:
YKIGS: Ginuwine "Love You More".
B. Howard: "Love You More" was very special to me. It was my first song to ever be a single / Platinum Plaque and also one of my first productions along side my hero Joe Little of the Rude Boys. All of the people involved gave me a sense of validity, from Mr. Gerald Levert , Ivan Walker and Leonard Brooks, and they were one of the first people from my childhood to acknowledge me as a professional .
YKIGS: Marques Houston "Favorite Girl".
B. Howard: This one is also very special to me, it was my very 1st single as a producer *Laughs*. It was created at "Uncle" Jackie Jackson's studio at a late hour with Andre Merritt. Funny story is that Merritt was half sleep when we were creating the song but we knew it would be a single and it ended up being one of my favorite songs that I have produced for Marques Houston.
YKIGS: Ne-Yo "I Aint Gotta Tell You".

B. Howard: Wow. This was one of the many songs I created with him yet it was one of my favorites. It was created during our sessions at Sony and started with my dude Boola having a sample and we built it from there! Funny story, while I was vocal producing him I had him doing the Michael McDonald runs towards the end *Laughs* *Sings* "whoo oooo ". That was a fun session.
YKIGS: You've had success with your music overseas in addition to in the U.S. What is it like being able to consider yourself an international recording artist?
B. Howard: I consider the music business a global business. My productions here brought an awareness of me as a producer and artist in other countries, and that's a blessing. It wasn't a strategy to release anywhere specifically; it was born out of a mutual appreciation and respect.
YKIGS: Was it at all discouraging for you that "Genesis" at one point had only released in Japan, but not in your home U.S.?
B. Howard: Not at all. The business has changed so much that I can release a new song today in South Africa, a full album in Japan the next day, and debut my new music video in the States and everyone is happy. For me and my team, it's about building a global audience so I can achieve my mission that is beyond being a pop star.
YKIGS: Anything you'd like to add?
B. Howard: Yes, Here I am. Listen with your heart, not your eyes.