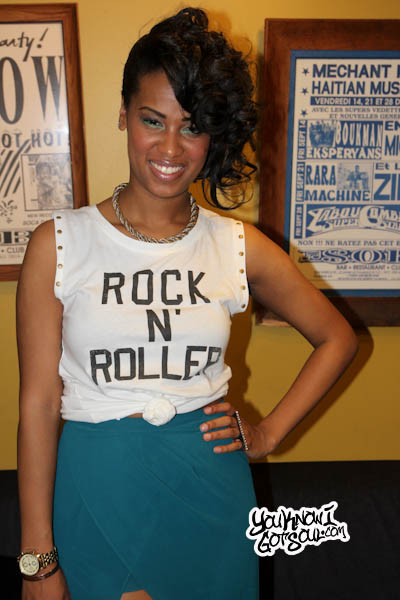 Jade Alston is an artist we've been supporting for a couple of years now, watching as she's gradually built up her profile on this independent journey. After generating a good amount of buzz for herself with her EP "Single on a Saturday Night", she was also featured in the BET Music Matters show last year. When we had the opportunity to feature her in our Sol Village showcase earlier this month, it was a no brainer, and she did a great job of putting her talents on display for the NY audience. We sat down with her backstage before the show and discussed her upcoming "Sunday Morning" EP, her sultry sound, struggles and as independent artist, and more.
YouKnowIGotSoul: Later this month you'll be releasing your new EP "Single on a Saturday Night" Part 2. Talk to us about the project and let us know what we can expect on there.
Jade Alston: "Single on a Saturday Night" Part 2 sonically is very R&B. We went to classic r&b sounds to combine some hip hop elements with a few other things in there to make it fresh. The project is also called "Sunday Morning", and on Sunday morning's people usually reflect and think about life or go to Church. I kinda reflected on how I ended up dumped and went through the entire relationship. The last song I kinda get into talking about what I really want from someone in a situation.
YouKnowIGotSoul: Musically and in life, how have you grown since part 1?
Jade Alston: I like to think I sing better. I use my voice better. The more you do anything, the better you get at it.
YouKnowIGotSoul: You just released a video for "If I Was Your Girl". Talk to us about the song and the video.
Jade Alston: The song is kinda like teasing and real seductive. For the visual, it was just an idea we had. It's supposed to be an artistic take on the layers of a girl. On the song I'm singing "If I was your girl, I would change your life". In the visiual, we kinda brought that to life, artistically by just peeling back all of the fly layers of this fly girl.
YouKnowIGotSoul: Prior to that, you had the "Missing You Lately" single and video. Tell us about that one.
Jade Alston: That song is about that situation we've all been in. That phone call that just won't come from that person you've been missing. You keep hitting them up and they're not hitting you back. The song is really basic, every time my phone ring, is it you? It's just real life. The video, the director came up with the idea of having it be with someone who is in the armed forces, and I felt that was perfect. My dad was in the Marine Corps. The guy in the video was actually in the army, that's my friend, so he wanted to do it because that's a real story he lived. Art is supposed to bring real life to real life. That's what the video was.
YouKnowIGotSoul: R&B is evolving so much right now; it's in so many places sonically. Where would you say your sound is, especially for people who haven't heard you yet?
Jade Alston: My music kinda combines that once in a generation warm tone. First it was like Phyllis Hyman, then it was Anita Baker, then it was Toni Braxton, now I'd sure like it to be Jade Alston for that next generation. That warm sultry tone. I combine that with the classic elements of 90's r&b. I was born in '87 so I grew up in 90's r&b. To bring that element back, that classic balance, it had that knock. That's what I'm going for, to combine the smooth sultryness with that bounce. Hopefully that's what people get from it because that's what we're going for.
YouKnowIGotSoul: After the new EP comes out, what are your plans for the future? A full length album?
Jade Alston: Of course. I just started a nonprofit initiative called own your art. Basically what it is, is a multi city school tour where we go talk to high school and college students about owning their art. First as a form of self expression and communication, and two as a form of a career. So we are going to do that college tour and then following that, maybe someone offers me a deal, and if it has good numbers, let's do it! I continue to be independent, I'm independent by choice at this point, so we'll just see where it goes. I have plans, but I'm also allowing myself to be surprised.
YouKnowIGotSoul: As an independent artist on the come up, what's been the biggest challenge trying to get heard?
Jade Alston: I'm going to keep it real, when you're independent, you have to be creative when you have no funding, and that's really the biggest thing. You find people who are motivated towards your vision and motivated to execute and you bring them as a team. It's one thing to have an idea, it's another thing to make it happen. That's just the biggest thing, finding out how to get people motivated with a budget that's not comparable to a major label budget. And, making it work and being as great.
YouKnowIGotSoul: Anything you'd like to add?
Jade Alston: What's up YouKnowIGotSoul folks, listen to Jade Alston because she's cool, and I'm not just saying that because she's me!