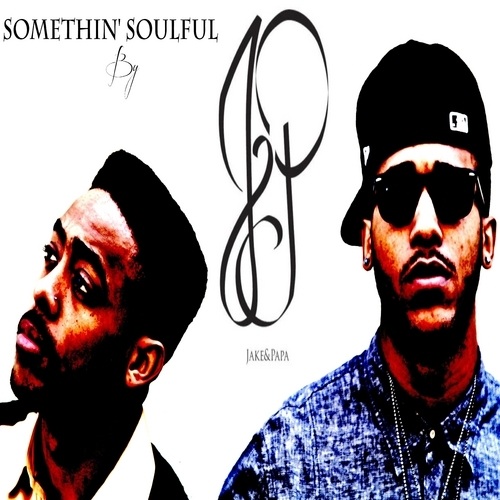 By 2007, R&B was in desperate need of a male group and Def Jam came through by introducing the world to Brutha. The soulful sound from Brutha which consisted of Grady, Anthony, Jared, Cheyenne and Jacob was exactly what the industry needed. In addition to that, their hit reality TV show on BET "Brothers To Brutha" was a hit and it seemed like Brutha was on their way to big success. Unfortunately, like many groups before them, the group grew up and drifted apart, so we were unable to see a sophomore album from them. However, Cheyenne (better known as Papa) and Jacob still believed in the dream and have continued to push through. Now, with a new name, the duo hopes to give the people what Brutha had plus more! YouKnowIGotSoul had a chance to speak with Jake&Papa about their Brutha days, their upcoming project and some things that they've learned in the industry.
YouKnowIGotSoul: You guys just released your new mixtape "Westernplayalisticamaromuzic". What is the overall sound of the mixtape?
Jake&Papa: The sound of the tape is an audio glimpse into the Westcoast player lifestyle. In every way shape and form. With a big hiphop influence, given our Outkast inspiration, Soul singing over ghetto baselines and pretty chords, and showing people first hand how to ride the Jake&Papa way.
YouKnowIGotSoul: Your song "Summertime Fine" has gotten some great feedback from people. Talk about the creation of that song.
Jake&Papa: We actually wrote the hook a long time ago. We were just waiting for the right beat. Resource played us that beat and we just knew. We genuinely have a love for women in shorts shorts and sun dresses. Who doesn't?! So it's something we had to sing about. Let the ladies know just how much we appreciate them.
YouKnowIGotSoul: You guys were actually part of the group Brutha, so take me back Brutha's debut album and what you remember about recording the album.
Jake&Papa: We remember Shakir Stewart (RIP) and Uncle Drano giving us a lot of game that we still live by to this day. We were living in Atlanta and got to work with people we looked up to our whole lives. But also not having much creative control. Overall, it was a great experience. We learned a lot and we're using what we learned.
YouKnowIGotSoul: One of my favorite songs off that album was the Ne-Yo song "Set It Off". Talk about that song a little bit.
Jake&Papa: "Set It Off" was definitely a fun song to do, and a great experience. It's always good working with such talented artists such as Ne-Yo, its inspiring being around the energy and soaking it all in. Those are the kinds of experiences that we take along with us forever. And the knowledge we soaked in will always be applied to our music that we do, all the way up to our latest mixtape release. And not to mention, the song itself came out great.
YouKnowIGotSoul: Eventually your brothers decided to move on from doing the group. Talk about that transition and what made you guys decide to continue working together as a duo?
Jake&Papa: Well, we started off as Jake&Papa. Our first performance ever was a talent show when we were 4 and 5 years old, and even then we were Jake&Papa. So when the group decided to disband, things simply came full circle. We reverted back to what we've always known. So even though it was a tough time, and there were hard realizations to deal with, the transition to Jake&Papa was a no brainer.
YouKnowIGotSoul: You guys could have continued using the group name but you decided to change it to Jake&Papa. Talk about the decision to change your name because I know it's probably been difficult reconnecting with some of the Brutha fans who might not know you guys are going by a different name now.
Jake&Papa: Yeah, it's been a bit difficult. We basically started from scratch. But we don't mind the challenge. That's why we're on our 3rd tape in less than 2 years. Showing everyone how hard we work, how for real we are and that it's Jake&Papa for now and for always, we ain't going anywhere!
YouKnowIGotSoul: Talk about the sound of Jake&Papa and how it compares to Brutha.
Jake&Papa: Our sound is completely different than the Brutha sound. We're finally getting to express ourselves creatively and show people exactly who we are. Young brothas, old souls. A sense of nostalgia and a peek at the future wrapped in soul and passion. Or sometimes gold chains and a hoodie. Depending on how we feel.
YouKnowIGotSoul: Along with the music, Brutha had their own reality TV show on BET which really helped create buzz for the group. Have you found that it's been
harder getting your names out there without the help of an outlet like television?
Jake&Papa: Of course, TV is going to make everything easier. Right now, we're focused on the music and performing aspect. Connecting with the streets first because in our opinion the buzz from the streets as apposed the buzz from a TV show is more organic. In the streets is where all the best music starts!
YouKnowIGotSoul: What's next for you guys?
Jake&Papa: Well for right now we're focused on our brand new release, Westernplayalisticamaromuzic ("WPCM" for short). We put a lot of time and energy into this new project, and we want the world to hear it. So we're going to be performing, hosting, premiering singles and videos, traveling, and everything else we have to do to get the new music to the masses. We know the people will enjoy it once they hear it; they just have to be given the chance to hear it. So we'll be giving them just that in a city near you.
YouKnowIGotSoul: Anything you'd like to add?
Jake&Papa: Westernplayalisticamaromuzic is available for free download on JakeAndPapa.com, so grab it as soon as you finish reading this interview. If you like it, tell your friends. Videos and performances will be coming soon. Contact us on http://twitter.com/JakeAndPapa and view all of our videos and visuals on http://www.youtube.com/JakeAndPapa. Much love to #TeamJP.