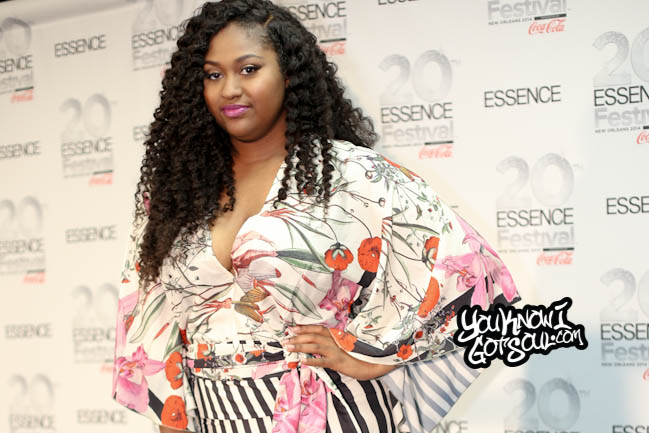 The skill of making meaningful records is a lost art for many of today's R&B artists, but don't include Jazmine Sullivan in that group. With songs like "Lions, Tigers and Bears" and "Bust Your Windows", she has made her mark without compromising her style and originality. Her last album "Love Me Back" was critically acclaimed and proved to be another winner for her. Shortly after though, Jazmine decided to step away from the music industry and no one really knew what was going on with her career until she recently came back with her new single "Dumb". YouKnowIGotSoul had a chance to speak with Jazmine Sullivan at the Essence Festival about her upcoming project and the sound of her new single.
YouKnowIGotSoul: So the new album is called "Reality Show". What was the inspiration behind the project?
Jazmine Sullivan: I named the album "Reality Show" because a lot of it is talking about my reality and what I've been through. It's just what people go through. Also I'm addicted to reality shows, I watch them all the time. My favorite is Love & Hip Hop Atlanta.
YouKnowIGotSoul: You have the new single "Dumb" out right now. The production on that song is a little different for you, so talk about that song and why you decided to go with that song as the lead single.
Jazmine Sullivan: The label chose "Dumb" as the first single. It was just a fresh sound, but it was classic Jazmine as far as what I'm saying. I'm always angry with the guys, you guys are always making me angry. *Laughs* The sound was very now though.
YouKnowIGotSoul: Is that the sound we can expect for the rest of the album or is there a lot of variety?
Jazmine Sullivan: There's a lot of variety on the new album. I can't even pin point the sound. The album is very reminiscent of my first album in that way.
YouKnowIGotSoul: You've mentioned that on this album, you're going to show different side of yourself as a writer and singer. Expand on that a little bit.
Jazmine Sullivan: I think I've gotten a little better with telling stories. I just think I've grown as a writer and I think that people will hear that on the new album.