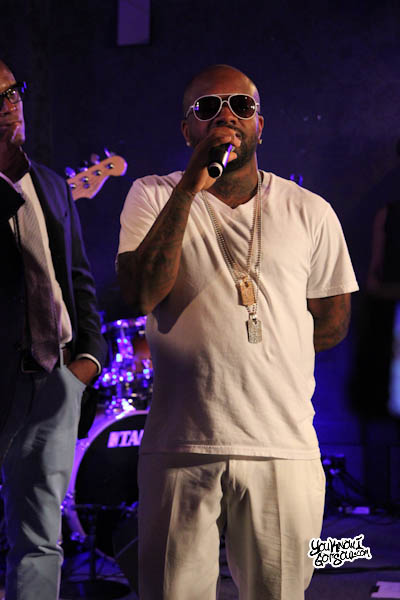 With all of the achievements he's had over the course of his career, Jermaine Dupri is celebrating one of his biggest accomplishments, reaching the 20th anniversary of his So So Def imprint in 2013. He's had a super successful run over the years, releasing multiple platinum albums and helping to launch the careers of artists like Xscape, Jagged Edge, Da Brat, Bow Wow, and Anthony Hamilton. Perhaps more impressive is the fact he found time to run a successful label while still writing hits from everyone from Usher to Mariah Carey to Monica to Alicia Keys. Oh, and did we also mention he's been the remix king as well? Now as he looks forward to the next 20 years of So So Def, the focus turns back to where it started, breaking artists. YouKnowIGotSoul caught up with Jermaine and discussed his contribution to r&b over the years, artists losing track of what their fans want, building with Usher and Mariah, breaking new acts like Leah LaBelle, his approach to remixes, and much more.
YouKnowIGotSoul: As you celebrate your 20th year of So So Def, what do you feel like has been your contribution to r&b through the label?
Jermaine Dupri: I don't know what I'd say my contribution is. I give my all to r&b music though. I give quite a bit of a contribution to r&b music. I love r&b and I feel like it don't get the respect that it's supposed to. I also feel like it's not a lot of people that care about it. That's why they treat it the way they treat it.
YouKnowIGotSoul: You were largely instrumental in crafting the sound of r&b in the 90's and 00's. Over the past few years the sound has changed. How has that made you change the way you approach things when creating music now?
Jermaine Dupri: It doesn't for me. I feel like one thing that people don't understand about music is that the fans don't change. Fans ears don't change, it's the artists that change. If you study music and watch over the years as a big artist comes out with a great album and then they come out with another album that's not as good as that last album. The reason they fail is not because of the fans, it's because they didn't pay attention to what the fans actually love about them. Artists believe they are supposed to change their sound every time they come out with a record as opposed to sticking to what is already working. I tell people everyday "All of these black artists, they keep making these dance records. Their careers are completely left of what it was when they were making straight r&b music." They might be doing more shows and they might be doing festivals and other things, but as far as the love for their music and the way you felt it before, it's completely opposite. I don't think people completely understand that. The fans never change. That's why all of these older groups can go on the road and do shows and people continue to keep coming to see them. If you take Frankie Beverly and Maze for example, they've been on tour probably as long as I've been alive. They've been performing the same records. They haven't put out any new music. It's basically because the fans don't change, the fans want to hear it. People believe that the fans change but the fans don't change, the artists change.
YouKnowIGotSoul: With So So Def you've launched the careers of many successful acts over the years. What do you look for in an artist to know that's someone you want to work with?
Jermaine Dupri: Just somebody that's hungry and somebody that's willing to listen. I feel like I got a lot of knowledge in me about what an artist should do in their first album. I got a lot of things I could offer to a lot of artists. If an artist comes and they're not really willing to absorb my energy, then it's kinda like it's a dead situation. That's why I tell people I'm not really in tune with chasing artists that are established already. Just going into the studio and making a record doesn't really do too much for me. I like to be a part of the project. I like to talk to the artist and I like for us to build something as opposed to just me contributing to an album.
YouKnowIGotSoul: You've had countless memorable remixes over the years. What's your approach like going into a remix?
Jermaine Dupri: Making it better than the original. A remix is supposed to give the original some legs and be better than the original. It's supposed to be a version that makes you not even like the original. You're supposed to listen to the remix and be like "Damn, why they aint bring it out like that in the first place!" That's my mentality for a remix, I'm trying to figure out how to make a song 10 times better than the original record.
YouKnowIGotSoul: An artist you've had a ton of success with over the years is Usher. It started with the breakout success of "You Make Me Wanna…" and just took off from there. What do you remember most about working with him through the years?
Jermaine Dupri: Just how we continued to build. We talked about this in the beginning. It's interesting when you sit with somebody and you talk about their career and then you build their career the same way you talked about it. We talked about "My Way", we did the record the way that he wanted it. We did "8701" which was like "U Got it Bad". When "U Got it Bad" came out, we came back the studio I said "Man that song was so big" but it's crazy because we only wrote one song like that. With Usher, we never went in the studio and wrote a block of ballads. We'd just write one or two songs. We came back in for "Confessions" and that was a conversation like "We can't just do one 'U Got it Bad', we gotta make 3 or 4 of these records and decide which are the best." Each time it was a build. Then we came back and I wrote "Burn" and after that we wrote "Confessions". Part 1 was so crazy of a story that we wrote "Confessions" Part 2 and that story was even crazier than Part 1, so L.A. [Reid] didn't even put Part 1 on the album, y'all heard Part 2 first. If you talk it into existence and you really plan out things, your life will be better. I think that's a tip for life in general as well as making music.
YouKnowIGotSoul: Talk about Jagged Edge a little bit. You discovered them back in the day, they were very successful with So So Def and you helped turn them into legends over the years. Talk about helping to build their career.
Jermaine Dupri: Jagged Edge is very interesting because they were a different type of group. That's probably the only group that I didn't write the majority of their lyrics; they were the writers. They came with their songs pretty much already prepared and I'd sit with them and really make music that fit the lyrics as opposed to me actually writing lyrics for them. They gave me a breath to breathe, so if I was working with Usher, it was easy to work with Jagged Edge at the same time. They weren't doing the same thing.
YouKnowIGotSoul: Another artist you've had a lot of success with over the years is Mariah Carey. You've been in the studio with her almost every album over the past decade or so. What do you feel like sets her apart from all the rest?
Jermaine Dupri: We have a crazy relationship. We have a very interesting working relationship. As Hip Hop as I am, she wants to be double Hip Hop. When we go in the studio, it's like I turn into the R&B person and she turns into the rapper. It's a real weird situation. She wants to do everything that all the rappers are doing like everything that's happening in the club. I'm more like "Yo, can we make this singing song like a beautiful ballad please?" I'm tuned into what I believe the fans want when I work with Mariah. I believe Mariah has been making music for so long that, like I said, as an artist she wants to change her sound and do this and do things differently than what she's done. As an artist that's had a long career like hers, you have to respect that. At the same time though, I'm the person that is always there to be like "Listen, the fans want this." We go round and round, but it's a really creative process because we find a happy medium.
YouKnowIGotSoul: How's it been working on this new project with her?
Jermaine Dupri: It's been the same process. I don't know what is coming and what ain't from what we've done, but I do know I did do a song with Mariah almost a year ago that y'all haven't heard yet. I know if it gets on the radio, it's going to blow up and go crazy. I can tell you that. I don't know what she's going to do with the song, but I tell her every day that the song is crazy.
YouKnowIGotSoul: Let's talk about the next generation of So So Def. You're collaborating with Pharrell in developing Leah LaBelle. How's it been working on that?
Jermaine Dupri: It's been interesting. Breaking a new artist in today's music world is very different than it used to be. It's not a whole lot of people doing it. It's almost like the labels are new to breaking new music. The labels are more into putting out multiple albums on artists that have already been out. They don't really put a whole lot of interest breaking a new artist. We've gotta show them things, we've gotta teach them stuff, it's a lot of work going into breaking Leah. We put out her first single last year and the song lasted the whole year. It was constantly working the whole year. It took a little minute for people to get on it, but once people got on it, it took the song another four months. It's a different process but it's definitely the same thing. I'm devoted to making the new artists work.
YouKnowIGotSoul: What's been your key to the longevitiy? 20 years is a big deal and not many make it this far.
Jermaine Dupri: Just the fact that it's people that came before me that had less than I have that did more than I've done.
YouKnowIGotSoul: What does the next 20 years of So So Def have in store?
Jermaine Dupri: Just to be better. This 20 years marks a blueprint that I can look back on all my mistakes and all my success and try to move forward and be better than I was the last 20 years.
YouKnowIGotSoul: You've had a chance to work with so many artists in r&b and hip-hop. Who are some artists you'd like to work with at some point that you haven't had a chance to yet?
Jermaine Dupri: Nobody. Like I said, my interest is so not established artists. I really don't even feel like I have a real successful run when I go in the studio with an artist that's already established. It's funny to say that, but I really don't feel like I'm really in tune with their project. They come to me asking for a song like I gave Mariah or a duplicate of records that I've given someone else. I don't usually go in the studio and make music like that. I go in the studio with a clean plate and make something from somewhere completely opposite. When we made "Where the Party At?" for Jagged Edge, that song was out of left field. That had nothing to do with what you've heard Jagged Edge doing. It was a completely opposite sound. People gravitated to it because Jagged Edge was a ballad group from "Let's Get Married" to "Gotta Be" to "Promise". Then here we came with an uptempo record with Nelly on it. It put them on pop radio. I don't go in the studio trying to recreate what I've already done. When artists come see me, they come with that mentality. When I'm in the studio working with someone that's already established, I'm starting already almost in an uncomfortable situation since that's not how I do music. Everybody I've got a chance to work with, I don't take for granted. I'm really cherishing the fact that I got a chance to work with people that nobody today will get a chance to work with like Whitney and Biggie and Aaliyah. I just cherish the fact that I've had the opportunity with these incredible people.