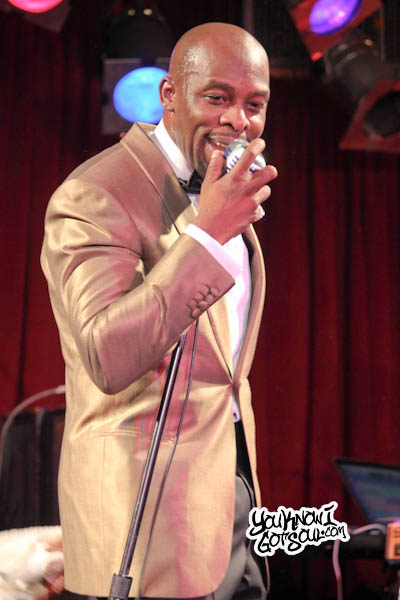 I'm always intrigued by artists who have been in the game so long yet seem to always find the inspiration to continue putting out quality music. We've seen it time and time again where an artist will come out with a classic debut, only to follow up with lackluster efforts before they eventually fade away into oblivion. For Joe, an artist who released his first album back in 1993, he's been one of the most consistent artists in the game over the past two decades, putting out quality album after album. There's no secret about the formula Joe has found success with during this period, simply striving to make timeless music like his influences did before him. He's currently preparing to release his 9th studio album "The Good, The Bad, The Sexy", and if you've been paying attention to the music we've heard from the project so far, there's no reason to believe this won't be the same quality music we've come to expect from Joe. We caught up with Joe following his performance at Harlem Week in NYC, and during this interview we discuss the meaning of "The Good, The Bad, The Sexy", what to expect on the album, how he knows when it's time to get back in the studio and work on a new album, the sound of the first single "Losing", where he might be in his career now if not for "All the Things Your Man Won't Do", what influences his music, the possibility of a duets album, and more.
YouKnowIGotSoul: Your new album "The Good, The Bad, The Sexy" is releasing next month. How did you come up with that title?
Joe: "The Good, The Bad, The Sexy" pretty much represents to me a body of music on the album; you'll find good, bad and sexy. Songs like "Pull My Hair" and "Drink Up" are sort of "bad" records, but sexy at the same time. Some of the songs have a combination of all three. It's really what life is all about, some things about it are good, and some obviously are bad. For me, I like to keep everything sexy, I don't like arguments, I like to keep things smooth and easy going. Obviously that's in a perfect world, but you obviously try to surround yourself around people who understand that and get that side of you and respect it.
YKIGS: In another interview you did, I read that your sound on this album will be classic Joe mixed with a more mainstream sound. When you set out to do an album, do you keep the mainstream in mind when making music, knowing that you've got to sell records, or does the mainstream part of it come natural?
Joe: I would say it comes naturally at this point because I pretty much grew up in it. I was 17 or 18 years old when I first got into the music game and now at 39 it's pretty a natural effect. I listen to today's music, I listen to pop music, I listen to classic and old school music from all genres. So when I approach something at this point in my career, I do things that make me happy, it's gotta be fun. You won't see me doing a gospel record right now because mentally my state is not there. I'm a very religious guy, but I feel you have to walk the walk and talk the talk if you're going to go that route. So that's why I'll say some things have progression in a natural form. If I'm happy with it, then I'll do it.
YKIGS: On your "Signature" album you did all of the writing and producing. I know for this album you worked with a bunch of other producers. So, as a very talented producer and writer, how do you know how involved you should get in the creative process for each of your albums?
Joe: Well I look at what is on the table. I look at what the other producers and writers bring to the table, and look at what I can add to that as far as what I can bring to it. A lot of it is all similarity; it's very similar between what I do and what they do. I look at it like when I hear something and I choose it for my record, I look at similar influences that we kinda came up with like the gospel and classic r&b artists that we listen to, musical geniuses. So it's no problem when they bring a record to me or if I choose it, it's obviously something that's right up my alley. It's very easy for me to determine it, I can hear it right away.
YKIGS: You released your first album back in 1993 and now 18 years later, do you still feel that you have growth and progression in your music?
Joe: Oh man, most certainly. I'm maturing myself, so each day I mature, everything around me matures. I look at it maturing in a different kind of aspect because I'm still young in my mindset. I'm young at heart and I love to have fun and I still want to enjoy life to the fullest, and I'm sure more mature people do as well, but I have this energy where I'm always bubbling and always trying to get it done. I'm like "Give it to me, I'll get it done with no problem." I'm never slowing down, which is another thing, I can't see myself stopping. I want to be what Frank Sinatra was to the generation that he inspired. So just to be inspired by Frank Sinatra, I want to be that kind of cat who just continues to go and be inspired by everyday life and the people who I meet, such as yourself, someone who handles their craft in a very professional way and a very detailed way. I'm a very detailed guy when it comes to anything, dressing, homes, cars, whatever it is. I like to detail it to my taste.
YKIGS: You do a lot of touring and you're not the type of artist who comes out with an album every year, although "Signature" came within a year of "Joe Thomas, New Man". How do you know when it's time to get back in the studio and start working on a new project?
Joe: Before when I was on a major label, it was different. I was on Jive Records for 11 years and they had so many more artists to also work with. I'm completely on my own now, it's just me, I promote and market my own stuff with my partner Kedar Massenburg. It's pretty much just me, so I've got to strike and I've got to keep striking, and that's how we can be successful in our independent endeavor. Three years in a row now I've put out an album, and I want to be successful with this on my own terms, and not with a major label. I want to win with my own label. If I work this hard, I want to work this hard for myself.
YKIGS: I've got a hypothetical question for you. Your first album, "Everything", a lot of music fans I run into weren't even aware of the album. The album didn't do as well as you'd hoped and I believe after it released you were out of a contract. You followed up a few years later with "All the Things Your Man Won't Do" which kinda put you on the map. Where do you think you'd be in your career if it weren't for that single?
Joe: I'm going to tell you a story because that single almost didn't come out! It was the choice between two different records because Island Records wanted a song for the soundtrack. So the team I was working with came to me and said "Hey, why don't you give them 'Good Girls', we think this should be a song that they would love". So I told them to give them my record "All the Things Your Man Won't Do" as well because I thought it was a beautiful record and maybe they just might like it more. I wanted "All the Things Your Man Won't Do" to be the song they gave to them. They ended up playing both songs and loved "All the Things Your Man Won't Do". It definitely sky rocketed my career and put gas in my tank. *Laughs*
YKIGS: Back to the new album, you currently have the single out called "Losing". Give me some background on the song and talk about how it came together.
Joe: Oh man, I've met so many fans of music that I run into that tell me "We love the stuff you did with Big Pun, we love the stuff you did with G-Unit, we want some more party/club records". Of course I love to do that, but sometimes when you're making a record, you get into the zone and you don't want to go too far. For an r&b singer, you don't want to have 12 to 13 records like that on there because then it becomes wayyyy too many songs. It's not like hip-hop, they are able to talk about anything, it's comical a lot of the shit they say. So I kinda had to just kinda back away and just kinda refocus.
YKIGS: You mentioned the collaboration you had with Big Pun which was a huge song. What do you feel like that song did for your career?
Joe: It drew my young fans who probably looked at me as more of a Luther Vandross type of artist and showed them I'm fun just like them, which is exactly what it was. I was representing what I am, a young guy who loves to sing, I love hip hop, I love my friends in the hip hop industry, and I'm just a guy who sings.
YKIGS: I feel like you don't do a lot of duets. You've had some very memorable ones earlier on in your career, but why don't you do more?
Joe: Duets are cool, they are great. I would love to do a duet album with nothing but just me and a beautiful female artist. I'm thinking about artists like Monica, Alicia Keys, Kelly Rowland, Rihanna. It's a wish list of female singers that I would love to do a great Tammi Terrell and Marvin Gaye type of album with. It would be insane. You've got the r&b crooner, that dude that represents it to the fullest, with the most beautiful r&b singer in the game.
YKIGS: Anything you'd like to add?
Joe: I'd just like to all of the listeners/readers, thank you for the support, and I really wish you nothing but the best. I'm going to continue to keep going as long as yall want music from me I'm going to keep continuing to give it to you. September 27th is the tentative release date for "The Good, the Bad, the Sexy", I'm thinking about pushing it back a couple of weeks. Trust me, you will know and you will be informed on the new date. So once again, God Bless you and much love.