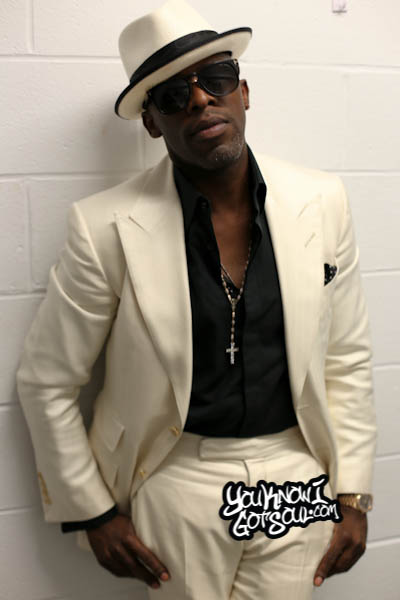 Joe is no rookie in the music business, so even when he left the major labels behind and started doing things on his own, he knew exactly where to take his career. There have never been any gimmicks or forced attempts at coming off "cool", he does so naturally and his latest album "Bridges" and new single "If You Lose Her" are perfect examples of his flawless vision. "Bridges" is the latest chapter in a stellar career for which if there was an r&b hall of fame, Joe would be a near lock to be inducted. YouKnowIGotSoul once again sat down with him, this time prior to a recent show in NYC and discussed how fans have reacted to the new album "Bridges", released it so soon after his last one, managing his expectations in a time when records aren't selling, which of his albums resonate with him the most, and much more.
YouKnowIGotSoul: Your new album "Bridges" has been out for a few weeks now. How has the album been received by your fans?
Joe: I must say it's been going very well. I'm very fortunate that immediately after I dropped Doubleback, I'm releasing "Bridges". I thought I would run into a problem with having two albums so close together, but fortunately we're doing very well especially with the major labels releasing their artists and doing the numbers that they do. It's funny because I'm on the other side of the coin now as an executive because I'm looking at numbers now. Something I never did before, but it's great though. I'm really excited about this project and the one after that which will probably come out in the next 12-15 months. This record is just classic and old school. I went back to the basics and what I love. Just creating it and the entire process, especially after moving on from a previous situation, that cleared up a few things in my head. I just went back in and recorded the album.
YouKnowIGotSoul: You chose "If You Lose Her" as the next single. Talk about the song and the video.
Joe: It's one of my favorite songs on the album. It's a song about realizing what you have before you lose it. I think the video is going to be amazing. The video was shot in LA and was directed by Bille Woodruff. He's been my videos since "I Wanna Know" and he does amazing work. I found an artist from the Ukraine by the name of Kseniya Simonova and she creates amazing stories with sand. It's a great element of the video and a lot of people are going to be surprised because it's something outside the box. She has over 60 million hits on YouTube and I just think it's going to be a great part to the video.
YouKnowIGotSoul: How do you go about choosing singles for your albums?
Joe: That could be the tricky part because sometimes you may choose a single that's not going to work or didn't research on. You have to really keep your ears opened and play your records for people. Sometimes you have to follow your gut instinct at the same time. It's a collective effort a lot of times when it comes to singles. If we have a distribution company, we may play it for them and get their opinion. Sometimes promoters, you never know. I have great relationships with people who have been promoting for years and understand the music game. Mostly it's coming from yourself and trusting what you feel could be something big and following that concept and bringing it to reality. Yeah, it's a collective effort mostly.
YouKnowIGotSoul: You've mentioned that you look at album sales now as opposed to before where you would let the major labels take care of that. Now that you're managing your own career, how do you measure success? You've had platinum albums in the past, but record sales aren't what they used to be.
Joe: It's tough because everyone isn't doing the numbers like in the 90's. Every record out was a gold record. It's hard to sell 100k these days. That's even for the top guys like Chris Brown and Trey Songz. Those guys would be selling millions in the 90's easily. For some reason, you have the internet and they have slowed down the process of record sales. Physical buys isn't what they used to be either. It's tough in that sense, but you have to strategize differently. You put things into places that's going to help and not going to impact something too negatively. It's just about doing the small things.
YouKnowIGotSoul: Leading up to the release of "Bridges", we counted down the top Joe albums from last to first. If you look back in your career, is there an album that you feel stands out from the rest or a personal favorite?
Joe: It's funny because I don't reflect too often. There's times when I'm on a long flight and I'm just going through my playlist. Sometimes I just want to go back and feel what I felt before. Sometimes I reconnect with albums like the "Signature" album which wasn't that long ago, but it was such a great album because it was all live. It's rare finding an album that's going to be all live instruments production wise and the quality of lyrics that I wrote on that album, I was really in a different place. I felt really good and grand. Other records too like the "I Wanna Know" album, that had a nice flow to it. My first album, I played it just to see how I've grown and that first album I was all over the place and more so trying to show people that I was an awesome singer. I was going to go hard and do all those crazy rifts. I proved that and got a lot of people feeling it, but then I sat with Jimmy Jam and Terry Lewis and they told me to sing the melody. That's one of the best things they've ever told me. Looking back on that, I'm so glad I did the albums that I did. The first one especially because it was my blueprint for what not to do on the next ones.
YouKnowIGotSoul: Our first was "My Name Is Joe", second was "All That I Am" and the third one was "Doubleback: Evolution of R&B".
Joe: Wow, that's shocking to me [That "Doubleback" is that high] but it's good.
YouKnowIGotSoul: Anything you want to add?
Joe: Thank you to the listeners and followers for the support.