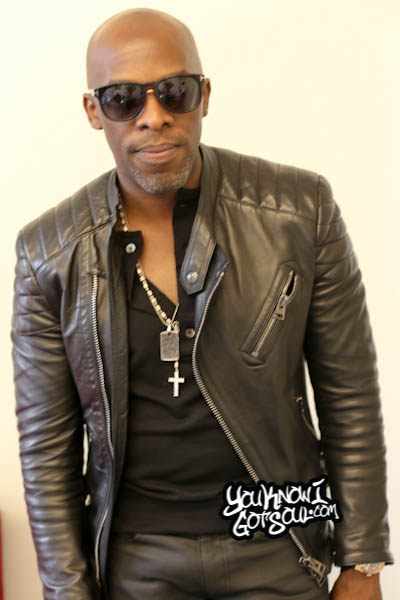 There are very few r&b artists who have been as consistent as Joe over the past 2 decades. From his debut album "Everything" in 1993 to his latest classic "Doubleback: Evolution of R&B" last year, Joe has laid the blueprint for good r&b music. With his previous album, he was able to move his career forward by taking the sound back in time, and he'll look to continue that success just a year later with "Bridges". Now with new management, we should look for a seamless transition just like the success from "Love & Sex" to "Love & Sex" Part 2. "Bridges" is Joe's 11th album, and he's poised to deliver us yet another body of work we'll be listening to in years to come. YouKnowIGotSoul sat down with Joe during a promo run in NYC and discussed what to expect on the album, his love for r&b, taking his sound back, the influence hip hop has had on his music, and much more.
YouKnowIGotSoul: Your eleventh album "Bridges" is coming out later this month. What inspired you this time around?
Joe: Moving forward man, just continuing to move forward. When I say moving forward, it's about understanding the state of R&B or the lack of as some people feel. I have to take the initiative to take it the next level. It's all predicated on what I'm doing and what I'm not doing. I love to stay active and I love to stay involved. I love R&B music and I love what I do, so you won't see the energy of me trying to do something that isn't me. I'm not going to be a full-fledge Hip Hop singer like some artists are now becoming or being a Pop dance star and trying to sell those records on that end. I'm sticking to what I like to do. It's all about the soul and the love. That's what is keeping it 100% when it comes to this R&B thing. I'm in my own lane and I love it.
YouKnowIGotSoul: Sonically is it going to be similar to "Doubleback: Evolution of R&B" or did you do something different?
Joe: Sonically yeah, it's on that vibe. I can't go too far from what I do, but the problem I've been having over the past 5-6 years is that most people don't know that I do have a record in the marketplace and I think if they did know, it would be a lot more respect for the R&B genre. If you look at it, there are only a handful of artists that are trying to carry the torch. Myself, R. Kelly and Maxwell are some. It's important for me to stick to my game plan and this new album is just as good as the last album. I feel like it's ten times better because it's taking another step into the direction that I'm going trying to get to which is taking it back a bit. I've been saying that for some years now. In order to move forward in R&B, you have to go back. This album just goes back a little bit.
YouKnowIGotSoul: "Doubleback: Evolution of R&B" is one of your best albums to a lot of your fans. Did you feel like you could keep moving with that album or if there were any other singles you could have put out?
Joe: I would have loved to continue to work that album. Unfortunately I just went through some changes in the industry and being that the album is tied to the previous situation, I couldn't really move forward with the last album. But as I said before, it's about keeping it moving. It's about continuing to do what you love to do regardless of what the circumstances are. I think some of people would have taken a little bit more time to see how things would progress, but I've always been a hustler. I've always been driven to stick with it and good things come out of it. I would have loved to work the record, there were some good records on that album that would have been nice to shoot a video to and put out on radio as well. I thank God that I have the ability to keep moving forward and keep making music that people want to hear and that they can appreciate. I have a lot more in me. There's a lot more coming after this record. In the next 18 months, I'm going to put out another album. That one will be called "Date Night" which is purely love songs and more ballads. It's going to be a lot more to look forward to because of this new label that me and my partner Gerald Isaac just started. It's called Plaid Take-Over, we're really looking to take over R&B. We're just taking it to the next stage and that's why "Bridges" is just the beginning for this particular take-over.
YouKnowIGotSoul: Some people were concerned about the management changes. Are people going to notice this transition?
Joe: Not at all. I think what they will see is the consistency in the midst of confusion or that could have been confusion in a particular time. The business has not got in the way of my personal love for music. That's what has always been a continuing thing. Moving forward has never been a worry of mine. I just always wanted to use some of these records from the last album because there was so much hard work put into it. Of course I would have loved to see it last a lot more, but we had to make a business decision at that moment and now moving forward, we have a great platform.
YouKnowIGotSoul: You've been making a great progress with the single "Love & Sex Pt. 2". You had a great impact with the Fantasia version and now the Kelly Rowland is taking a life of its own. Talk about the success of the new single.
Joe: That's actually the bridge between the last album and going into this record. That was a business move that I did. Understanding that I couldn't legally use the Fantasia version moving forward, I had to come up with a different idea. I also loved the record so much that I wanted to keep it alive. That's why we do have the two versions. Kelly Rowland obviously brings that young Destiny's Child energy that she has, but she grew into a beautiful intelligent woman. Those are some elements that I saw going into creating this new version of the song. The first version is one of my favorites, but I think they're both incredible because they give you two different looks. One is a ballad and one is a mid-tempo.
YouKnowIGotSoul: Most of us haven't heard the new album yet, but do you have any songs that you could introduce to us perhaps as an upcoming single?
Joe: I'm actually looking at this song called "If You Lose Her" which is a very powerful throwback or throwblack classic. *Laughs* It's something very special. It's a beautiful record and I think a lot of fans are going to love it. It's going to relate to something very old school. I'm an artist cut from that cloth, so I'm not going to be an alien environment. It's just absolutely what "Double Back" and "Signature" were. It's the essence of R&B. I keep saying the essence because without those live elements when it comes to the production of it. When you have the baddest bass player or pianist or drums on the album, they all are connected. It doesn't feel like you have a live concert, it feels like a classic old school record. Of course that's "Double Back" was about trying to go back to that sound and "Signature" was the introduction. Now I think we have a formula and system that we created. It doesn't infringe too much on grabbing from the old school, but it takes just enough to complement the movement that I have.
YouKnowIGotSoul: We recently heard the "Mary Jane" remix with yourself and 50 Cent. Hip Hop has always played a major part in your career, so what does Hip Hop mean to you?
Joe: Hip Hop is the freedom to do what the heck you want. It's certainly opened the doors for the idea of opportunity. When they started sampling, we didn't know anything about sampling back in the day for R&B artists. They created that whole energy. It was like "We can use this and put it with this. We have something special". That's what I'm trying to get back to which is introducing the next generation of Hip Hop as well through the sound of my music. Taking it back to the essence which is the live stuff that they sampled back in the day. That particular supporting beat was an R&B record as we know. So making my music that authentic and that feels that good to today's generation and my audience as well, it's the absolute marriage of what this movement is about. We're going to create the new R&B which is creating from the old seed to today's music.
YouKnowIGotSoul: Your past few albums, you haven't worked on the big producers but it worked. Who did you work with this time around?
Joe: It's pretty much the same. It's all about good music. Trust me, I give it up to a lot of the producers and writers out there, but I think when you're going to those guys, you're getting their style. To be a creator or someone who loves being original, I had to go with my own sound and team to do a "Happy" record. I love "Happy" but of course, it's a record that's going to feel like "Happy". Pharrell has a certain style and I love his production. We go way back like the beginning of his starting days and when I was coming out as a new artist. The tremendous respect that I have for that guy as a writer, producer and now an artist. It wasn't really his thing to be an artist, but maybe it was. He didn't present it that way though. To see how he's been able to create that sound through his influences like Curtis Mayfield and then make it his own. I've worked with Pharrell as well. We did a song with SWV called "Use Your Heart" and the joint "Anything" that they did with Wu-Tang. We've done a lot of records back in the day. Let me rephrase that because if Pharrell gave me "Happy", I would damn sure sing the hell out of that record. But understand that's Pharrell's sound and you automatically hear it.
YouKnowIGotSoul: He also gave you "Isn't This The World" right?
Joe: Absolutely. Incredible and positive record. They don't write songs like that anymore. They don't talk about what's going on in the world anymore. They talk about the hood, but no one's really talking about the world and what's affecting us. What's affecting your hood is one thing and we appreciate that for what it is, but there's a bigger picture that needs to be exposed and we need to talk more about it.
YouKnowIGotSoul: I read that your past few albums have been recorded at Joe's crib. What's your process for recording these albums? Do you do it all at your place?
Joe: I used to have the dramatic big room setup and all the crazy equipment, but I like my little spot in my crib. It's one of those places where I can go and just work all day. I can start it at 11 in the morning and before I know it, it's 11 at night. I haven't eaten anything, I'm just working until it is done. When you're in a big recording studio, you have to time strain. You feel that pressure like "I have to come up with this now because it's going to cost me". At home, you can just flow and let it go. And if you don't what to go there, you don't have to. It's not like you can just book a studio for a couple of days and not work. You have to work. Sometimes you just need a moment to let your mind process while you're there.
YouKnowIGotSoul: Anything you'd like to add?
Joe: Thank you to you and your team. Thank you to the fans as well. I promise you that you're going to love this new album "Bridges" coming June 23rd.