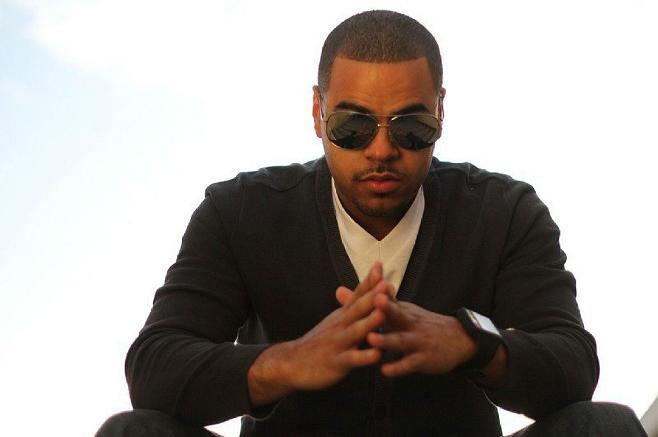 When we heard John Michael's "Sophisticated Lady" playing on the radio in the middle of last year, we were very impressed. After all, it's pretty rare that an artist pops up like that before we even had them on our radar. It wasn't until weeks later that Sirius/XM "Heart & Soul" radio host Tanya Simpson would tell us just how much she liked the song and how popular it was with her listeners. For a younger artist to start making this type of impact on Urban A/C radio, it was time to start paying attention and supporting. It also helps that every time we've had a chance to meet John, he's been extremely humble and gracious for our support. An artist who gets it, makes good music, and is making an impact on radio; I'd say the tools are in place for a rising star. We sat down with John after a recent performance in NYC and discussed his origins in music, his upcoming debut "Sophisticated", building up his profile as an artist through opening gigs, and much more.
YouKnowIGotSoul: You've been doing these shows in New York. What's it like building yourself as an artist through that?
John Michael: New York has been great because you get that instant gratification, especially with social media because different shows I would do, I would tell the crowd on Instagram and Twitter, but with New York they're already on it. It's pretty cool and it helps me build my fan base a lot quicker and then build a buzz so people know when they see me at a show or hear a song by me on the radio, they'll know it's me. That's what it's all about.
YouKnowIGotSoul: Of course your music is being played on Sirius/XM and some other major outlets. What does that mean to you?
John Michael: It feels great. I remember the first time I heard myself on the radio last year in April or May, it was just a weird feeling because I remember a few years ago when I listened to the radio, I was like "What is it going to take for me to get on the radio? What do I have to do?" I had no idea. It's just one of those cool feelings, but at the same time, I take everything in stride so I'm just focusing on what's next.
YouKnowIGotSoul: Right now you have the "John Michael" EP out.
John Michael: That's going well. A lot of stores around the country have it and online as well.
YouKnowIGotSoul: With social media, you can get the instant feedback from fans that have found you. What have you been getting?
John Michael: Instagram is the best because it's not only my favorite, but I get really cool feedback. I was on Instagram and they didn't even hit me up, they tagged "Sophisticated Lady" and it was a lady who was just grooving to it. She didn't even tag me, she just put it up. I like those type of things, it's dope.
YouKnowIGotSoul: Just to take it back a little bit, I know you started out as a writer. How did you get those opportunities?
John Michael: Word of mouth really. I never stopped considering myself an artist, but it was more so just coming from Fredericksburg, Virgina, it's just really hard. There's nobody in Fredericksburg, Virgina. It's not a tiny town, but it's one of those town where nobody does anything except 9-5 jobs. When I would go home, if I meet someone in my town and I tell them I do music, they would laugh about it because it's so far fetched. If you live in New York, LA, Chicago or Miami and you tell them you're a singer or actor, in their mind it's like "Maybe it's someone that's famous and I just don't know them." Where I'm from, it's a joke to them. It's really hard to make it out of Fredericksburg and a lot of small towns. In my mind, I was like "I would rather just stay in the studio than to focus on the open mic circuit around Fredericksburg." I wouldn't do so much of that, I would just stay in the studio and I would learn how to arrange everything basically. I could make beats, but I don't really do that too often. It was kind of out of necessity. I was working, I had a son and I was doing online school. The only way to pursue music and keep doing it and not be slacking was write. I would do it online on sites like soundclick.com and I would link up with these producers. They have this really tight-knit on the internet. They live in different countries and states, but they have communicate with each other. I would do something for one producer and then their producer friends would be like "Yo who is that? What's their e-mail?" Next thing you know, I'm doing placement work.
YouKnowIGotSoul: What are you doing next after the EP?
John Michael: I got the album "Sophisticated", it's wrapped up and it's coming out September 24th. I'm working on a mixtape now and I think I have like 14-15 tracks so far. By this time next week, I'll be doing the mixtape. With the mixtape I'll just put out, I'm not going to make people wait for that. It's just going to be a different look. It's just having fun and going on other people's beats. It's mostly like a beat jacking type of thing where I take popular songs and remixing them. Then the album is going to come out.
YouKnowIGotSoul: Tell us about the album.
John Michael: It's so exciting for me because I've been pushing the EP for a year now. People love the EP and I love it too, but it's just an EP. It's not that many songs, so I'm just looking forward to people finding out that I can make some good songs. I think the whole album you'll be able to listen to straight through. I don't go in the studio thinking that I need to make a hit, but I feel like my songs have a hit and timeless quality to them because I'm very conscious of that when I write. I don't want to scare people when I write, I want to be very accessible to them. Somebody will have a favorite song to each track.
YouKnowIGotSoul: Are you going to put out the album independently?
John Michael: Ingrooves/Fontana is releasing it, but it's independent with Top Notch. To be honest, people don't know what to do with R&B anymore and it's funny because people love it still. Even Robin Thicke's "Blurred Lines", it doesn't have any techno. It's just live instruments and it sounds like regular old music that people would have written off already. Doing it independently, it allows for people like myself to get pushed out to the forefront and not have to wait in line.
YouKnowIGotSoul: What do you want people to feel when they listen to your music?
John Michael: I feel like music at the end of the day regardless of where the industry is or where it's going, I think the essence of music is to feel the groove and happiness. Like being at a cookout, funeral or if you're just chilling. Music fills the air and on my album, each song you'll be able to listen to it in different parts of your day. It's all about the soundtrack of your life. Music is the soundtrack and that's what the album is.