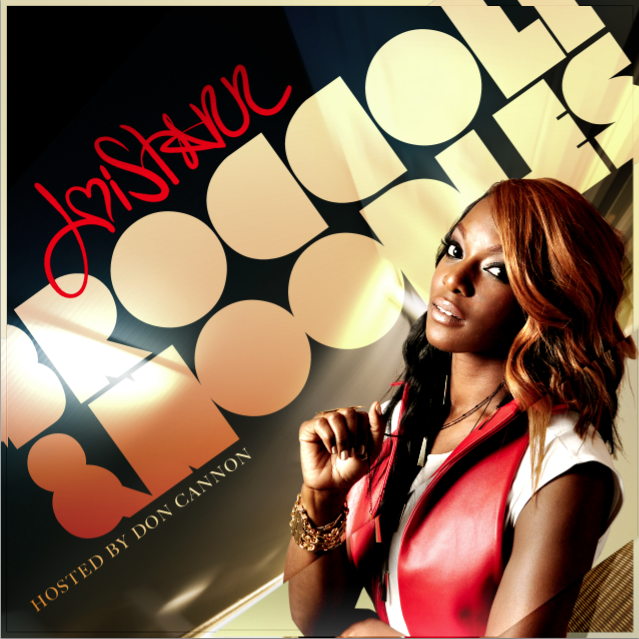 In this interview with YouKnowIGotSoul, JoiStaRR talks about her introduction to the music game and shares her experience going on tour with her idol Kanye West. She also discusses her new mixtape and the new genre that she is attempting to create.

YouKnowIGotSoul: First off, how did you get introduced to music and who were some of your influences?
JoiStaRR: I'm proud to say that my first intro to music was through all my dad's records he would play – that and growing up and singing in church. As an artist I have too many influences to count! I also get a lot of my inspiration from music that's coming out of countries around the world. Kanye West of course directly influenced me, along with the music of Sade, Bjork and Lauryn Hill.
YKIGS: In 2008 you had a chance to go on tour with Kanye West. How did that opportunity come about?
JoiStaRR: DJ Reflex was working with Kanye at the time and told me that Kanye was looking for someone to sing on a song off the Touch The Sky album. I remember Reflex called me to see if I wanted to demo it. I was a big fan so of course I wanted to try for it. When I walked into Record Plant, Kanye started playing my song "Everything" and he was singing all the words! I didn't end up on the Touch The Sky album but because of our meeting, Kanye asked me if I would mind taking a break from recording my album to tour with him for three months…those three months turned into five years.
YKIGS: What was the whole experience like being around all these great artists and is there something you learned from being around them?
JoiStaRR: Being around all the greatest artists in the world I learned that arrogance gets you nowhere but confidence sustains you.
YKIGS: And to follow up, what was the whole experience like for you being on stage and performing in front of a huge crowd?
JoiStaRR: I had the time of my life performing behind Kanye West for thousands of people every night. I really learned how to be comfortable on stage because I couldn't see any faces. I wasn't shy at all about letting out the JoiStaRR in me that Kanye always told me I had.
YKIGS: Talk to me about your sound because there's nothing like it out right now. From what I'm hearing, it has a lot of different elements ranging from many different genres.
JoiStaRR: I would say my mixtape is an introduction to my ultimate sound. The sound I'm introducing to the world is called 'Art & Beat." This sound is simply expression set to music, whatever that emotion may be.
YKIGS: Do you think it will be harder for your music to reach people because it isn't targeted towards one specific genre?
JoiStaRR: People in general don't listen to just one specific genre. Everything is a mash-up these days. That's what makes people so beautiful – that fact that we want to inherently borrow and share great ideas. I'm not really trying to chase down people with my music or make exactly what I think everyone wants to hear. That would be an endless cycle that takes my artistry out of the equation. I am always true to my music – so if people are hearing what they want to call "non-genre specific" then that's the new genre, music that can go anywhere it wants to go. I live by that and I think that's why its coming through in my sound.
YKIGS: Talk to me about your first single "Yellow" which is a remix of the Coldplay song. Many people look at that song as a classic, what made you decide to take that risk and what has the response been like so far?
JoiStaRR: I just simply love the song and once Mars did the beat, we both knew that it would be perfect for the Broccoli & Noodles mixtape. I've gotten a lot of positive response for the song and love performing it live.
YKIGS: And your second single "October". What's the story behind that song?
JoiStaRR: It's my way of saying "Hey, I Miss you." This is one of my favorite songs out right now because it embodies my personality. It's dark but sweet and inviting.
YKIGS: And finally, tell us about the new mixtape you have coming out and what we can expect from it. I read somewhere Kanye will be on it?
JoiStaRR: I'm very excited about this mixtape and yes, Kanye and I have a song together called "Same Time." Making this mixtape was a lot of fun and hard work and just an introduction of many more projects to come.
YKIGS: Besides singing, you're also an accomplished songwriter as you have penned songs for Mario, Brandy and Chris Brown. What is the writing process like for you?
JoiStaRR: I make sure it's always organic and pray before I start. Often times I literally get inspiration from my surroundings whether its objects, photographs or paintings.
YKIGS: Tell us about the struggles as a new artist and how you've been able to overcome the adversity.
JoiStaRR: I think this industry can destroy the heart of a person if you don't take criticism and struggle well. I have been through the process and gotten my share of people not believing in my vision and letting it hold me back. But the criticism has also made be stronger and work harder to shine brighter to prove JoiStaRR is here to stay.
Make sure you guys follow @JoiStaRR and visit her official website: www.joistarr.com
Also make sure to download her mixtape "Broccoli & Noodles"