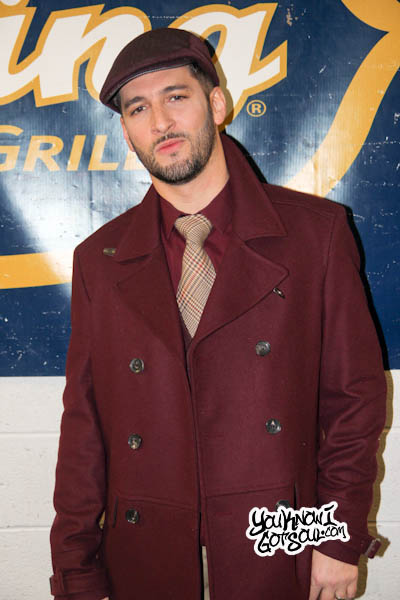 With or without a label deal, Jon B. continues to have success in the music industry doing what he loves; making good music. Releasing his last project "Comfortable Swagg" completely on his own label without any label support, it's a real accomplishment that he sold over 20,000 copies worldwide. The fact is that making timeless music over the years has solidified his place in music and allowed him to continue to be successful even after nearly 20 years. We caught up with Jon backstage prior to a recent performance in NYC and he discussed what this accomplishment means to him, his upcoming "Jon B. Sides" album, his next studio album, and writing and producing all of his own music.
YouKnowIGotSoul: You recently made the announcement on your social networks that your last album "Comfortable Swagg" sold 20,000 copies. As an independent artist that's a huge deal. Talk about what it means to you.
Jon B.: It really is. To sell 20,000+ units on my own, paying for my videos myself out of my own pocket, doing all of the shows we've been blessed to do all around the world. We've done pretty much every different state around the country as well as a lot of different countries for this album. All of that being the case, that's more than I ever did on the last label deal that I had. I'm not even going to say the record label! *Laughs* The fact of the matter is that I have my own label now and I'm pushing this thing myself. Ten years ago they asked me where I wanted to be and this is exactly where I said I wanted to be. I didn't know if I'd have the label support or not, in this case I don't have the label support, but the support I have is from the fans. Yall give me the financial stability to be able to do this, to sell 20,000 and do videos. To also take a band out on the road and pay for everybody's room and the bus and plane tickets. It's a lot of behind the scenes financially. If you don't have the money behind a product, you really can't make it shine as much as all of those other things that do have money behind it. I definitely have to just big up all of the fans around the world for holding me down and allowing me to continue doing what I love. Without you, we definitely couldn't make this happen.
YouKnowIGotSoul: Another thing people might not even realize is you write and produce everything for yourself. That's another thing that makes it possible for you, a lot of artists can't claim that. Do you think that makes it the perfect spot for you?
Jon B.: I think the production and the writing definitely have a lot to do with why people respect what I do because it's not like I'm trying to be famous or just be a sex symbol. I think a lot of people can misconstrue an artist like "He looks good, he's gonna sell records!" but is the music good? To me, people just want to be famous now, they don't care about the quality of music. Some artists definitely do care about the quality of the music and I'm one of those artists that cares about my craft. I'm here to master my craft and to challenge myself and innovate and keep loving the fact that I'm an individual. I belong to an incredible community of artists that love soul and love everything soul. At the same time, I'm an individual and have a corner in the industry and I just have to be thankful for that.
YouKnowIGotSoul: You also announced the "Jon B. Sides" project you've got coming out this month. Tell us about that.
Jon B. With the New Year, I wanted to put out a happy New Year project and something to say look at all of this discography I have the last 10 years. I've been doing music, but a lot of music, people don't understand, I sometimes write 40 songs for one album. So what happens to all of those songs that don't make it? Only 13 or 14 make it on the album, but what happens to the rest? So what I did was took some of my favorite of all of them, I call them B. Sides, I took them and sort of made a collection of all of my favorites and I call it the "B. Side Collection". It's going to be available the 29th of January. I'm definitely excited; we're going to do a video for the first single which is called "Settle Down Type". It's sort of a return to the stepping tunes, stuff that grown folks want to get down to. You're going to enjoy that.
YouKnowIGotSoul: You're also planning to do a new album this year as well?
Jon B.: Absolutely. The new album is in the works in terms of a proper studio album. Definitely want to start writing and thinking about making a trip to NY and spending some time vibing out here with the band and seeing what we can come up with. I have some people I really want to collaborate with, I really want to collaborate with Drake on the new album, see if we can make that happen. I'd like to collaborate with Ne-Yo as well, I've always respected him as a writer, I feel like we're kindred spirits from the moment I heard Ne-Yo, I felt like I could relate to him as a writer. I'd be honored for him to write a record for me, I'd like to see if I could make that happen. Other than that, I'd love to do a duet with some of the new female artists out right now, Melanie Fiona, I think she's super sexy as well and has an amazing voice. I would love to work with her or someone like Erykah Badu or someone from the old school, my school! We call it old school now, can you believe it! *Laughs* That's alright, old means wise!
YouKnowIGotSoul: Anything you'd like to add?
Jon B.: I'd just like to thank everybody for holding me down all these years. It's almost 20 years now, it's really, really amazing for me to say that. Without you guys I would not be standing her right now talking to you. Big up my family for holding me down, my little girl is almost six years old now, she's singing perfect pitch and has perfect rhythm! She's following daddy's footsteps, watch out now! Azzure is her name, with a name like that she's already famous! It's coming. The most exciting part of what I do is not what I've done, because I've been blessed with records like "They Don't Know" or "R U Still Down" or "Don't Talk" which are platinum records. If I never sell another platinum record again, I'm good, because if I sell 20,000 units doing something I love, I can do that for the rest of my life. Thank you guys, respect.