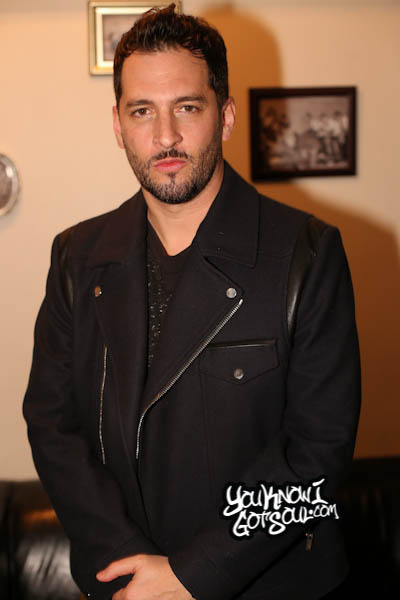 Following his performance in Brooklyn, NY for Summer Stage, YouKnowIGotSoul had a chance to catch up with on of our favorite artists, Jon B. In this interview, he talks about what it means to perform in Brooklyn, the status of his upcoming album "Comfortable Swagg", how the album has evolved, staying true to himself musically, his work with DJ Quik, working with 2Pac, his motivation to keep making good music, and the difficulties of being an independent artist.
YouKnowIGotSoul: You just came off stage here in Brooklyn for Summer Stage. How's it feeling right now?
Jon B.: Well first of all to rock in Brooklyn is amazing. I've always been a fan of all of the music and the culture that's come out of Brooklyn. So much of what modern day music is has been influenced by the music and the culture that has come out of Brooklyn. You could also say that Brooklyn has been the epi-center of hip-hop, along with the Bronx and Compton. So it's amazing to see the fans out here in Brooklyn; as soon as I hit the stage, everybody is open.
YKIGS: Now let's talk about "Comfortable Swagg". You've been working on this album for awhile and the fans have been waiting for awhile with this album. Recently you posted on Twitter a release date of 11-11-11. Talk about the status of the album.
Jon B.: Well my birthday is November 11th so I thought that would be a great day to release the album. But of course, albums come out on Tuesdays, so it will probably end up being three days earlier than that and I'm sure the fans won't mind. I just want people to keep in mind that this is my time, not only is it my time of year, I'm a Scorpio, but November 11th is also my birthday and 11-11-11, that number has some significance, it's all 1s. I guess my reason for calling the album "Comfortable Swagg" is I almost feel like this is my first album again; I haven't come out in quite some time. I figure that when you leave your 30's, you're on your way to adulthood *Laughs* and I'm halfway through my 30's. I've been through a little bit of something, I've got a four year old daughter and a wife at home, and I've also got fans all around the world who've stayed with me and want to hear more of what I have to do.
YKIGS: Tell me a little more about the album. You've had singles out like "Body Language" and "After the Party" and "Confident". Has the album been evolving as time has gone on?
Jon B.: It definitely has evolved. I noticed just from putting out three singles simultaneously it was a way to sort of do market research and see how people reacted to certain styles. I'm not a cookie cutter type of artist and I don't need a label telling me I need to sound a certain way, or dance a certain way, or play a certain type of music. I'm coming up with my own type of concepts so testing them out in the field is something that I love to do. The immediate reaction from the fans is really the say all and tell all whether you should put a song out or not. So in this last year I've done some experimenting, I put a couple of songs out there that were some things I came up with and I was excited about. I didn't have to ask anybody's permission to put it out; I just put it out and saw how the fans reacted to it. It's a beautiful thing but at the same time it's all about the new songs that I've been working on, I've got some really great material for this new album.
YKIGS: Something you just touched on and something I've noticed about your music is that you've always been able to stay in your own lane. You haven't gone with the trends on the radio but you've always just done your thing.
Jon B.: When it comes to keeping up with the trends and staying up with the times, you have to make an effort as a producer. For example, if you're in motor cross racing and you don't want to use spiked tires, you're going to fall behind. If you're in a genre, and everyone is doing something in a genre, 9 times out of 10 we all complement each other, we all follow each other's similar swag. That's the only reason why in r&b and in hip-hop you have phases that we go through; we'll get hyphy, then we'll go to go-go, then we'll go to the dance call style, then we'll go to a techno almost house sound. R&b and hip-hop are a huge variety of music, so the way I kinda wrap my style right now if you want me to give you my M.O., "Comfortable Swagg" will give you all of that.
YKIGS: Talk to me about the work you've done with DJ Quik. His album just released and you did a bunch of songs with him on there including "Real Woman" which is crazy.
Jon B.: Working with Quik is always a pleasure. It's almost like a blessing because I never got a chance to do a video with 2Pac. We worked in the studio together on "R U Still Down" but two weeks later he got shot. To be able to do that song with him was a great feeling, but after he passed it was almost like you have a full meal on the table and then someone just flips the table. That doesn't even touch close to the pain I felt over that situation, and that's why I work on that song on every show I do. Nevertheless, I wanted to go back to that blessing and the essence of that chemistry of what it was like to work with someone who had so much admiration for the west coast as a rapper. 2Pac was a real poet and had a real way with words whether it be violent or peaceful. That being the case, he would have celebrated his 40th birthday yesterday so big shout out to my man 2Pac resting in peace, we hold you down every day.
YKIGS: You've been in this game a long time now, over 17 years. Where do you continue to get the motivation to keep making good music?
Jon B.: Well the motivation to keep making good music and keep doing what I do comes from within and that's what I consider my blessing. It's almost like a beam of light coming from above through my head to the soles of my feet and nobody can teach that.
YKIGS: Talk about being an independent artist in this day and age and the difficulties that come along with that.
Jon B.: I'd like to be much more on the radar in the industry and much more on record company's pages. But a person like myself who produces, writes, performs, I market my music, I direct my own videos; I'm as hands on as you can get. I'm pretty much the George Lucas or Stephen Spielberg or somebody who makes quality films, of music. That being the case, it's not about quantity, it's about quality. It's not about how long I take to make a record, it's about what I went through to get to that total definition of the record. I think my fans understand that about me so I'm just going to keep my M.O. and stay different because you guys will never really know where I'm going to come with the music. The bottom line for me is to stay original, don't be a bandwagon jumper, and that's what it's all about.