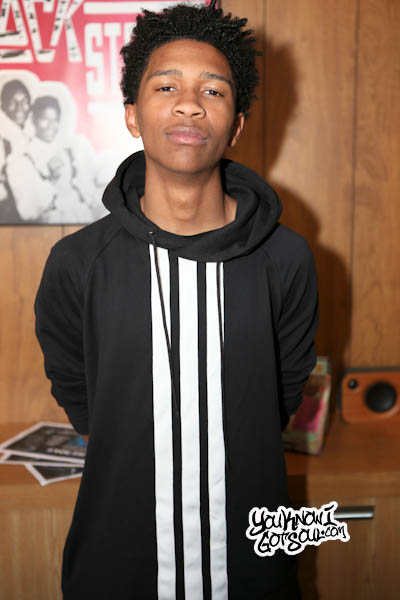 Jordan Bratton is the type of undeniable talent that easily stands out from his peers. Not only does he possess his own unique r&b sound, but his live show is an event and comparable to most veterans. With that being said, it's no surprise that RCA Records signed him immediately after checking out one of his live performances. Now that he's just released his debut EP "Youth", it's time for many to start paying attention to this emerging star. YouKnowIGotSoul sat down with Jordan Bratton at his EP press listening event in NYC and discussed the project, signing to RCA, and his dynamic live performance.
Interview by: Barry Greene
YouKnowIGotSoul: Tell us a little bit about the build up of your signing to RCA Records.
Jordan Bratton: It happened pretty gradual, but it was like a fast hill. We were doing shows and some of them, they had asked to come to a show of ours. Our management was like "Nah, he's not ready to be seen by labels yet." It became common knowledge that I was doing a show at Piano's, and some of them snuck in to see the show. They wanted to set something up with me at another venue for free and let everyone come out and let the label see it formally. We did the show at S.I.R. and after that is when I signed with RCA.
YouKnowIGotSoul: One of the best things about you is your live show and the energy you have. You really leave it all on stage. How are you able to do that?
Jordan Bratton: I just try to come up with something good and make sure there is presentation to it. I don't really believe in holding back. I want to give it all. I want to give everything I've got. That's something my dad taught me, put everything I've got into everything I do.
YouKnowIGotSoul: You've just released your "Youth" EP. What should we expect to hear on there?
Jordan Bratton: Just expect the unexpected. A lot of people that have heard it have said it's not anything they're used to. I don't like putting myself in a box. I want to give the people something different. Whoever is listening, I want them to be thrown off a bit so they don't have things figured out like they thought.
YouKnowIGotSoul: Anything to look out for as far as the first single?
Jordan Bratton: We're just going to drop the EP and let people decide which songs deserve a video.
YouKnowIGotSoul: Anything you'd like to add?
Jordan Bratton: I like to talk about my belief in God and just my beliefs and what I go through some days. I wouldn't really call it Gospel, but I really like to say things that people would want to listen to and be like "Wow, I took some meaning from that.".